BRM Weekly: Neel Murgai - Harmonic Infinity Loops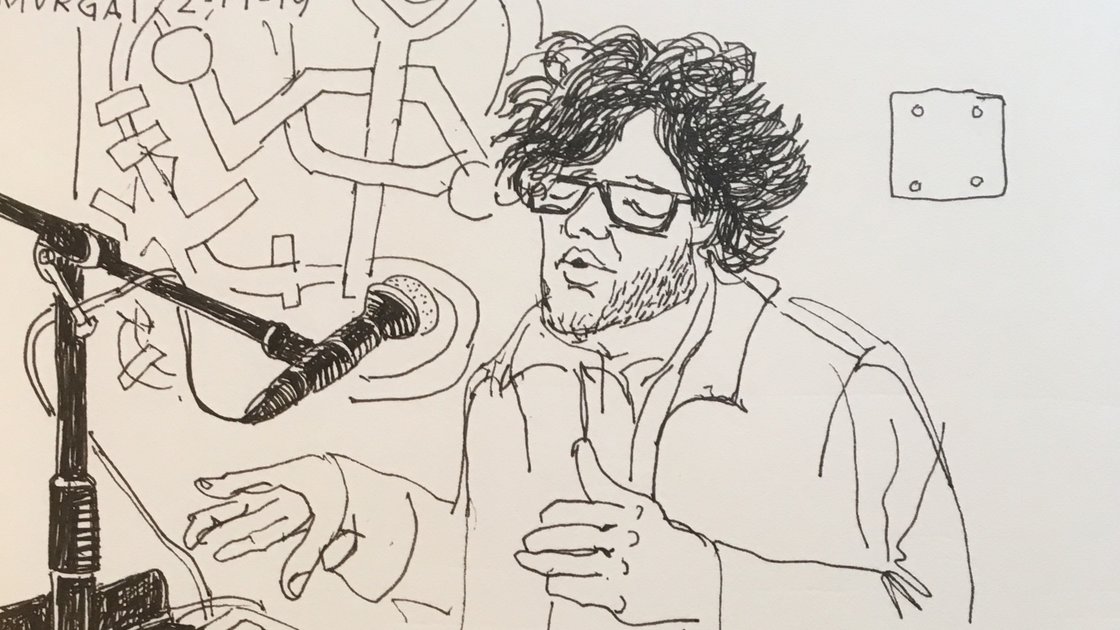 This is an in-person event

Thu, 27 February 2020

08:30PM - 11:55PM (EST)

Event past Organizer Brooklyn Raga Massive Illustration by Susan Greenstein $10 Advance | $15 Door | 8:30pm Music | 10pm BRM Weekly Raga Jam BRM Co-Artistic Director, Neel Murgai presents a solo performance featuring overtone singing and looping compositions from his new album Reorientation. While his recent Rubin Museum concert featured Neel's sitar and chamber ensemble compositions from the album, Neel continues to celebrate his album release month with this unique performance highlighting the solo pieces that round out the recording. Neel's latest artistic vision, Harmonic Infinity Loops was recently praised by the New York City Jazz Record for his "astonishing vocal control" and "surprisingly cohesive and compelling display". This work features Neel's overtone singing, which he has practiced for 18 years, having studied with Timothy Hill from the Harmonic Choir and Batuvshin of the Buriyat group Uragsha. With this solo performance Neel introduces looping technology to create droning, psychedelic soundscapes of remarkable clarity and depth. Time in the music is measured by breaths not bars, as Neel moves exceedingly slowly between overtone melodies, the sound of Aum, chords, textures and chants. Every performance is different, as Neel mixes this new sonic vocabulary in different ways, within the context of a compositional element or improvisational fancy. Compositions can draw from a simple pop chord progression slowed way down, to Indian classical ragas, which Neel has studied for 25 years, to simple words and phrases, chosen as much for their sound as their meaning. Neel often finds himself creating a new alien language as he improvises with consonant and vowel sounds, turned into chants. Listeners report entering states of deep relaxation as they are drawn into this sonic journey. Neel is also a teacher of overtone singing and can pair his performance of Harmonic Infinity Loops with a group workshop. Even within the context of the performance Neel is known to briefly teach how to produce overtones in an accessible way, and have the audience join in for a spell. Neel Murgai is a sitarist, overtone singer, daf player, composer and teacher from Brooklyn, NY. Neel has studied sitar for 25 years, currently with his guru Pundit Krishna Bhatt. He is a graduate of Goddard College's MFA in Interdisciplinary Arts program. His first album with Neel Murgai Ensemble was released on Innova Records in 2010. Neel has performed around the world with numerous artists from varying disciplines including, Bill T. Jones, Cyndi Lauper, Wyclef Jean, Andre DeShields, Karsh Kale, Vijay Iyer, Adam Rudolph, Daniel Bernard Romain, Dana Leong, Ellen Stewart, Laraaji, Yuerba Buena, Baba Israel, Raz Mesinai, Mission on Mars, Akim Funk Buddha, Loren Conners, Louis Bellogenis and Cosmo Vinyl. He has performed at venues ranging from the Lincoln Center and Kennedy Center to Late Night with David Letterman to jazz clubs such as the Blue Note and at festivals around the U.S including Art Wallah, Arts Plosure, Masala! Mehndi! Masti! and many others. Neel played in the orchestra for Disney's musical theater adaptation of "The Jungle Book" directed by Mary Zimmerman. Neel has composed music for many film, TV, video, theater and dance projects including the features, "The Yes Men Fix the World", which premiered at the 2009 Sundance Film Festival and "A Decent Arrangement" starring Shabana Azmi. His music has been featured in the BBC series, "Holidays in the Danger Zone", and TBS programs, "Women of the Ink", and "Spotlights".    http://neelmurgai.com Weekly Raga Concert and Jam Session Series is made possible with public funds from the Decentralization Program of the New York State Council on the Arts, administered in Kings County by Brooklyn Arts Council.  This program is supported, in part, by public funds from the New York City Department of Cultural Affairs in partnership with the City Council.