BRM Weekly: Parish, Basu, Ramamurthy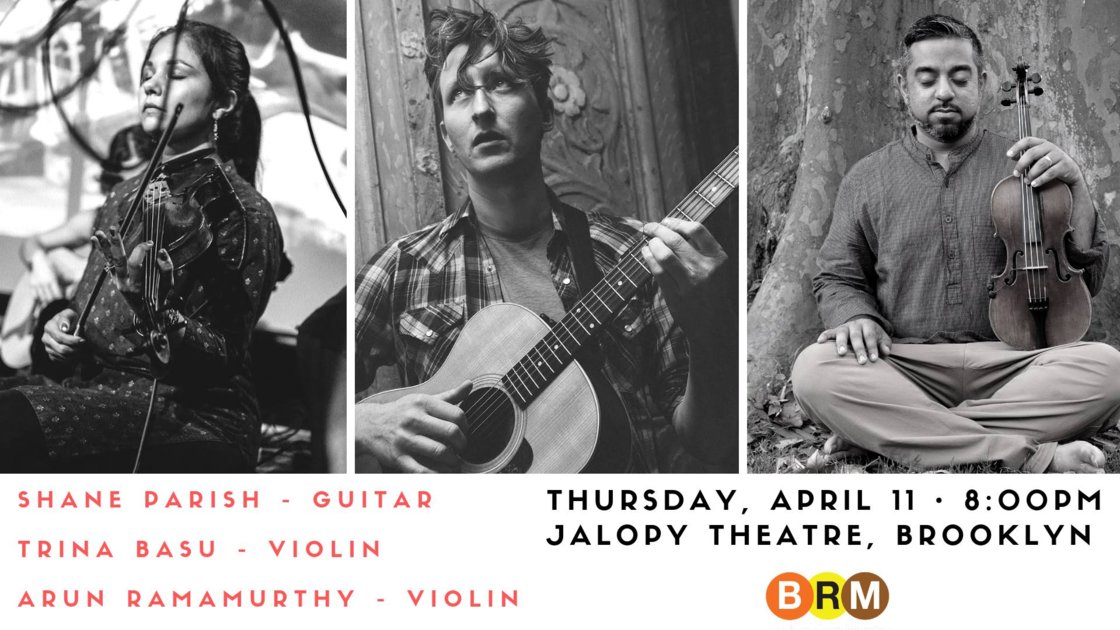 This is an in-person event

Thu, 11 April 2019

08:00PM - 11:55PM (EDT)

Event past Collaborator Arun Ramamurthy $10 Advance | $15 Door | 8pm Doors Open | 8:30pm Music | 10pm BRM Weekly Raga Jam NYC violinists Trina Basu and Arun Ramamurthy are longtime musical friends and collaborators with Asheville, NC guitarist Shane Parish (Tzadik Records). Together their trio explores raga, free improvisation, and American folk music. All three highly accomplished and soulful players, their music organically expands and contracts in kaleidoscopic bursts of sound. It is a melding of worlds and a conversation between decades-old friends. Shane Parish - guitar Trina Basu - violin Arun Ramamurthy - violin Guitarist Shane Parish is an improviser, composer, and educator residing in Asheville, North Carolina. He founded the avant-rock band Ahleuchatistas in 2002, which has released eight studio albums to date on esteemed creative music labels such as Tzadik Records, International Anthem, and Cuneiform Records. The band's critically acclaimed 2004 album The Same and the Other was hailed by legendary NYC saxophonist and composer John Zorn as "one of the most intense documents of compositional rock complexity ever recorded." Having long established his creative voice as a radical and creative electric guitarist in the long-running Ahleuchatistas, Parish now reveals a more elaborate and intimate inner world with his solo acoustic performances of whimsy, passion, and virtuosity. Miami native, Trina Basu is an adventurous violinist, improviser and teacher based in Brooklyn, NY. Her music draws from Western and Indian classical, jazz and creative improvisation traditions. She is the co-leader of raga folk inspired chamber ensemble, Karavika with cellist Amali Premawardhana. Their self released debut album, "Sunrise" was praised by All About Jazz as "a dynamic sonic blend of uncommon mesmeric beauty." She is a founder and curator of "Out of the Woods", a month long festival in March featuring women-led projects and community based activism, presented by Women's Raga Massive. Arun Ramamurthy is a versatile violinist, composer and educator based in NYC. A disciple of the celebrated Carnatic violinist brothers, Dr. Mysore Manjunath & Sri Mysore Nagaraj, Arun has become one of the country's leading Indian Classical and crossover musicians. He has carved a niche for himself as a multifaceted artist, performing internationally in both traditional Carnatic and Hindustani settings as well as bridging genres with his own creative projects. Arun is a co-founder and consistent performer for Brooklyn Raga Massive. **Special announcement for Musicians!** BRM cordially invites you to join us in the ongoing effort to cultivate a home for intercultural musical dialogue. We are happy to offer FREE ENTRY TO MUSICIANS AFTER 10 PM WHO COME WITH THEIR INSTRUMENTS AND ARE READY TO PLAY! Please come out and engage with one of NYC's most vibrant and diverse communities of improvising musicians hailing from all over the music world!