BRM Weekly: Steve Gorn & Miles Shrewsbery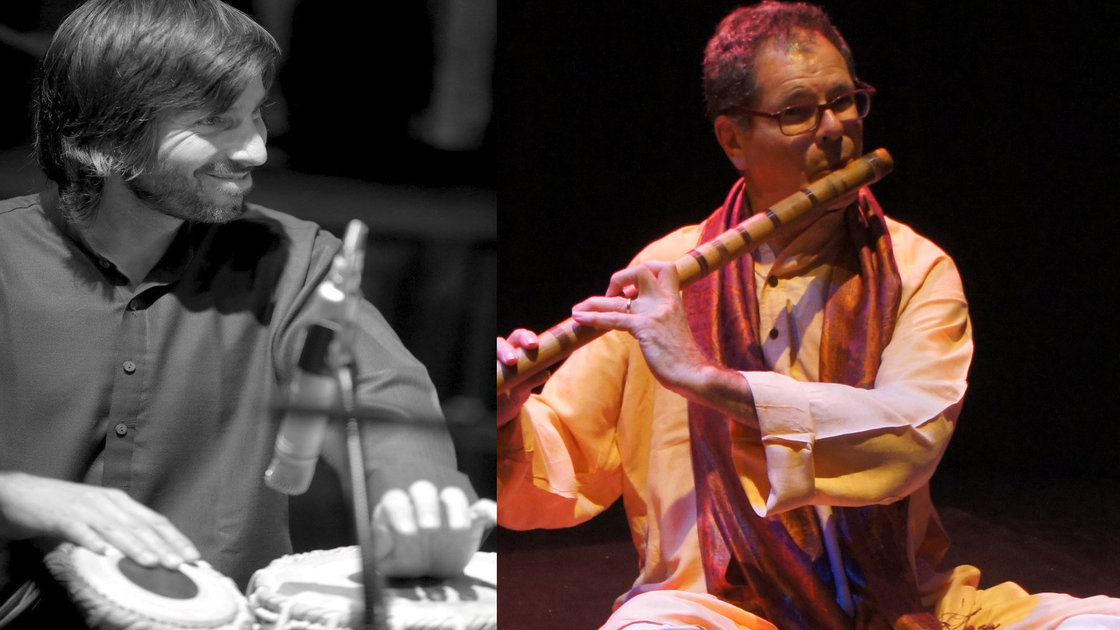 This is an in-person event

Thu, 27 September 2018

08:00PM - 11:55PM (EDT)

Event past A Hindustani classical evening raga - bansuri and tabla as well as a tabla solo in the Farukhabad Gharana style. Steve Gorn's bansuri is featured on the 2011 Grammy winning recording, "Miho – Journey to the Mountain," with Dhruba Ghosh and the Paul Winter Consort, as well as the Academy Award winning Documentary film, Born into Brothels. He has performed Indian Classical Music and new American Music on the bansuri bamboo flute in concerts and festivals throughout the world. His gurus are the late bansuri master Sri Gour Goswami, of Kolkata, and Pt. Raghunath Seth of Mumbai, who he often accompanied in concert. He has also studied with the late Ustad Z. M. Dagar. He has often performed in India, appearing at Bharat Bhavan in Bhopal, Habitat Center and Triveni Hall in New Delhi, The Sangeet Research Academy in Kolkata, NCPA, and The Nehru Center in Mumbai,. In 2013, he was awarded the Pandit Jasraj Rotary Club of Hyderabad Award for Cross Cultural Achievement. His numerous recordings include Luminous Ragas, Rasika, with tabla by Samir Chatterjee, Illuminations, with Nepali bansuri wallah, Manose, and Between Two Worlds, which features his clarinet as well as bansuri playing. Miles Shrewsbery, is a disciple of Sri Abhiman Kaushal and Pandit Nandkumar Bhatlouande of Hyderabad, India. Shrewsbery is trained in the Farukhabad Gharana style of his teachers and is a respected performer of its rich, aesthetic repertoire through his years of dedicated study and practice. He has performed with top musicians such as Shujaat Khan, Deepak Ram, and Yusef Lateef. In performances all over the world, from the Smithsonian Museum (Washington D.C.), Tokyo Museum of Modern Art (Tokyo, Japan), Royal Horticultural Hall (London, England), to St. Paul Cathedral (New York City). In 2012 Miles was awarded the American Institute of Indian Studies' Senior Performing Arts Fellowship, which supported Miles to further his studies and practice in New Delhi, India for one year. Currently, Miles manages and teaches at the San Diego Tabla Academy and is an artist-teacher in residence for the Center For World Music in San Diego, CA. Steve Gorn - bansuri flute Miles Shrewsbery - tabla **Special announcement for Musicians!** BRM cordially invites you to join us in the ongoing effort to cultivate a home for intercultural musical dialogue. We are happy to offer FREE ENTRY TO MUSICIANS AFTER 10 PM WHO COME WITH THEIR INSTRUMENTS AND ARE READY TO PLAY! Please come out and engage with one of NYC's most vibrant and diverse communities of improvising musicians hailing from all over the music world!