BRM Weekly: Tomchess, Mir Naqibul Islam, Indro Roy-Chowdhury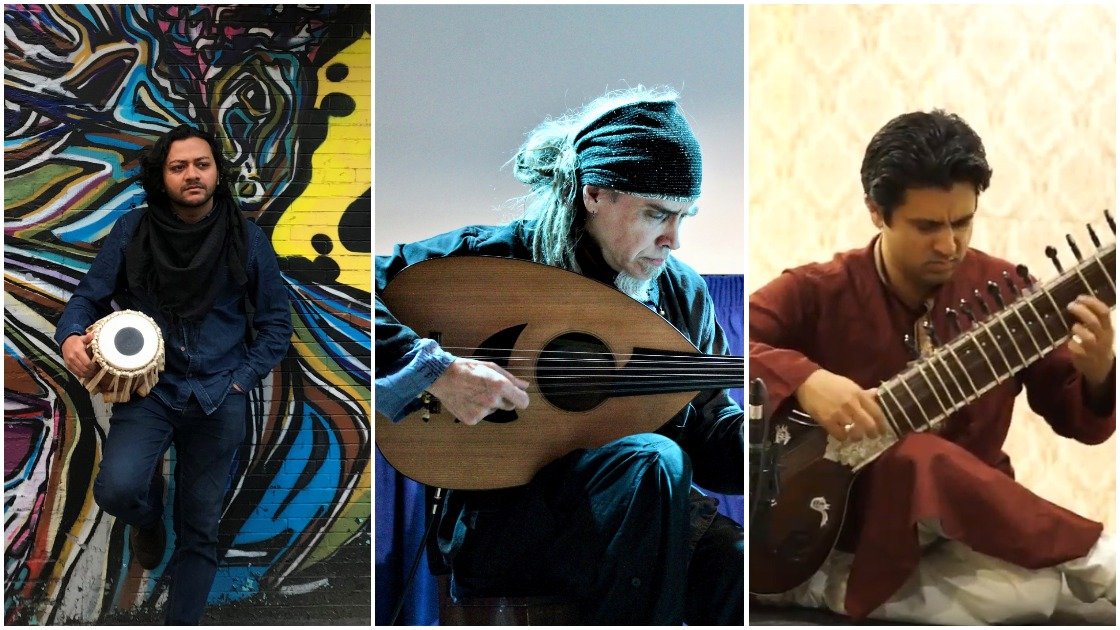 This is an in-person event

Thu, 04 April 2019

08:00PM - 11:55PM (EDT)

Event past Collaborator Mir Naqibul Islam $10 Advance | $15 Door | 8pm Doors Open | 8:30pm Music | 10pm BRM Weekly Raga Jam Drawing from many sources and musical experiences in NYC and abroad, Tomchess and Mir Naqibul Islam have been developing their own intimate and barrier-crossing musical language together and will present a mix of original compositions, improvisations, and traditional folk songs from the Near East and Bangladesh. They will be joined by esteemed Sitarist Indrajit Roy Chowdhury for the last part of their set. A collaboration between highly talented instrumentalists from North African, Near Eastern, and Indian classical traditions, the night promises to be packed with excitement and soulfulness. Tomchess has graced the BRM stage playing oud, ney, and morsing on a number of occasions, and this time joins in collaboration with two of NY's most exciting Hindustani musicians, sitarist Indrajit Roy-Chowdhury and tabla player Mir Naqibul Islam. NYC based Multi-instrumentalist/improviser/composer and international performing artist Tomchess has played and recorded with some of the most esteemed players in the improvisational and Jazz scene (Dewey Redman, Butch Morris, Pharoah Sanders, Drew Gress, Ronald Shannon Jackson), as well as Morrocan Sintarist Hassan Hakmoun. Having deeply studied the Near Eastern, and North African traditions his syncretic sound encompasses the tonal palette, rhythms, and forms of these traditional musics as well as focusing on the transcendent unity of all human culture while never losing sight of his American roots and the importance and freedom of improvisation. Indrajit Roy-Chowdhury is one of the most talented young exponents of Rampur Senia Gharana in the venerated lineage of Pandit Birendra Kishore Roy Chowdhury and Pandit Subroto Roy Chowdhury. Primarily trained in the Veen-Kar style of Sitar which draws techniques and idioms from the Veena, Indrajit has been able to carve a niche for himself with his eclecticism and versatility. Indrajit strives for a fine balance of traditionalism coupled with innovation and is renowned for his meditative alaap and brilliant taans. Tomchess- oud, ney, morsing, composition Mir Naqibul Islam- tabla, composition with special guest Indrajit Roy Chowdery- sitar **Special announcement for Musicians!** BRM cordially invites you to join us in the ongoing effort to cultivate a home for intercultural musical dialogue. We are happy to offer FREE ENTRY TO MUSICIANS AFTER 10 PM WHO COME WITH THEIR INSTRUMENTS AND ARE READY TO PLAY! Please come out and engage with one of NYC's most vibrant and diverse communities of improvising musicians hailing from all over the music world!