Diwali: Song Circle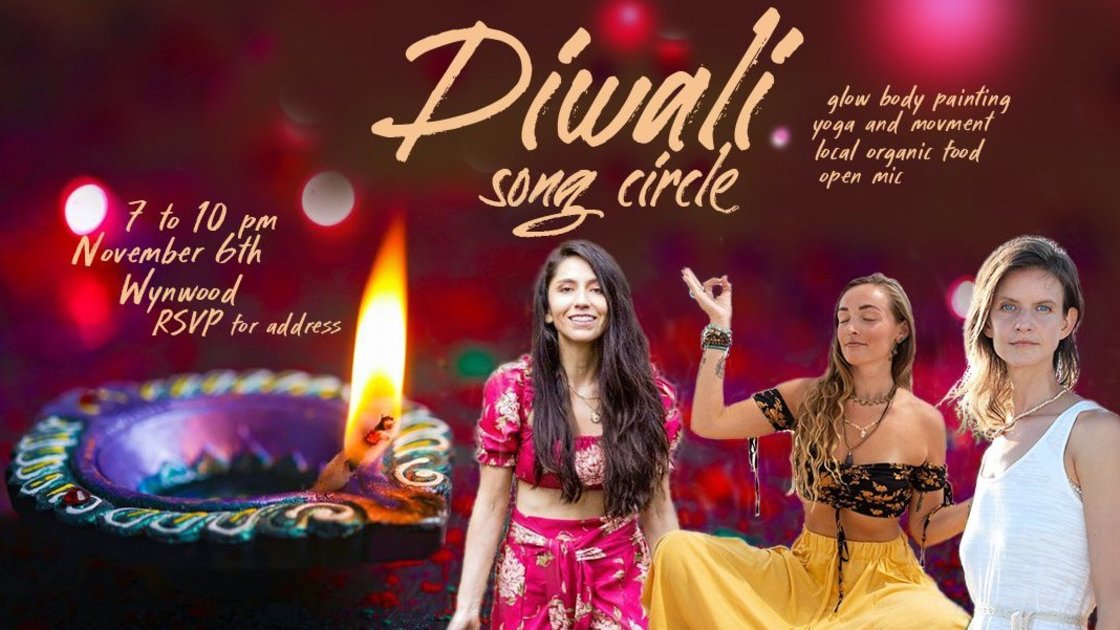 Tickets unavailable at this time
This is an in-person event that is also streaming online
Sat, 06 November 2021
07:00PM - 10:00PM (EDT)
Event past
Wynwood - RSVP for the address
Wynwood
MIAMI, FL 33127
Open Map
Organizer
Daniela Arhat
Diwali: Song Circle & Glow Yoga

Join us on November 6th for a night of devotional music, movement and lots of lights!

We will be celebrating Diwali, the festival of lights. It's a very special date in India where we celebrate a new year of abundance, love, peace, financial success and more!

Music by Daniela Arhat, Sunanda Devi and Emily Sat Sukh

Glow Body Painting

Yoga & Movement

Open Mic: Share your voice with us too!
We will do glow yoga to prepare the body for singing!

Local Organic Food Vendors

Online Streaming also available


An interesting fact:

Diwali is a 5 day celebration and in many regions, the five days go something like this:

Day 1 – Dhanteras – the start of the financial year for most Indian businesses and is also the day of worship of the goddess of wealth, Lakshmi.

Day 2 – Naraka Chaturdasi – this is the day of cleansing. Oil baths are taken, people put on new clothes and food delicacies are prepared.

Day 3 – Diwali – The day of the new moon – Amavasya – and the official day of the Diwali holiday.

Day 4 – Kartika Shudda Padyami – the day recognised for when the tyrant, Bali, stepped out of hell and ruled the earth.

Day 5 – Yama Dvitiya (or Bhai Dooj) is the day when love is symbolised between brothers and sisters.