Jalopy Jr Folk: String Band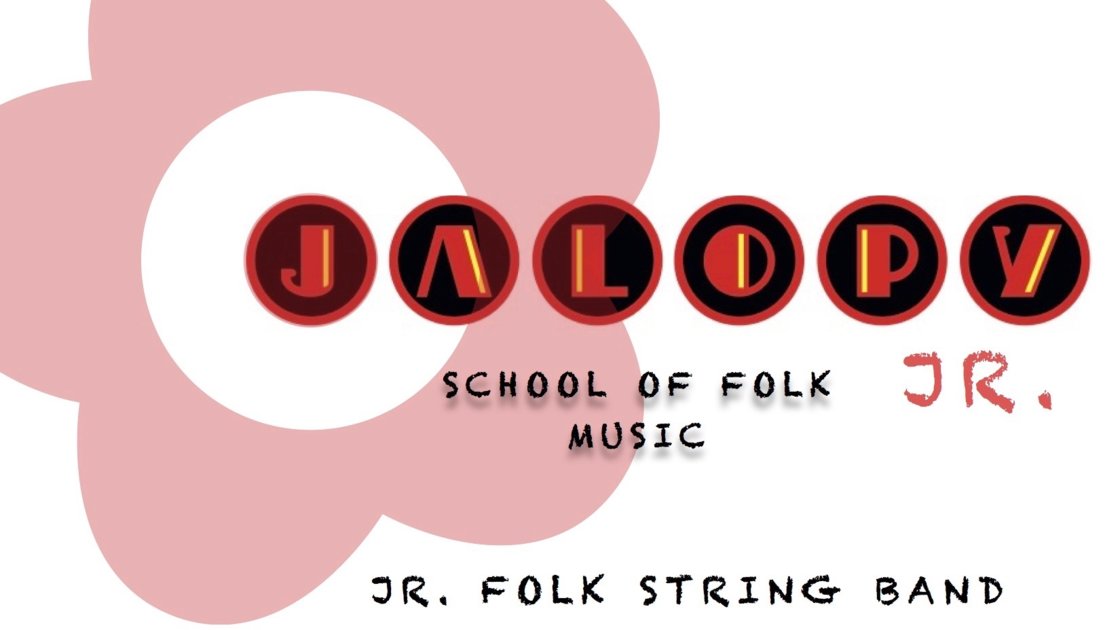 This is an in-person event
24 Jan, 2022, 4:00PM to
11 Apr, 2022, 6:00PM (EDT)
Jalopy Theatre and School Of Music
315 Columbia St
Brooklyn, NY 11231
Open Map
Instructor
Katie Martucci
Glendon Jones
Organizer
Jalopy Theatre
Welcome to Jalopy Jr. !
We are focused on building community and teaching folk and traditional music. We have a place for every level of learner and every financial situation. Along with the Fabulous Jalopy Theatre and School of Music, we offer private and group classes to people of all ages from newborn to adult. The experienced teachers at Jalopy are here to encourage musical exploration through singing and playing instruments like fiddle, banjo, guitar, mandolin, ukulele, percussion, and more! Rental instruments and financial aid are available!
Please reach out to our directors with any questions:
katie@jalopytheatre.org or kyle@jalopytheatre.org
For information about financial aid, please contact
lynette@jalopytheatre.org
JR FOLK STRING BAND
(Mondays)
January 24th to April 11th (no classes on NYC Public School Holidays and Breaks)
Schedule flexible to student's availability
Age
Group Size: 3-6 students
Instructor: Katie Martucci and Glendon Jones
In Jr. Folk Stringband students will step it up a notch both in their playing and their decision making. By taking a greater role in choosing and arranging songs, students will gain confidence in their abilities and learn how to work together as a team to produce extraordinary results.
Each group will have a balanced lineup of instruments such as guitar, banjo, mandolin and fiddle to make a band of 4-5 people. Since they will pick many of the songs, students may experiment with a broader repertoire including more challenging old-time and folk tunes, but also rock, pop and almost anything they are interested in exploring. The Instructors will be a part of the band and will guide the class but emphasis is kept on the students taking the reins, starting the tunes, and becoming the leaders.
Before joining stringband, we recommend that students take Jr. Folk intermediate, and have several years of experience with their instrument. Ongoing private lessons are highly recommended. That being said, any interested students new to the Jalopy program are welcome to take a trial lesson with one of our instructors to determine the best ensemble fit! Admission subject availability.
Please inquire for more information about string band at katharine.a.martucci@gmail.com
25% sibling discounts available!


STAYING HEALTHY AND SHARING MUSIC TOGETHER WITH COVID-19
This planning and guidance is subject to change in response to local public health conditions and local, state, and federal guidelines.
The Jalopy School of Folk Music is committed to prioritizing the health and safety of our community and the larger communities within which we live. With the pandemic likely to continue beyond Winter 2022, we must adapt to these new conditions that tear at the fabric of our shared experiences. Thankfully, as musicians, we continue to practice the gentle art of "planning for improvisation".
Please note our new practices and protocols below and feel free to reach out to us at any time with questions, comments, concerns, or fresh ideas.
1. All Jalopy instructors and staff will be required to provide proof of being fully vaccinated and will be required to wear masks at all times
2. Currently, all students ages 5 to 11 must provide valid proof that they have received at least one dose of any vaccine and will be required to wear masks at all times. After January 29, 2022, they must provide proof of being fully vaccinated and will be required to wear masks at all times
3. All students over the age of 12 must are now required to show proof they have received two vaccine doses (except for those who have received the one dose of the Johnson & Johnson vaccine) and will be required to wear masks at all times
4. Jalopy facilities are equipped with UV Powered air filtration systems
5. Outdoor garden and back patio spaces will be used as much as possible (weather permitting)
6. Classroom doors and windows will be open whenever possible to provide adequate ventilation
7. Classroom surfaces and instruments will be sanitized before and after each class session
8. Students are encouraged to bring their own instruments and maintain proper social distancing
9. Any student exhibiting cold or flu symptoms is asked not to participate in our in-person classes and events
SARS-CoV-2, the novel coronavirus first identified in 2019, causes the potentially life-threatening disease COVID-19. According to The U.S. Centers for Disease control and Prevention (CDC), its primary mode of transmission is through respiratory droplets when an infected person coughs, sneezes, or talks; spread is most likely when people are in close contact with each other. This is why wearing masks and maintaining physical distance from others are currently among the most effective methods of preventing the spread. The protocols we outlined above are anchored in the emerging scientific understanding of the transmission of SARS-CoV-2 and are informed by the CDC and the New York State Department of Health. As knowledge of the disease changes, these protocols will change as needed. This planning and guidance is also subject to change in response to local public health conditions and local, state, and federal guidelines.