RASA presents Flamenco Latin night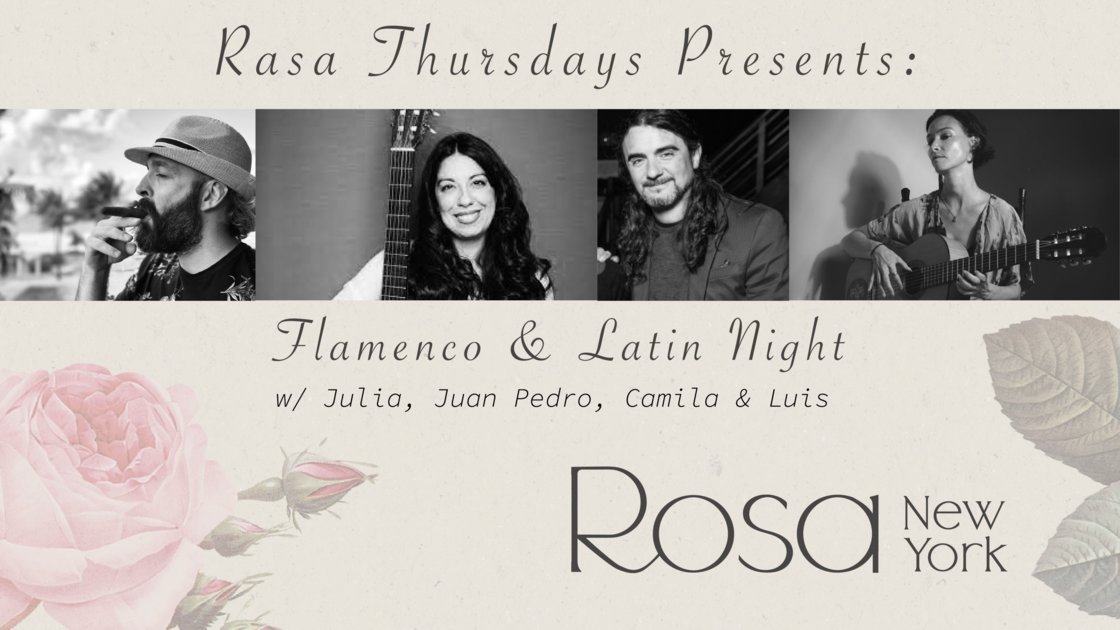 This is an in-person event
Thu, 14 October 2021
07:30PM - 11:00PM (EDT)
Event past
Rosa
386 Metropolitan Ave
Brooklyn, NY 11211
Open Map
Organizer
RASA
Host
Rosa New York
Julia Patinella and Camila Celin have put together an incredible international band of musicians from Spain, Colombia, Sicily, France and Mali. Please come join our Flamenco Latin party and dance your ass off.

*A note from Rosa New York, PLEASE READ*
Except for a very special occasion with the Rasa Ensemble on 10/21, we are no longer offering a BYOB option. If you would like to imbibe in some delicious natural wine, locally craft beer, sparkling water, or an elixir by Blue Chalice, please purchase with your ticket! Please bring your reusable vessel! See more about our exclusive offerings below. Thank You and look forward to seeing you on the dance floor ~ Xo Danielle, Rosa New York
Ticket Tiers
$50 - General Admission + Orange Wine - Domaine Glinavos, Paleokerisio, 2019, 500 ml
A small bottle with a big presence. This slightly effervescent Grecian and biodynamic orange comes a little peachy with notes of honey, and is a perfect pairing for fall and all things breezy. Recommended for 1-2
$55 - General Admission + Red Wine - Gulp Hablo, Garnacha, 2018, 1L
This organic and biodynamic red is mouth watering acidity and tart red cherry fruit in a 1 liter bottle! Recommended for 2-3 people.
$40 - General Admission + Beer (Please make a suggestion)
Use the secret code "beer" and send us your top 3 favorite beers.
$33 - General Admission + Blue Chalice Blue Lotus Elixir, 16oz
Heart and mind opening potion, perfect to pair with dancing. Served at room temperature. Suggested for one person.
$28 - General Admission + Sparkling Water 750ml