Pandit Jasraj Tribute Concert Series - Pandit Suman Ghosh (vocal) - Oct 25
Event Past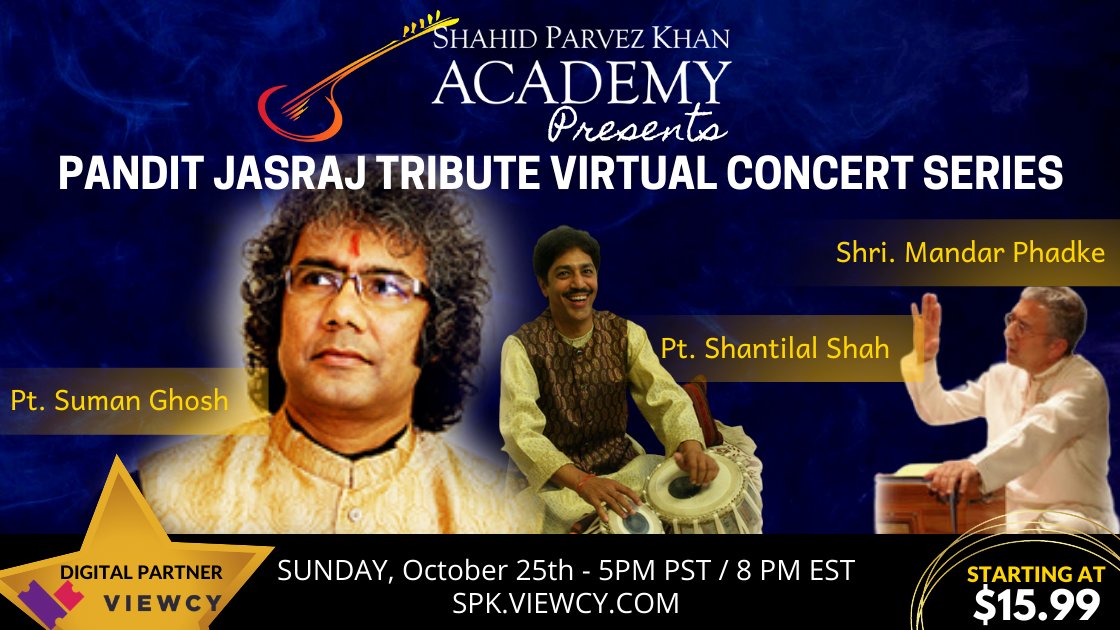 Day and Time
Sun, 25 October 2020
05:00PM - 09:00PM (PDT)
Description
The SPK Academy of Music proudly presents a series of 3 concerts in tribute to the legend Pandit Jasraj. The second concert in the series features Pandit Suman Ghosh, who is an internationally acclaimed Hindustani Classical Vocalist of the Mewati Gharana and a torch-bearing disciple of Sangeet Martand Pandit Jasraj Date/Time: Sunday October 25th at 5 pm PT/8 pm ET Tickets: Single Event Pass $15.99, Concert series pass for all 3 events $25.99
Day and Time
Sun, 25 October 2020
05:00PM - 09:00PM (PDT)
Sponsors


Musician's Mall - One of the only places in the world to find esteemed Indian Instrument Makers like Paul & Co, Hiren Roy, Rikhi Ram, Haridas Vhatkar, Hemen, Naskar, Paloma, Bina, and many other brands under one roof. To ensure your satisfaction our experienced staff does setup and tune the instruments for you, including harmonium tuning, sitar tuning, tabla strap pulling and other tuning, etc. We have many informative pages and videos on our website for quick fix and tuning the instruments.


Scott Cook Homes is a proud sponsor of this event. Scott is one of the top 40 Realtors Under 40 in the state of Arizona for 9 straight years; an accomplishment stemming from from his knowledge, experience, and work ethic. Visit www.scottcookhomes.com
Scott Cook Homes is matching 100% of donations up to $510 for this series.


VIewcy is a ticketing platform and a virtual stage helping artists and organizations build community and share their art. We are proud sponsors of this event.
Promoter

LearnQuest Academy of Music
Advisor

The SPK Academy of Music