The 2021 Brooklyn Folk Festival Saturday Night Ticket (Festival Passes in purchase options)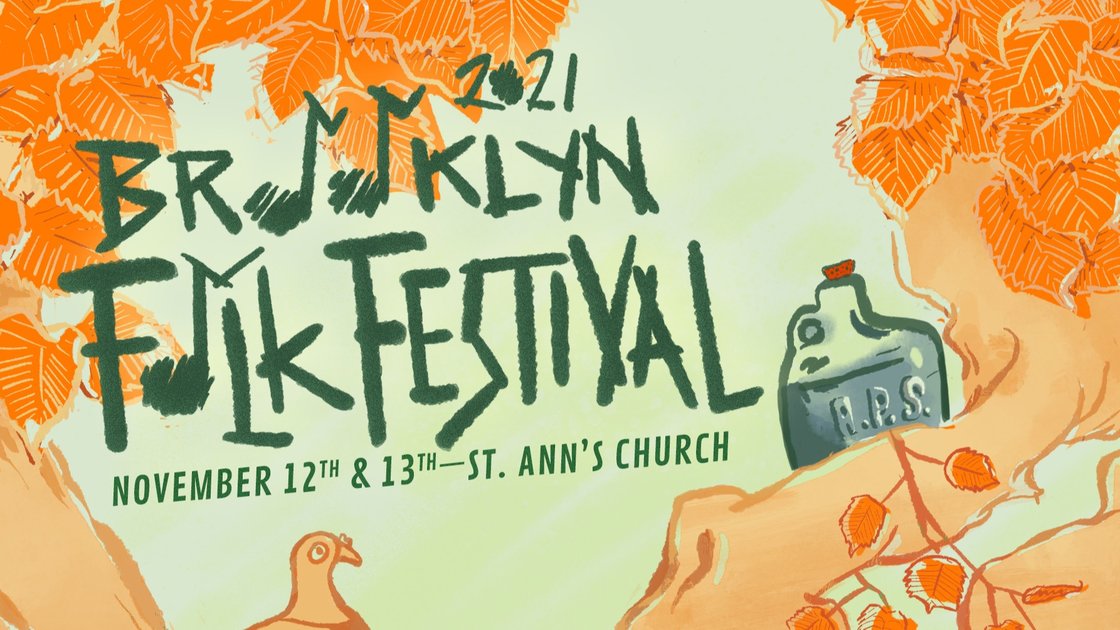 Sat, 13 Nov 2021 EST
07:00PM - 11:55PM (EST)
Event past
St. Ann & the Holy Trinity Church
157 Montague St
Brooklyn, NY 11201
Open Map
Friday, November 12th
Main Stage
8:00pm Anne Waldman, poet
8:30pm Ukrainian Village Voices, rural vocal music from Ukraine
9:15pm Nora Brown, songs, ballads and tunes with banjo & fiddle
10:00pm Litvakus, Klezmer & Yiddish music from Lithuania
10:45pm Tamar Korn & a Kornucopia, early Jazz, Blues and folk songs


Saturday, November 13th
Afternoon Concerts
Main Stage
12:00pm Kyle Tigges, music for children & families
12:50pm Eli Smith, songs, ballads & tunes with banjo & guitar
1:10pm The Jalopy Chorus, resident choir of the Jalopy Theatre performing world vocal harmonies, directed by Eva Salina
1:40pm Eleonore Weill, French & Yiddish music with flutes, accordion & hurdy gurdy
2:30pm Marcus Jade, blues & original songs
3:20pm The Lucky Five, trad Jazz
4:10pm Eva Salina & Peter Stan, vintage Balkan Roma ballads
5:00pm Piedmont Blūz, country blues
5:50pm Julia Patinella Trio, flamenco & Latin American songs

Parish Hall
12:00pm Fingerpicking guitar workshop
1:00pm Old-time string band jam session, lead by Harry Bolick. Bring your fiddles, banjo, guitars, etc!
2:30pm-4pm American Folklife Center, Library of Congress. Senior AFC staff folklorist Nancy Groce will be on hand to answer questions about the American Folklife Center, accessible to everyone at our national library, the Library of Congress. Groce will speak and answer questions about doing research at the Library of Congress; accessing AFC/LOC's collections online; fellowships and awards; and donations and acquisitions.
5:00pm Boxcutter Collective Presents a pre-performance ritual / rehearsal / recruitment for the 7pm Bing Bong exorcism. Come practice group movement and music-making and be prepared to help exorcise the north Brooklyn pipeline at 7pm in the main hall.

Evening Concerts
Main Stage
7:00pm Special Event! Boxcutter Collective Presents: Bing Bong, a strange and mystical group exorcism to cast out the planned North Brooklyn Fracked Gas Pipeline!
7:30pm Feral Foster, original & folk songs
8:15pm Radio Jarocho, Son Jarocho from Veracruz, MX
9:00pm Jackson Lynch, blues, folk, gospel & original songs
9:45pm Mamady Kouyate and his Mandingo Ambassadors, guitar band music from Guinea, West Africa
10:30pm La Cumbiamba NY, folk style Cumbia from Colombia w/ twin flutes


Sunday, November 14th
2:00PM SPECIAL EVENT: THE BANJO TOSS – Banjo Throwing Contest!

This event is held off-site.
Assemble at the Gowanus Dredgers Boathouse, 165 2nd St., right on the canal!
More [details]
Carroll St. F/G train is just two blocks away!

The Brooklyn Folk Festival strives to present the best in American and world folk music. Located in the heart of Brooklyn, NY our festival is a celebration of down home music, cultural diversity and memory. Each year we draw talent from New York's own thriving folk music scene as well as from the national and international world of folk, traditional and vernacular music.
The annual festival provides an opportunity for young and old alike to come together, enjoy music, workshops, film screenings, contests and jam sessions and be part of the vitality of our community. The festival is produced each year with a strong sense of vision and attention to detail with the goal of achieving an event that is more than the sum of its parts.


The Brooklyn Folk Festival is presented each year by the
Jalopy Theatre & School of Music
, a grassroots community space that is a music venue, music school, instrument store and record label. By growing the Brooklyn Folk Festival over the past 9 years, the Jalopy has created a substantial and unique community event that brings together thousands of music lovers and hundreds of musicians to celebrate the valuable musical traditions of the world's peoples.
The festival is held at the beautiful historic St. Ann's Church located at 157 Montague St. between Clinton and Henry in Brooklyn Heights. Brought to you in party by the New York City Department of Cultural Affairs and the New York State Council on the Arts.

The Festival will be following all state and city distancing and capacity guidelines, along with providing UV powered air filtration and adequate ventilation. We will also be requiring all who attend to show us proof of the following...
Being fully vaccinated and it has been 14 days or longer since your final shot.
Attendees must follow all mask, distancing and hand washing guidelines when in attendance. If you are vaccinated in New York, we encourage you to use Excelsior Pass to prove your vaccination. Excelsior pass is an app for your phone that can hold your vaccination and testing data. Download Excelsior Pass in the apple store or on google play.
NOTE: We will also accept other forms of proof of vaccination from other states including CDC Vaccination cards (with photo id), etc.
This ticket is a revocable license and may be taken up and admission refused upon refunding the purchase price appearing hereon and is grounds for seizure and cancellation without compensation. Holder of this ticket ("Holder") voluntarily assumes all risks and danger incidental to the event for which this ticket is issued whether occurring prior to, during, or after same, including, but not limited to, contracting, and/or spreading the COVID-19 virus, and agrees that the organization, venue, presenter, agents, participants, or players are not responsible or liable for any injuries, sickness, or death resulting from such causes. Holder acknowledges that the COVID-19 pandemic remains a threat to individual and public health, COVID-19 is a highly contagious disease transmitted through human contact and respiratory droplets (including through the air and via common surfaces) and it is possible that Holder may contract COVID-19 while at the event for which this ticket is issued. Holder agrees by use of this ticket not to transmit or aid in transmitting any description, account, picture, or reproduction of the event to which this ticket is issued. Breach of the foregoing will automatically terminate this license. Holder agrees that the license comprised by this ticket may be removed and Holder may be ejected from the event for which this ticket is issued in the event that Holder violates any law, ordinance, or venue regulation. Holder grants permission to the organization sponsoring the event for which this ticket is issued to utilize Holder's image or likeness in connection with any video or other transmission or reproduction of the event to which this ticket relates.