The Court presents: Steve Gorn and Shankh Lahiri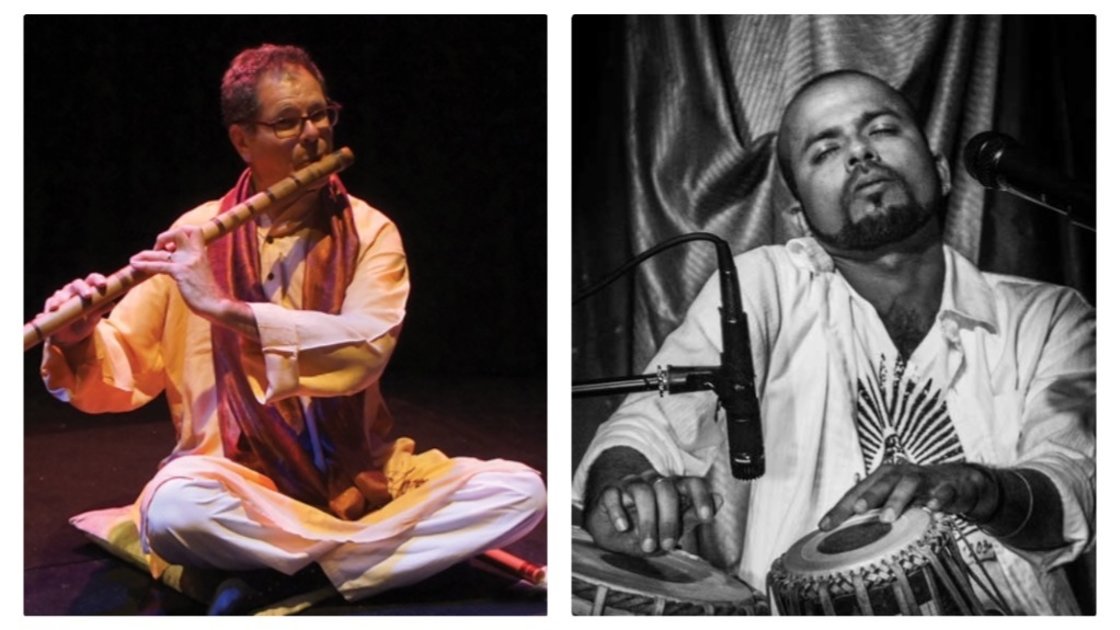 Tue, 23 Jun 2020 EDT

08:00PM - 10:00PM (EDT)

Event past Sponsors Kolkata Sitar School Sponsor Kolkata Sitar School Organizer The Brooklyn Court Artist Steve Gorn Shankh Lahiri The Brooklyn Court presents an evening of classical Indian music in two parts featuring bansuri maestro Steve Gorn and a tabla solo by virtuoso Shankh Lahiri. We will enjoy this music event from 8:00pm (EDT) on Tuesday evening. Everyone is welcome to join. This event is free and open to all with all donations going to the artists. About the artists ++++++++++++++++++ Steve Gorn; Steve Gorn's bansuri is featured on the 2011 Grammy winning recording, "Miho – Journey to the Mountain," with Dhruba Ghosh and the Paul Winter Consort, as well as the Academy Award winning Documentary film, Born into Brothels. He has performed Indian Classical Music and new American Music on the bansuri bamboo flute in concerts and festivals throughout the world. His gurus are the late bansuri master Sri Gour Goswami, of Kolkata, and Pt. Raghunath Seth of Mumbai, who he often accompanied in concert. He also studied with the late Ustad Z. M. Dagar. He has often performed in India, appearing at Bharat Bhavan in Bhopal, Habitat Center and Triveni Hall in New Delhi, The Sangeet Research Academy in Kolkata, NCPA, and The Nehru Center in Mumbai, and numerous other venues. His performance with Pandit Ravi Shankar's disciple, Barun Kumar Pal, at Kolkata's Rama Krishna Mission, was televised throughout India. In 2013, he was awarded the Pandit Jasraj Rotary Club of Hyderabad Award, for Cross Cultural Achievement. His numerous recordings include Luminous Ragas, Rasika, with tabla by Samir Chatterjee, Illuminations, with Nepali bansuri wallah, Manose, the landmark Indian-Jazz fusion recording, Asian Journal, and Between Two Worlds, an introspective work featuring his clarinet and bansuri. "Steve Gorn has adapted Indian Classical Music on the bansuri so nicely that one should feel proud of him." Hari Prasad Chaurasia Shankh Lahiri: Shankh Lahiri comes from a family with a strong tradition of Indian Classical Music and has fully devoted his life to Music. Son of the visionary sitarist and Guru Shri Rabindranath Lahiri (disciple of Ustad Dabir Khan), he grew up in an environment imbued with the fragrance of Hindustani music. As a child, he received intensive trainin Shankhachur in both vocal and tabla from his father and went on to graduate with in both subjects. He later took advanced talim in tabla from Pt. Sandeep Dev in Kolkata. Currently Shankh, as he is lovingly known in the fraternity, is devoted senior disciple of world-renowned tabla maestro Pandit Nayan Ghosh. Shankh has gained a reputation as a very creative and innovative concert performer in both classical and Experimental World music genres. He has accompanied and toured with many reputed and front ranking artists such as Pt. Jasraj, Ustad Shujaat khan, Ustad Shahid Parvez, Arati Ankalikar, Pt.Nayan Ghosh (sitar), Pt.Mukul Shivputra (vocal), Shri Rakesh Chaurasia (flute), Kanjira Maestro Selva Ganesh and many others. He is a regular performer with his elder brother Pulak Lahiri (sitar), and his sister, a young talented vocal exponent Sangeeta Lahiri. Shankh has performed at major festivals all over the India and abroad such as Learn Quest Festival in Boston (USA), Raga live Festival in NYC , Chicago Jazz Festival (USA), Tropical Heatwave Festival, Gasparilla Music Festival, Lights on Tampa Festival , India Fest - Richmond and many more. Currently he is actively working with USA based WORLD FUSION BAND 'WAHH' and 'Shankh & Friends' as a composer and performer. ​ Yet with all of his forays into experimental music, Shankh remains firmly rooted in tradition. He draws his greatest inspiration from the classical music legends of past and present. ​