Walk of Souls and InnerCartography Immersion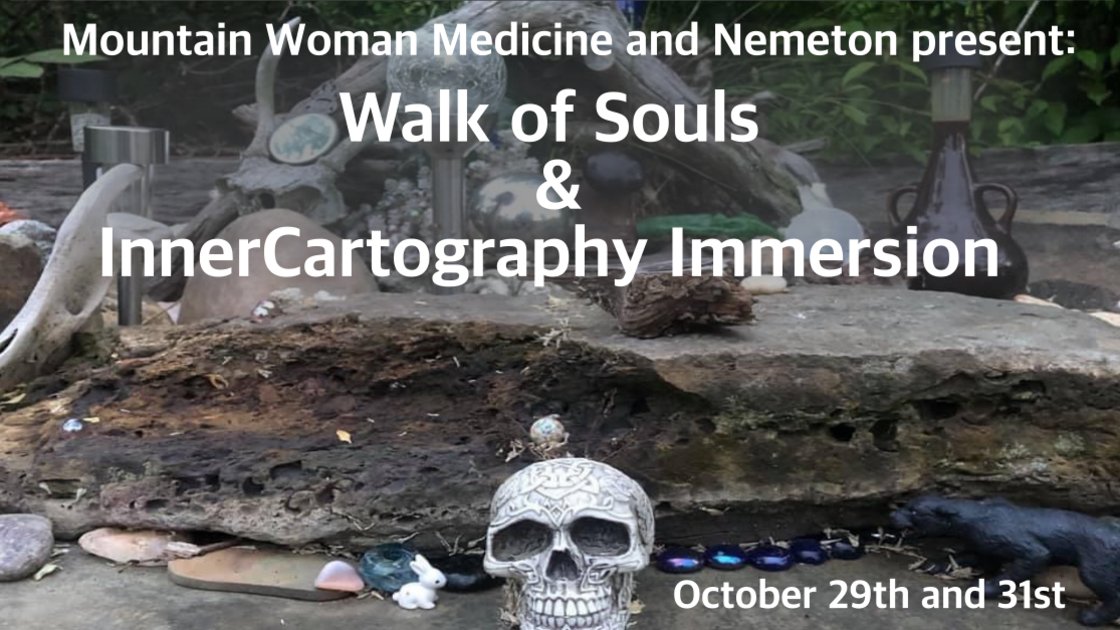 This is an in-person event
29 Oct, 2021, 12:00PM to
31 Oct, 2021, 1:00PM (EDT)
Event past
Organizer
Raine Ford
Mountain Woman Medicine & Nemeton Presents:


Walk of Souls and InnerCartography Immersion
A 3/4 day Intensive at Nemeton (On-Mountain)


Why:


Exchange:
Where: At Nemeton (The Mountain) Endicott NY
When: October 29- 31 (fri- sun)


How: 3 day camping intensive, with Rice & Dahl available throughout the weekend, as well as an outdoor kitchen. There will be additional info available on the event flow, the items to bring and how to prepare, once you register for the event and join the Discord for pre-event community discussion.
We look forward to seeing you there!
Make your Exchange here:
Discord link:
Mountain Amenities
Fresh well water in igloos
Electric to charge small items (Most cell phones seem to work here)
Wifi in certain parts of The Mountain.
Rice & Dhaul provided through the weekend.
Community kitchen, with small oven, stove top & electric for kettle for water.
Space in fridge for food items
Bathing in the stream (please bring biodegradable soap)
Outhouse for #2 (pee in the woods)
Paths and private beautiful sacred spaces to decompress in.
Hammocks to rest in, in community and private spaces.
Items to consider bringing / Keeping track of while your here.
Tent / ground tarp, cot or bed roll, Blanket /sleeping bag, pillow
Warm clothes, rain gear, extra clothes in case you get wet! Cold night clothes.
A Towel!
Personal toiletry items and any medications / daily use things that you normally use.
Personal First Aid kit (with a mirror for tick checks)
Day bag or hip pouch / belt to carry personal items around. (like bug repellent, journal and pen, water bottle, something to fiddle in your fingers, a knife, flashlight, a warm layer, hankie, ect.
Notebook, pens, pencils, highlighters, voice recorder. (You will receive a 3 ring binder of notes upon arrival)
Water vessel AND a hot drinks vessel, bowl and spoon
Snack and morning beverages that you need.