A Journey to Shanti Niketan
by
Bharatiya Vidya Bhavan, USA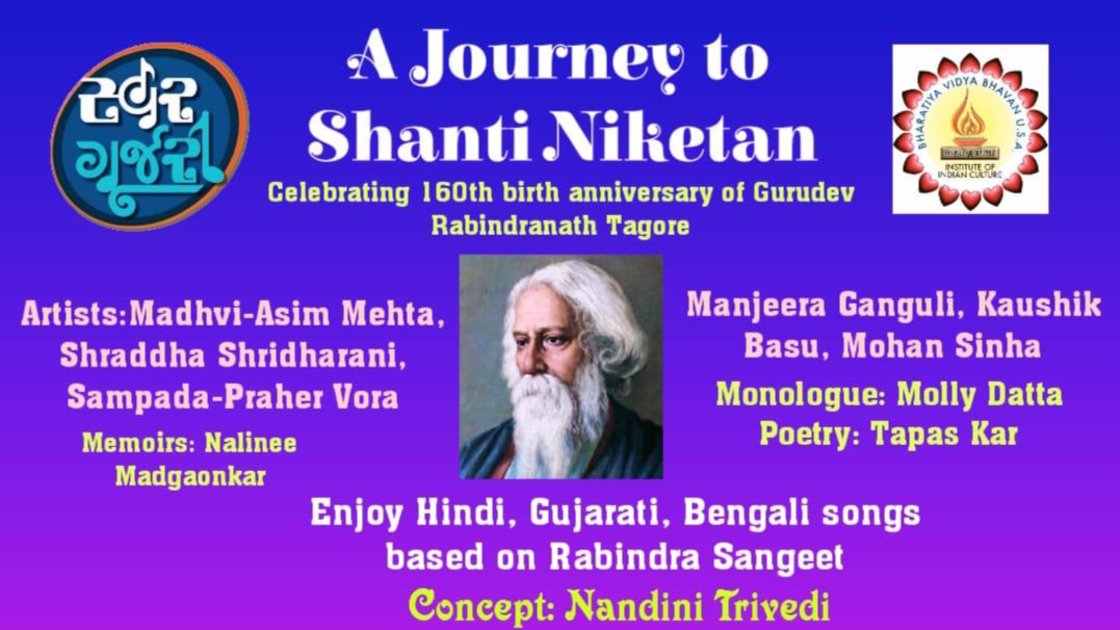 This is an in-person event
Sat, 15 May 2021
06:30PM - 08:30PM (EDT)
Event past
Organizer
Bharatiya Vidya Bhavan, USA
Rabindranath Tagore was a literary giant in India. Born into a Bengali Brahmin family in Calcutta, Tagore believed that God was found through personal purity and service to others. He founded an ashram, Shanti Niketan, in West Bengal. The Vishva Bharati also serves as Shanti Niketan's cultural center. It is known for its literary and artistic heritage with its notable figures being Rabindranath Tagore and Nandalal Bose.

Tagore was prolific in many other artistic fields. Besides his poetry & songs, Tagore produced many novels, short stories, and dramas. He wrote non-fiction works on diverse topics. He continues to inspire us all, including the younger generation.

We are bringing in Tagore's immortal songs, along with beautiful poetry and a monologue, in this program. It can provide inner peace in this crucial pandemic time.
We wish to restore our rich cultural heritage to its crowning glory with your kind support through the purchase of a ticket for just $10 or any donation that you wish.


Let's enrich the world with our Indian culture and music for a long time to come.

This show is in the Gujarati, Hindi, and Bengali languages.