ACVT Masterclass Series - Women Akpwon. A Talk with Akemis Teran.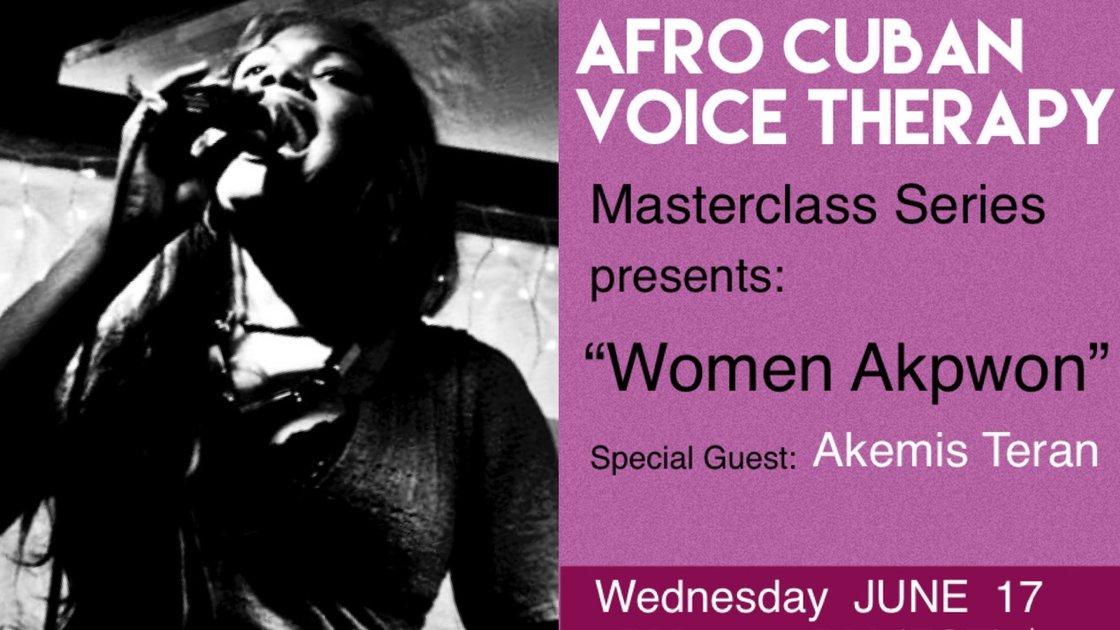 This is an in-person event

Wed, 17 June 2020

01:00PM - 02:30PM (EDT)

Event past Advisor brooklyn raga massive Organizer Melvis Santa Afro Cuban Voice Therapy program launches its Masterclass Series focused on the women's perspective in Afro Cuban folkloric singing traditions. Join this session hosted by ACVT founder Melvis Santa for a special workshop and Q&A with master akpwon Akemis Teran. *The event will happen via Zoom on Wednesday, JUNE 17 at 1PM (EST). New York time // 8PM (PST) Athens time. *Purchase your ticket and you will receive the Zoom link on the day of the event. *For questions or support send an email to info@melvissanta.com. Don't forget to include your name! About the Artist: Born in Jovellanos, Matanzas and raised in Havana, Cuba into diverse folkloric traditions, Akemis Teran was a on a path to become an akpwon since her early years. Lead vocalist of Conjunto Folklorico Nacional de Cuba for over 20 years, she also graduated as a dancer and Dance Teacher from Superior Studies Institute in Cuba (ISA). Akemis has made a successful career inside and outside the island touring with CFNC and also as a solo artist. She has performed and taught ongoing series of masterclasses in Greece and all around Europe, Asia and Latinoamerica, as well. Her powerful, deep yet sweet voice tone, combined with her expertise and profound knowledge of the Afro Cuban Traditions has placed her as one of the most respected singers in Cuban Folklore today. Over the years Akemis has collaborated with legendary artists and groups such as Clave y Guaguanco, Raices Profundas, Team Cuba de La Rumba y Team Cuba Mujeres Rumberas.