Raga Bhimpalasi
by
Chhandayan Programming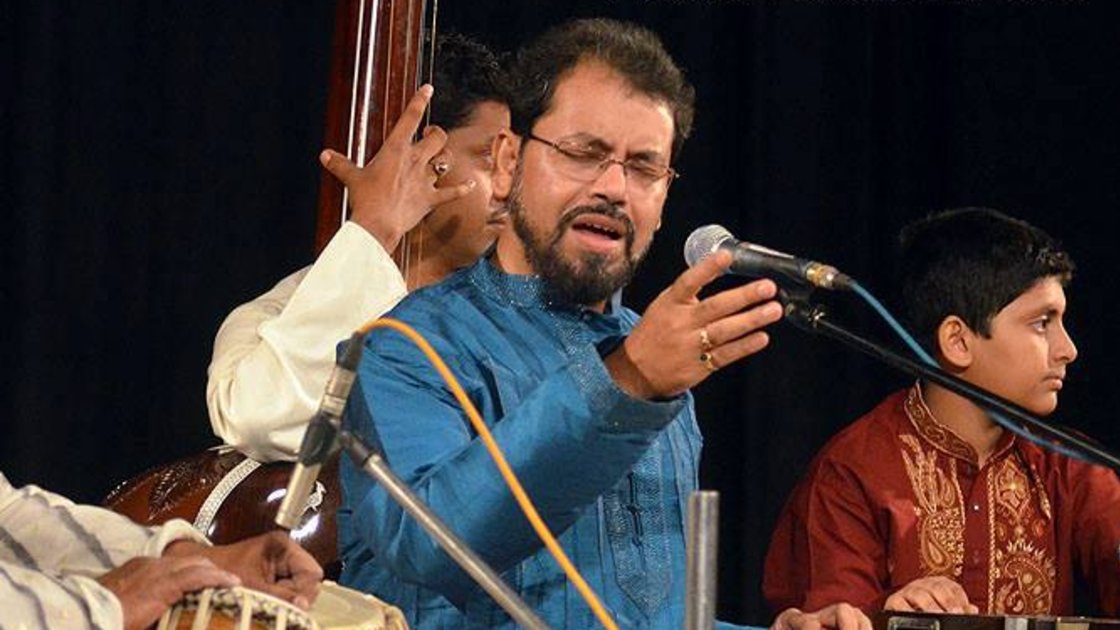 Tickets unavailable at this time
This event is streaming online
Sat, 30 October 2021
08:00PM - 09:30PM (EDT)
Event past
Organizer
Chhandayan Programming
This concert will feature Kaushik Bhattacharya (vocal), Sandip Ghosh (tabla) and Koulik Bhattacharya (harmonium). The concert will open with an introductory performance by Tejendra N. Majumdar and Samir Chatterjee.

Koushik Bhattacharya trained early from his father, Pt. Pataki Bhattacharya and his mother, Rama Bhattacharya. He performed as a child in respected festivals throughout India. In 1987 he was selected as a scholar by the Sangeet Research Academy to study under Pt. Arun Bhaduri. He eventually became the "Ganda Bandh Shagrid" of the late Pt. K.G. Ginde and also trained later under the guidance of Pt. Sunil Bose.
Koushik is a regular artist of All India Radio & Television and an empanelled artist of the Indian Council for Cultural Relations under the Ministry of External Affairs. He is attached as a guru of Indian Classical Vocal in Gyan Bani FM (105.4 MHZ) on the "Sur Sabha" radio program airing live on Wednesday evenings.
Koushik has performed for many years at acclaimed music conferences including the ITC Sangeet Sammelan, the All India Music Conference in New Delhi, the Conference of Indian Council for Cultural Relations, the Dover Lane Music Conference, Uttarpara Sangeet Chakra, West Bengal State Music Academy and Dakshini Music Conference. He has also toured abroad participating in prestigious music events in the U.S.A., Canada, Italy, France, Germany, Denmark, Spain, Norway, Dubai and Bangladesh. He received the Surmani award from Sursinger Samsad in Mumbai, and the Vocational Award 2008 from the Rotary Club of Salt Lake City, Kolkata.
Along with his busy concert and touring schedule, Koushik also serves as a dedicated teacher of Indian Classical Vocal in "The Doverlane Music Academy" and "Future Hope School" of Kolkata and as examiner for Rabindra Bharati University. Koushik is also the director of his own music school, "Manindra Sangeet Tirtha", which was established by his father in 1970 (in memory of his Grand Father who was a famous Dhrupad Singer), and provides traditional Indian Classical music education.


Pandit Tejendra Narayan Majumdar

One of the best-known and undoubtedly one of the busiest Sarode maestros of the world, Pandit Tejendra Narayan Majumdar, has long achieved that order of excellence and universal acclaim, which ensures him to be one of the foremost icons of Indian Classical Music throughout the globe.

Training:
Early initiation into music by his grandfather, Late Bibhuti Ranjan Majumdar and later his father, Late Ranjan Majumdar, nurtured Tejendra's considerable talent. Tejendra was accepted by the Sarod Maestro Late Ustad Bahadur Khan as his disciple. Vocal and rhythm training under Late Pandit Amaresh Chowdhury and Sri Anil Palit further ensured a holistic musical development in him. Eighteen years of intensive study under Late Ustad Bahadur Khan matured his talent into a true genius.
After the untimely demise of his guru, he studied under Late Sri Ajay Sinha Roy. He was then accepted as a disciple by none other than Late Swara Samrat Ustad Ali Akbar Khan. He continued to learn from the Legend until his demise.

Recognition:
Recognition came as early as in 1981, when he stood first in the All India Radio Music Competition and was awarded the President's Gold Medal and the Pandit D.V. Paluskar Award. Thenceforth, he did not have to look backwards and has performed and gained recognition in 4 continents. Quite obviously, he is also a Top Grade artist of A.I.R and Doordarshan. This year, the Government of West Bengal has awarded him Banga Bhushan as well as Sangeet Mahasamman, the highest award for music in West Bengal.

Style:
One of the best equipped musicians to carry on the great Senia Maihar mantle, Tejendra combines the intellectual density and technical virtuosity of his gharana, with an extraordinary tone, touch and an ambient melody which transcends any qualification. Tejendra's repertoire combines elements from the Dhrupad, Tantrakari as well as Gayaki styles of music. Above all, he has, in abundant measure, that indescribable ability to take the listeners along with him - the rare quality that is the hallmark of a genius.

Social Contributions:
1. Pandit Tejendra Narayan Majumdar was invited to perform for the 50th Independence Day Celebration of India in New York, USA, at World Trade Centre (the historic Twin Towers) on 15th August, 1997
2. After the Kargil War in 1999, he had organized a Relief-Fund-Raising concert in which various maestros of Indian Classical Music had taken part, and had donated the full amount of INR 1 Lakh raised due to the concert towards their relief
3. Just after the Nepal earthquake, a few months back, he had participated in Nepal Earthquake Relief-Fund-Raising concert in Nashville, USA
Classical Concerts:
Most of his time is, however, taken up in touring the country and abroad, presenting innumerable concerts, workshops, lecture demonstrations, doing recordings and taking up teaching assignments.
In 2009, he was invited by none other than Bharat Ratna Late Pandit Ravi Shankar to perform at the Hollywood Bowl, Hollywood, Los Angeles, USA.

Accompanying Artistes:
Pandit Tejendra Narayan Majumdar has been accompanied by a wide range of Tabla maestros right from Pandit Kishen Maharaj, Ustad Zakir Hussain, Pandit Shankar Ghosh, Pandit Swapan Chaudhuri, Pandit Kumar Bose, Pandit Anindo Chatterje, Pandit Sanjay Mukherjee, Ustad Sabir Khan to Pandit Subhankar Banerjee, Pandit Yogesh Samsi, Pandit Bickram Ghosh and Pandit Tanmoy Bose.

Classical Collaborations:
His trio and duet renditions with Vocal maestros Ustad Rashid Khan and Pandit Ajoy Chakraborty, his duet renditions with Sitar maestros such as Ustad Shahid Pervez, Ustad Shujaat Hussain Khan, Pandit Kushal Das have been widely acclaimed and are highly appreciated throughout the globe. He has not stopped himself from collaborating with Carnatic maestros like Dr. M. Balamuralikrishna, Ganesh Rajagopalan, Mysore Manjunath, N. Ravikiran and Shashank Subramanyam.
World Music Concerts:
Pandit Tejendra Narayan Majumdar is also well known for his World Music endeavours. He has collaborated to present World Music with names such as Sivamani, Trilok Gurtu, Louis Banks, George Brooks and Ganesh Rajagopalan.

Compositions:
Pandit Tejendra Narayan Majumdar's brilliance and popularity as a classical artiste has not dimmed his interest in composing, arranging and experimenting in other areas of music. From composing the background score of meaningful films to musical ballets - Tejendra is always ready to take on any musical challenge. He has composed the music for Bengali films like 'Sajarur Kaata', 'Shongshoy' and 'Hononkal' of Saibal Mitra, 'Tollylights' of Arjun Chakraborty, and a number of Telefilms. He has also composed and arranged music for different singers like Ghulam Ali, Pandit Ajoy Chakraborty, Ustad Rashid Khan, Haimanti Shukla, Arati Mukherjee, etc.

One of his composed and arranged music albums "SOUL CALL- OM NAMOH NARAYANAY" had been nominated for the 2010 GRAMMY AWARDS!

Sandip Ghosh

In his mid thirties, Sandip Ghosh is a known name in the music fraternity.Started at the age of Six
under Pt. Gobindo Bose, Sandip has long association of more than 20 years with legendary Tabla
Wizard Pt. Anindo Chatterjee in Guru Shishya Parampara. Beside his Tabla Gurus, he has got the
rare opportunity to get Vid. Kaushiki Chakraborty as his mentor for more than a decade,and Pt. Ajoy
Chakraborty as a Guru for overall guidance about accompaniment.

A first class in masters from RBU in Music, Sandip has two gold medals in his name, along with
dozens of numerous prestigious accolades globally. An acclaimed accompanist, who has been touring extensively with : Pt. Ajoy Chakraborty, Pt. Kushal Das, Pt. Tejendra Narayan Majumdar, Vid. Kaushiki Chakraborty, Pt. Hari Prasad Chowrasia, Ustad Shujaat Khan, Ustad Rashid Khan, Pt. Purbayan Chatterjee, Pt. Ranajit Sengupta to name a few. Working with several brilliant world musicians & bands of other genres took his adopt- abilities to a different height.