Navarasa Concert - Presented by Arts from India in collaboration with Kalagram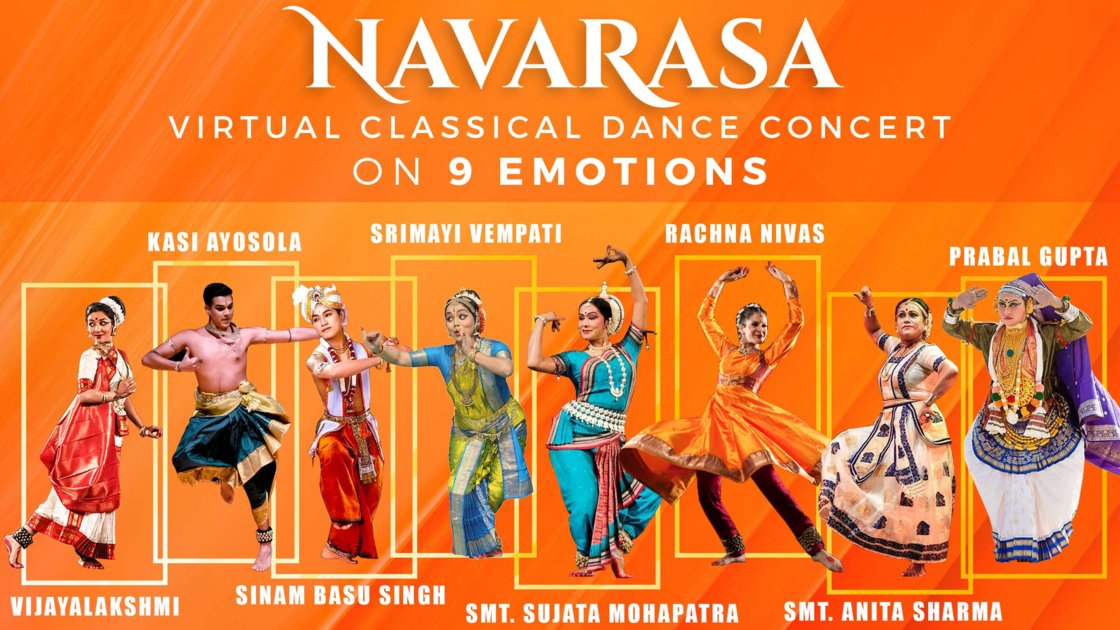 This is an in-person event

Sat, 15 August 2020

07:30PM - 09:30PM (IST)

Event past Organizer Arts From India 7:30 PM - 9:30 PM (India Time) | 10 AM - 12 PM (New York Time) The Navarasa event demonstrates the nine emotions through eight different styles of Indian Classical dance performed by accomplished dancers all across India and The U.S.A. These dancers are recognized as one of the best around the globe in their respective dance forms. Due to high demand, we've been given the opportunity to broadcast the show again, however this time, through a collaboration in which we will have a few new elements! We are very grateful to be working with Kala-Gram, a not-for-profit government society based out of Gurugram, India. The program will be hosted by none other than Maya Kulkarni. KALA-GRAM formed under the Gurugram district administration,, aims to promote art and culture across all age-groups in the district. Their mission is to provide quality education in the field of fine art and to encourage art, culture and its practitioners in the district through various events and interventions. ARTS FROM INDIA was established in 2018 in the U.S. by a group of like-minded individuals committed to spreading traditional Indian cultural experiences on a global scale. Arts from India organizes concerts on various states of India, including classical/traditional music, folk and classical dancing, and local art such as textiles, paintings, food and culture to showcase different aspects of that state. So celebrate this Independence Day by tuning into Navarasa, a celebration of the nine rasas (emotions) through the eight forms of Indian Classical Dance in the following order: Sringara (love) - Mohiniyattam by Vijayalakshmi. Hasya (laughter) – Bharatanatyam by Kasi Aysola. Karuna (sorrow) – Manipuri by Sinam Basu Singh. Roudra (anger) – Kuchipudi by Srimayi Vempati Veer (valour) – Odissi by Smt. Sujata Mohapatra Bhayanaka (fear) - Kathakali by Prabal Gupta Bibhatsa (disgust) - Kathak by Rachna Nivas Adbhuta followed by Shanta (wonder followed by peace) - Sattriya by Anita Sharma Renowned dance critics from India and the United States will be critiquing the entire event. We look foreword to seeing you!