AUSTRALIA-JAPAN-KOREA-HONG KONG II SHANTI - EP 1 : Pandit Anindo Chatterjee (Tabla Solo) & Shri Omkar Dadarkar (Vocal)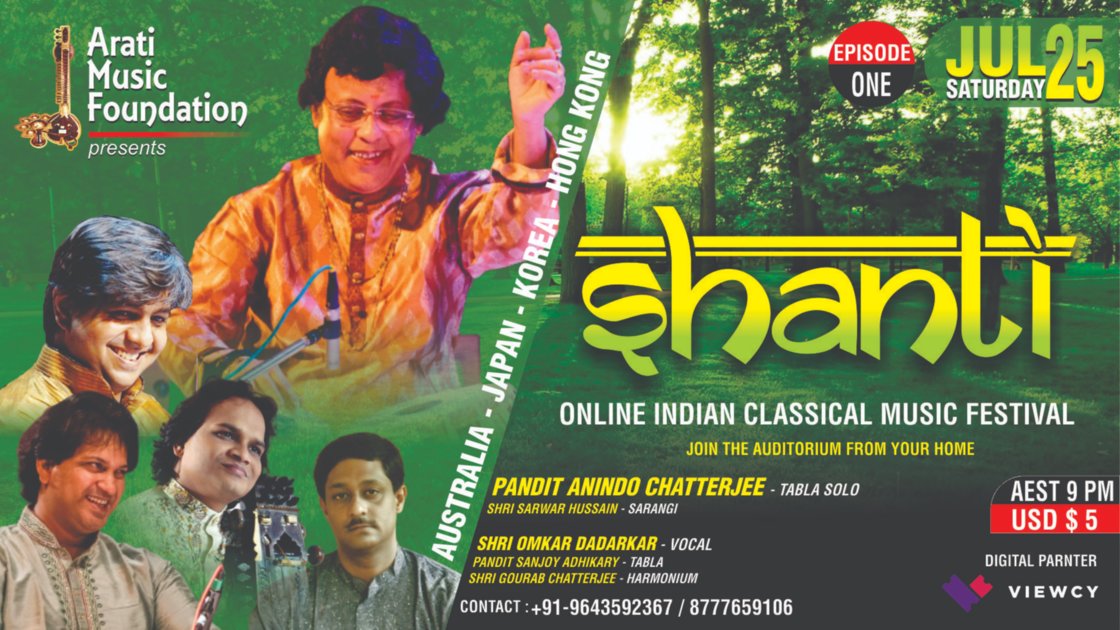 Day and Time
Sat, 25 July 2020
09:00PM - 11:00PM (AEST)
Description
SHANTI - an Online Festival of Indian Classical Music is a series of concerts, where you will witness the best of the younger generation and the legendary maestros.
In EP-1, it will be a vocal (Khayal) recital by Shri Omkar Dadarkar, who will be accompanied by Pandit Sanjoy Adhikary on the tabla and Shri Gourab Chatterjee on the harmonium. This will be followed by a Tabla Solo by none other than the Living Legend Pandit Anindo Chatterjee. He will be accompanied on the sarangi by Shri Sarwar Hussain.
OMKAR DADARKAR an upcoming brilliant young Vocalist in the field of Indian Classical Music (Hindustani Style) presently is attached with I.T.C. Sangeet Research Academy, Kolkata-India as a Junior Guru. Born in a family of musical heritage, parent being Marathi Natyasangeet Performer, also nephew of legendary classical vocalist Pandita Manik Vermaji, he
is blessed with long training received from Pt.Yashwantbua Joshi, VidushiGirijadeviji and Pt. Ulhas Kashalkar. He received many prestigious Awards from reputed Music Forums like Ustad Bismillah Khan Yuva Puraskar From Sangeet Natak Academy ,Govt. of India, Sangeet Shiromani Award, Aaditya Vikram Birla Kala Kiran Award and have performed in all major Classical Music Conferences in India and abroad.
PANDIT ANINDO CHATTERJEE is an Indian tabla player of the Farukhabad gharana school. He was born into a musical family. Chatterjee is a disciple of Pt. Jnan Prakash Ghosh. Gifted with an ability to summon crystal-clear melodies from his drums, he evolved into one of the world's greatest tabla players.
As director of the Farrukhabad Gharana of Tabla, founded by Haji Vilayat Khan Saheb, Chatterjee continues to give new voice to his instrument. In addition to solo performances and recordings, Chatterjee worked with sitar players Nikhil Banerjee, Imrat Khan, Budhaditya Mukherjee, and Rais Khan, Pandit Ravi Shankar, Shahid Parvez, Pt.Manilal Nag, sarod players Buddhadev Das Gupta and Ali Akbar Khan, Ustad Amjad Ali Khan, Tejendra Narayan Majumder, flutist Pandit Hariprasad Chaurasia; santoor player Pandit Shivkumar Sharma; and vocalists Pandit Mallikarjun Mansur and Gangubai Hangal.
Inspired by his uncle, Pandit Biswanath Chatterjee, Anindo Chatterjee began playing tabla at the age of five. Studying briefly with Ustad Afaq Hussain Khan of the Lucknow Gharana, he advanced to studying under Pandit Jnan Prakash Ghosh, with whom he studied for three decades. The recipient of the prestigious President's Award in 1970, Chatterjee became the first tabla player to perform in the House of Commons 20 years later.[1][2] He performed at Rashtrapati Bhavan when U.S. President Barack Obama visited India in November 2010. Chatterjee received the Sangeet Natak Academy Award for 2002.
Day and Time
Sat, 25 July 2020
09:00PM - 11:00PM (AEST)