Beledo / Pete Levin / Scott Petito / Kenny Grohowski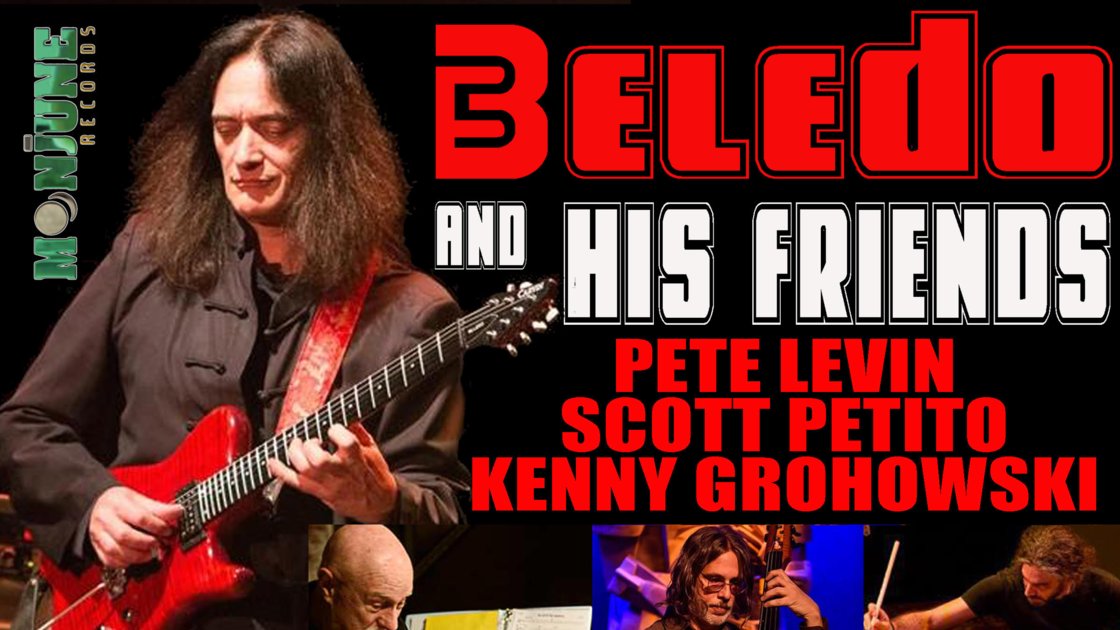 This is an in-person event
Tue, 16 November 2021
08:00PM - 10:00PM (EST)
Event past
Organizer
The Avalon Lounge
We aren't usually open Tuesdays, but we're making an exception for some friends who will be playing some world-class jazz fusion. Instead of our regular menu, we'll be featuring a pop-up kitchen by our friends at HYPHEN foods. Please bring your proof of vax or a recent negative covid test



BELEDO is Montevideo (Uruguay) born multi-instrumentalist based for 3 decades in New York City. He plays predominantly electric and acoustic guitars as well acoustic piano, and he has recorded albums and performed live playing also violin, fretless bass guitar, accordion, synths, percussion, and in early stages of his career he was also the lead singer in several of his rock and fusion bands. Since his late teenage years, Beledo has gained guitar-hero status in his teens, playing every venue in his hometown of Montevideo, and in following years, captivating audiences in Uruguay and Argentina, as well in other countries in South America, playing all kind of venues, from jazz rock clubs to theaters, from rock clubs to big open air arenas.

Beledo is a self-thought guitarist and classically trained pianist, and he performed classical music recitals on National Public Radio and in numerous theaters. While attending the University School of Music in Uruguay, he was a founding member of The University Conservatory Jazz Quartet, the university's first jazz ensemble, sponsored by the school in an effort to integrate jazz into the traditional curriculum.

Before his arrival in the USA in the late 80's, his guitar talent was spotted by Guitar Player Magazine, and before that big move from his native country, he performed and recorded with some of the biggest names on the South American scene: Pedro Aznar, Miguel Cantillo, Ruben Rada, Jaime Roos, Hugo Fattoruso and Opa, and he led several of his solo project.

After arriving in NYC, he performed and recorded with a multitude ofd artists in diverse genres: Tito Puente, Celia Cruz, Tito Nieves, Cheo Feliciano, Bakithi Kumalo, Morris Goldberg, Anton Fig, Stefon Harris, Joe Locke, Randy Brecker, Manolo Badrena, Mark Walker, Andy Middleton, David Finck, Adam Holzman, Lincoln Goines, Kim Plainfield, Tal Wilkenfeld, Jimmy Haslip, Mauro Pagani, Asaf Sirkis, Dewa Budjana, Dwiki Dharmawan, Gary Husband, Carles Benavent, Jorge Pardo, Tony Levin, Kenny Grohowski, Pete Levin, Scott Petito, Zhang Ling, Boris Savoldelli, USA progressive rock band Circuline, Indonesian ethno-jazz band simakDialog and many more. He performed in the USA, Canada, the Caribbean, Uruguay, Argentina, Chile, Peru, Brazil, UK, Spain, China, Indonesia.

Beledo's last two solo studio albums are released on the NYC based highly acclaimed MoonJune Records: 'Dreamland Mechanism' (2015; with Gary Husband and Lincoln Goines, with special guests Dewa Budjana, Doron Lev and Tony Steele) and 'Seriously Deep' (2021; with Tony Levin and Kenny Grohowski, with special guest Jorge Camiruaga, Keartoma Rantao and Boris Savoldelli). In September 2021, Beledo recorded another album for MoonJune that will be out in 2022, with Jorge Pardo, Carles Benavent and Asaf Sirkis, with special guests Gary Husband and Diego Amador. Beledo's previous solo albums, prior to his MoonJune association, are: 'Escape' (1986), 'Desde La Torre' (2000), 'Lejanas Serranias' (2002), 'Montevideo Jazz Dream' (2007), and 'The Avengers' (2012).

Beledo & His Friends is his East Coast touring band, featuring Beledo on electric and acoustic guitar, occasional piano; Pete Levin on keyboards; Scott Petito on upright bass and bass guitar; and Kenny Grohowski on drums.


PETE LEVIN, based in Saugerties, NY, in the Hudson Valley, is a legendary session and solo artists with the career spanning over 5 decades. After graduating from the Juilliard School, Pete became a synthesizer specialist in the New York City recording studio scene. Over the years, he has graced hundreds of jazz and pop recordings and performances with many artists, among other Gil Evans, Jimmy Giuffre, David Sanborn, Annie Lennox, Charles Mingus, Jaco Pastorius, Lenny White and Paul Simon. He is currently touring with Levin Brothers, a jazz quartet featuring his younger brotehr and bass icon, Tony Levin. Pete Levin has released nine solo albums.


SCOTT PETITO is another illustrious resident of the Hudson Valley. Scott is an award winning composer, producer and sound engineer, as well gifted bassist and multi-instrumentalist who has performed on hundreds of recordings in many musical styles. Scott studied composition and arranging at Berklee College of Music in Boston, and has scored films for the BBC, Robert Redford and PBS. Scott has become particularly well known for his work in the folk and jazz genres, working with such musicians as James Taylor, Pete Seeger, The Band, Jack DeJohnette, Don Byron and Dave Brubeck; and wikth rock bands The Fugs and Mercury Rev.


KENNY GROHOWSKI is arguably the busiest drummer not only in NYC but probably in the USA, and he is versatile in so many different genres, from Latin jazz to death metal, from polka to fusion, from mainstream jazz to avant-garde, from Brazilian music to progressive rock. His recent associations include John Zorn, Imperial Triumphant, PAKT (with Percy Jones, Alex Skolnick, Tim Motzer), Hipster Assassins (with Felix Pastorius), John Zorn, Abraxas (with Aram Bajikian, Shanir Ezra Blumenkrantz, Eyal Maoz), Trey Spruance & Secret Chiefs 3, Shapeshifters (with Markus Reuter and Tim Motzer), Beledo & His Friends. He has performed all around the world and recorded with artists such as Brand X, Vernon Reid, Richie Ray & Bobby Cruz, Giovanni Hidalgo, John Benitez, Lonnie Plaxico, Andy Milne's Dapp Theory, Emeline Michel, Zê Luis, Peter Cincotti, Jimmy Haslip, Jorge Sylvester Afro-Caribbean Experimental Collective, Alex Skolnick, Alex Machacek.