Between the Mountain and the River: West End Big Band with Abeer Albatal, and Kinan Abuakel
by
Culture Unlimited Foundation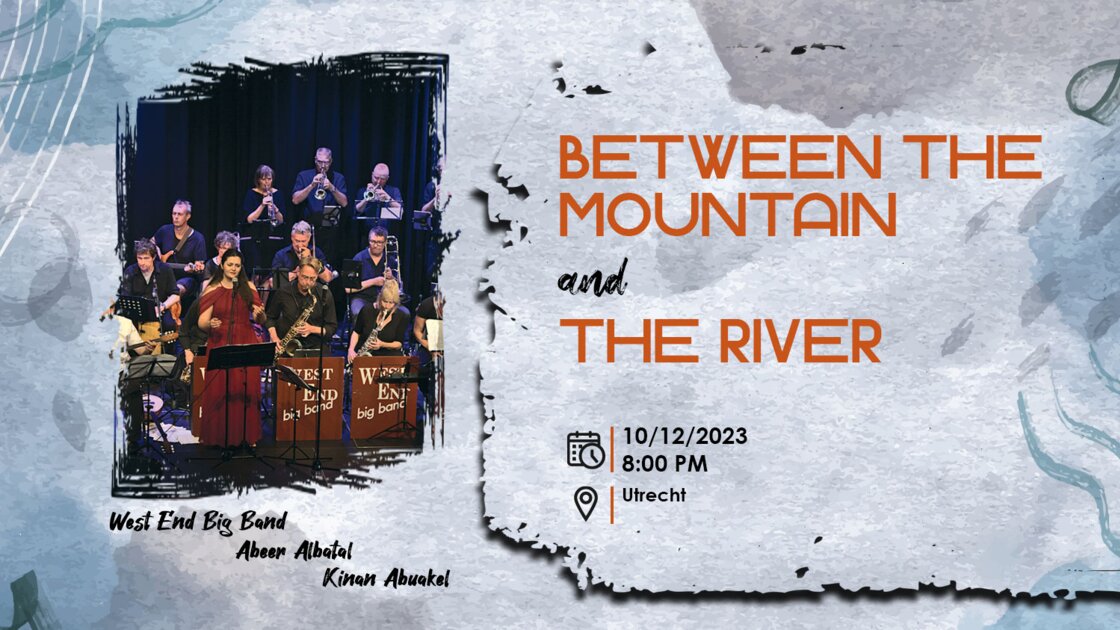 This is an in-person event that is also streaming online
In person tickets:
Streaming tickets:
Sun, 10 Dec 2023 (CET)
08:00PM - 09:00PM
Event past
Theater Kikker
Theater Kikker Ganzenmarkt 14
Utrecht, DR 3512 GD
Open Map
Between the Mountain and the River


Featuring West End Big Band Conducted by Gerard Kleijn with Abeer Albatal, and Kinan Abuakel.

https://www.theaterkikker.nl/agenda/between-the-mountain-and-the-river


Get ready for an extraordinary musical collaboration featuring the West End Big Band, the virtuoso Syrian vocalist Abeer Albatal, and the accomplished buzuq player Kinan Abuakel.


Event Details:


Date: December 10th 2023
Time: 8:00 PM
Venue: Theater Kikker Ganzenmarkt 14, 3512 GD Utrecht
https://www.theaterkikker.nl/
West End Big Band and Syrian Big Band Soloists: A Fusion of Cultures This project aims to blend Syrian and Western musical traditions into a unique and exciting program. It includes traditional Syrian music specially arranged for big bands. A successful tryout in June left us inspired and eager to share this fusion with you.


The Syrian Big Band, born in Syria in 2005, crafted its own repertoire while exploring the realms of jazz. Collaborating with international composers, they've created a unique blend of Syrian and Arabic music within a big band setting. Following a transformation in 2011, the big band members embarked on international collaborations, working with renowned artists like Dutch trumpeter Gerard Kleijn. Gerard's affiliation with the West End Big Band sparked the idea for this exciting collaboration.


The program will not only feature jazz standards but also showcase 3 Syrian soloists joining forces with the West End Big Band, creating an unforgettable fusion of musical cultures.


About West End Big Band: The West End Big Band, led by trumpet player Gerard Kleijn, has been a fixture in Amsterdam's musical landscape for four decades. This 18-piece ensemble is renowned for its instrumental expertise, offering a musical journey spanning a century of jazz and pop music. With the exceptional vocalist Dieke van Hoften, they perform regularly in various venues and at festivals, play concerts for Lindy Hop dancers, and organize performances with young talented soloists.


Band members


Saxophones
Marten Japenga
Marga de Rooij
Guus van der Meer
Yond Boeke
Cora Hollema


Trumpets
Jeanette Scholder
Jos van der Park
Romain Gachot
Joan Boeke


Trombones
Gertjan Huiskes
Pieter Troost
Hans Kolfschoten
Pieter Jongert


Rhythm
Sjors Mol | piano
Murdoch Bentvelzen | guitar
Philip Beerendonk | bass
Tim Ouw | drums


Hannibal Saad Guest guitar player.


Find out more about the West End Big Band
here
.
Our journey began in Syria in 2005, extended to Europe in 2012, and led to collaborations with established big bands worldwide. From performances at the Elb Philharmonie in Hamburg with the NDR Big Band to a tour with two big bands, including the North Sea Jazz Festival, our musical explorations know no bounds.


Don't miss this fusion of musical traditions that promises to be a unique and captivating experience. Get your ticket and witness the harmony of the Syrian and Western musical worlds come to life.


Program:


Soulaima

"Soulaima" is a renowned love song from Syria dating back to the 1950s. It was written by Nawfal Elias and composed by Khaled Abou Alnasr.

Ma Li Aini Absart

"Ma Leini Absarat" is a traditional song from Aleppo composed by the legendary musician Omar Albatch, from the early twentieth century. His exceptional use of the major scale to evoke emotions in this rarely used scale is a masterpiece.

Hatiha Ya Sah

"Mouwashah Hatiha Ya Sah" is a classical Arabic piece by Adnan Abou Alshamat, a musician from Damascus who passed away a decade ago. Interestingly, he attended a concert where this piece was performed with a big band arrangement.

Ayyam Shamieh (2 songs)

"Ayyam Shamieh" or "Damascene Days" is a traditional song from Damascus, written in the Damascene dialect, capturing the light-heartedness and respect with which the people of Damascus treat one another.

Nawait Aseibak (I decided to leave you)

"Nawait Aseibak" is a traditional song from the mid-twentieth century, composed by Kamil Shampeir from Aleppo.

Salam Min Saba Barada (regards from Barada)

"Salam Min Saba Barada" is a piece by the famous Egyptian poet Ahmad Shawqi. It was composed and sung by the legendary Egyptian artist Abdul Wahab in the 1940s, celebrating the Barada River, a significant waterway in Damascus.

Bein Qassioun Wa Rabwa (Between the mountain Qassioun and the river Barada)

"Bein Qassioun Wa Rabwa" is a classical Arabic composition by the legendary composer from Aleppo, Omar Albatch. It pays homage to the iconic mountain and river of Damascus.

and Many Jazz Standards tunes.
You can read about the History of Jazz in Syria: https://syrian-heritage.org/jazz-lives-in-syria/