BRASSENS 100: A Special Tribute to George Brassens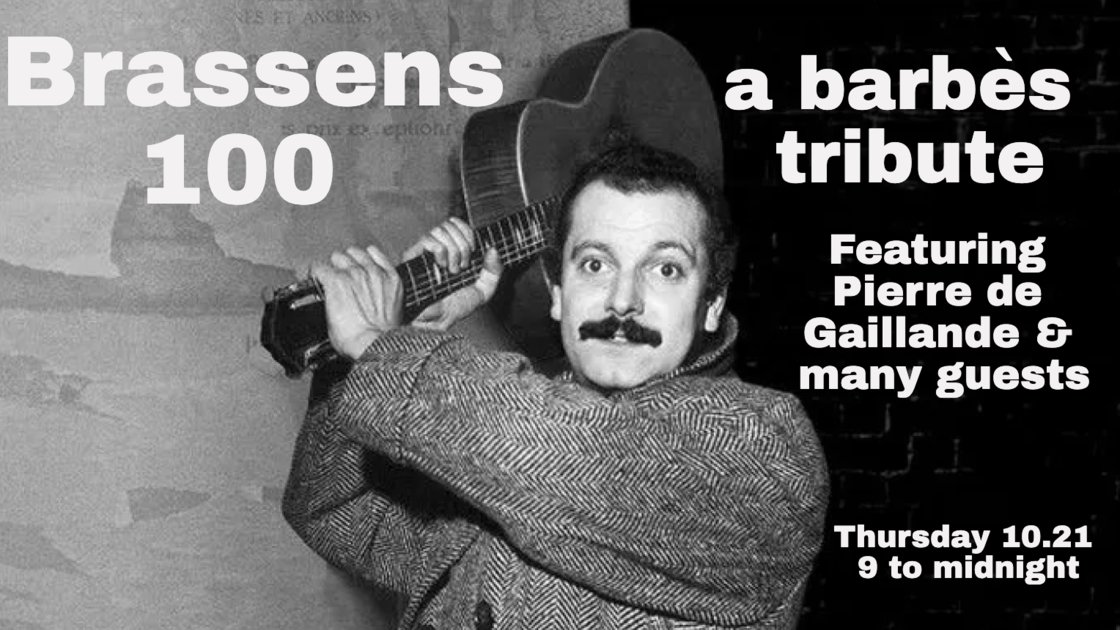 Tickets unavailable at this time
This is an in-person event that is also streaming online
Thu, 21 October 2021
09:00PM - 11:55PM (EDT)
Event past
Barbès
376 9th st
Brooklyn, NY 11215
Open Map
From the 50's through the late 70's, George Brassens redefined French chanson. He was an anarchist bard whose songs were sometimes raunchy, sometimes polemic, often poignant, and always steeped in classic French poetry.
Brassens went on to become one the most emblematic French singer of the 20th century. His songs, unlike those of his friend Jacques Brel, never became well-known outside of France, mostly because of the literary aspect of his lyrics.


Brassens would have turned 100 this October, and we are paying tribute to the man and his work with a plethora of guests led by
Pierre de Gaillande,
the sole anglophone to have succeeded in translating a good part of the Brassens catalog.

FEATURING: The Bad Reputation band, with Pierre de Gaillande, Andrew Hall, Chris Stromquist and Quentin Jennings - and special guests: Jonathan Singer (Xylopholks), Stephen Ulrich (Big Lazy), Les Chauds Lapins, Lucia Pulido, Robin Aigner, Olivier Conan, Roman Elsener, Marie Raoult, and Joe Cunningham.

9pm to midnight
$20 suggested
Donate in advance now or pay in person during the performance.