BRM Weekly: Aaron Shragge and Tom Chess Quartet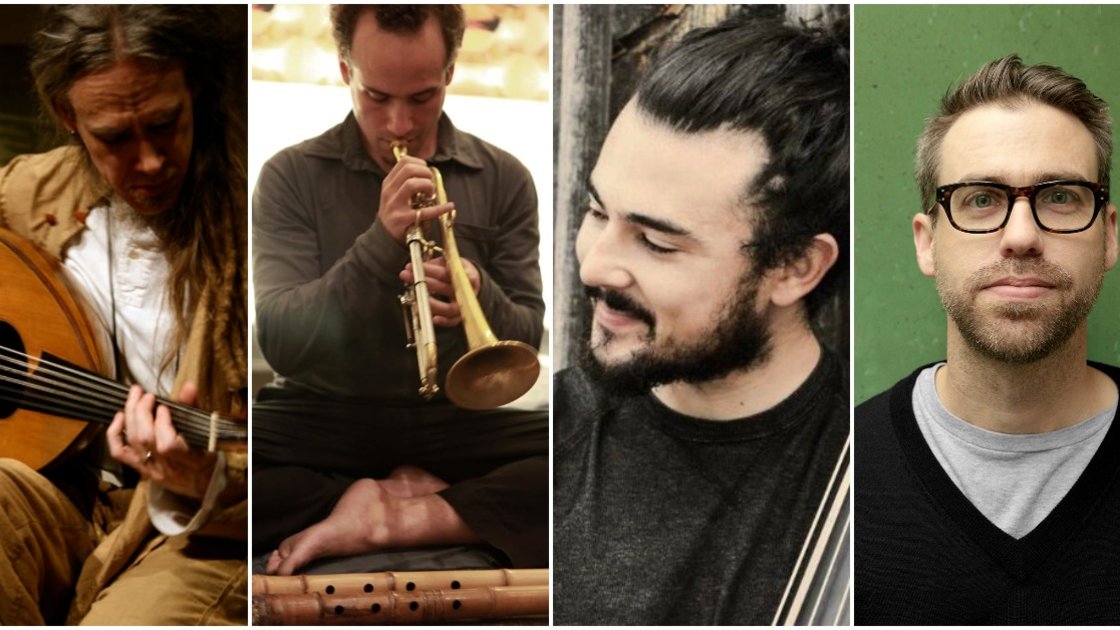 Thu, 07 Feb 2019 EST

08:00PM - 11:55PM (EST)

Event past $10 Advance | $15 Door | 8pm Doors Open | 8:30pm Music | BRM Weekly Raga Jam- 10pm The newly formed quartet brings together several existing longterm musical collaborations. Drawing from traditional Arabic music, Indian Classical Raga, the meditative music of the Shakuhachi and Free Jazz the quartet creates a captivating and adventurous sound. The combination of two end-blown flutes, the ney, and the shakuhachi, is at the forefront of their sound along with unique instrumentation that also includes: oud, morsing, sarod, sarangi, and kanjira. Aaron Shragge - trumpet/shakuahci/fx Tomchess - oud/ney/morsing Michael Gam - Bass, sarod, sarangi, kanjira Deric Dickens - Drums Aaron Shragge is active in the NYC improvised/creative music scene serving on the board of Festival of New Trumpet Music NY/Canada. Aaron Shragge's current projects include a duo with Ben Monder, a Jazz quintet that plays the music of Tom Waits and his continuing solo works for Dragon Mouth Trumpet/Shakuhachi. NYC based Multi-instrumentalist/improviser/composer Tomchess has played and recorded with some of the esteemed players in the Improvisational and Jazz scene as well as Morrocan Sitarist Hassan Hakmoun. Having deeply studied the Near Eastern, and North African traditions his syncretic sound encompasses the tonal palette, rhythms, and forms of these traditional musics as well as a focus on the unity of all human culture while never losing sight of his American roots and the importance and freedom of improvisation. Michael Gam is a sought after upright and electric bassist/composer living in New York. As a versatile musician skilled in many styles of music, Michael has performed with cutting edge Jazz musicians like Ambrose Akinmusire and Tigran Hamasyan, top Classical virtuoso Hillary Hahn, and Carnatic master percussionists Subash Chandran and Ganesh Kumar. Michael has also been studying Indian classical music since 2010 and is a budding sarod performer of the Maihar Gharana. Deric Dickens is a Brooklyn-based percussionist and composer. After growing up in Southern Georgia, Deric worked as a band director, taught drum and bugle corps, and played as a principal timpanist with local orchestras and symphonies. But it was the ride cymbal; a friend had asked him to play at a session, which changed everything. He currently leads Speed Date, Rocket #9, The Dickens Campaign, and Left Bomb Bay and co-leads Dix Out (avant trad. band), Team Players, Arabic for Beginners, and Zero Point. **Special announcement for Musicians!** BRM cordially invites you to join us in the ongoing effort to cultivate a home for intercultural musical dialogue. We are happy to offer FREE ENTRY TO MUSICIANS AFTER 10 PM WHO COME WITH THEIR INSTRUMENTS AND ARE READY TO PLAY! Please come out and engage with one of NYC's most vibrant and diverse communities of improvising musicians hailing from all over the music world!