BRM Weekly: Joel Veena and Mir Naqibul Islam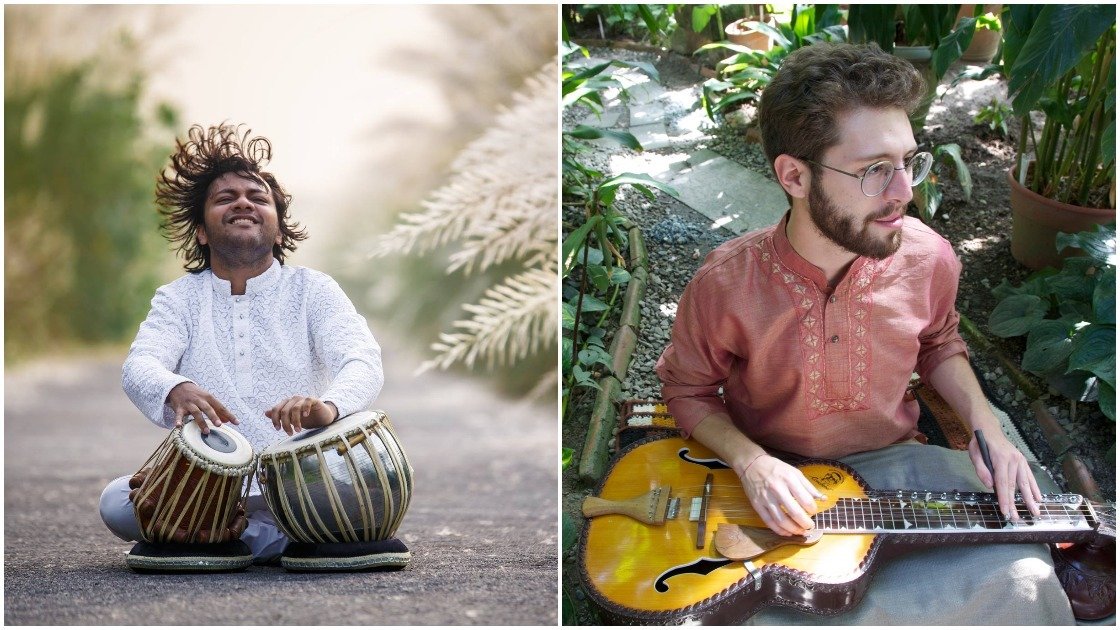 This is an in-person event

Thu, 07 November 2019

08:00PM - 11:55PM (EST)

Event past Artist Mir Naqibul Islam Organizer Jacob Ellis $10 Advance | $15 Door | 8pm Doors Open | 8:30pm Music | 10pm BRM Weekly Raga Jam Joel Veena & Mir Naqibal Islam present a concert of evening ragas and original compositions on Indian slide guitar and tabla. Joel is a disciple of Pt. Alok Lahiri of Kolkata and has been traveling between the US and India to study classical Indian music since 2007. "I play music because, for me, it is an inseparable part of life. Much in the way our bodies need food and water, our hearts and spirits require music for sustenance." - Joel Veena During a fateful study abroad trip to Delhi in 2007, Joel picked up a CD by renowned Indian slide guitarist Pt. Vishwa Mohan Bhatt. Deeply moved by the beauty of the instrument and the ragas, Joel felt compelled to search out and learn the Indian slide guitar within moments of listening. After spending an entire July afternoon searching the campus of Delhi University for the music faculty, he finally met renowned tabla maestro Pt. Subhash Nirwan who offered to help Joel in his journey and subsequently introduced him to the Indian slide guitarist Dr. Ranjan Kumar. Dr. Ranjan agreed to teach Joel the techniques of the instrument as well as the form and substance of Indian classical music. Since that time, Joel has been traveling to India to receive teachings and has toured the country and the world giving concerts. Some of his prestigious performances have included the 2019 Kumbh Mela at Prayagraj, Azad Bhawan ICCR Delhi, NGMA Bangalore, the Ekal Ka Rann festival in Gujarat, and the Swar Deep Yagya in Moradabad. In the Netherlands, Joel has performed at the Willim Twee Concert Hall in Den Boesch and at Codarts Rotterdam World Music Conservatory. He has also toured extensively in his native USA. These concerts included demonstrations at the California Institute for Integral Studies and California College of the Arts. Joel has released five albums and four singles of slide guitar music to date. His 2017 release, 'Unexpected Blessings' has been featured by Radio New Zealand's World's of Music, BBC Introducing and NPR. With concert tours that take him all over India, Europe, and the USA. Joel is working to expand the sonic palette of the Indian slide guitar by collaborating with a host of musicians in a variety of styles. His primary goal is to increase the love for and knowledge of Indian classical music around the world. Mir Naqibul Islam- An avid student of Tabla, Mir has trained in the traditional guru shisya style of Indian Classical music from Pt. Ashoke Paul, the disciple of the great tabla guru Pt. Jnan Prakash Ghosh. Now living and working in New York City, he performs regularly with musicians from a wide variety of other genres, bringing tabla to Jazz, Middle-Eastern music and other contexts. By listening, learning and playing with musicians from around the globe, Mir is developing a unique musical aesthetic bringing together the musical influences of traditional Farukhabad style tabla and 21st century New York. Mir has studied with Pt. Gopal Mishra and Pt. Suresh Talwalkar in past and continuing his talim with the great Farukhabad Mastero Pt Anindo Chatterjee. Joel 'Veena' Eisenkramer - Indian slide guitar Mir Naqibal Islam - Tabla **Special announcement for Musicians!** BRM cordially invites you to join us in the ongoing effort to cultivate a home for intercultural musical dialogue. We are happy to offer FREE ENTRY TO MUSICIANS AFTER 10 PM WHO COME WITH THEIR INSTRUMENTS AND ARE READY TO PLAY! Please come out and engage with one of NYC's most vibrant and diverse communities of improvising musicians hailing from all over the music world!