BRM Weekly: K.G. Westman & Mir Naqibul Islam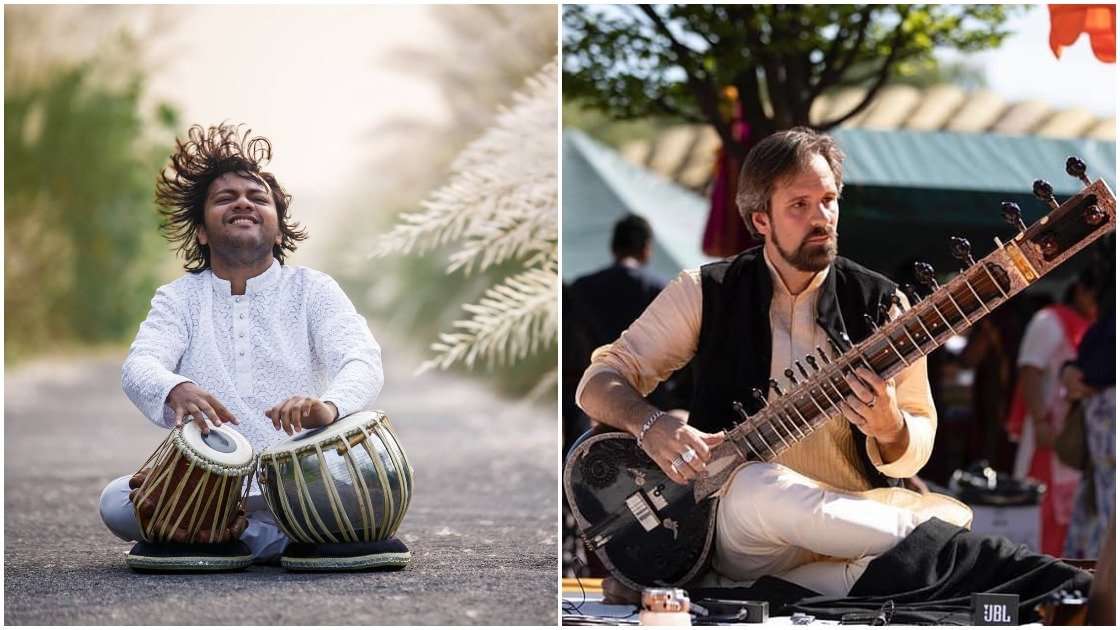 This is an in-person event

Thu, 03 October 2019

08:00PM - 11:55PM (EDT)

Event past Artist Mir Naqibul Islam $10 Advance | $15 Door | 8pm Doors Open | 8:30pm Music | 10pm BRM Weekly Raga Jam From the meditative to the ecstatic, raga presentation has always been about bringing out the mood of the raga to color the minds of the listeners. This night we have artists representing the global widespread of Hindusthani music performing in a very traditional style on the most iconic of instruments -the sitar and tabla. K.G. Westman is one of Europe´s foremost sitar players in the field of North Indian classical and semi-classical music. As a senior disciple of Pandit Rabindra Narayan Goswami he has performed in India, Sri Lanka, Bangladesh, Egypt, Europe, USA, and Russia as well as for radio and T.V. Due to training in both Indian and Western Music, he also makes an excellent teacher and conductor of workshops regardless of the background of the participants. K.G. Westman is one of the founders and main organizers of the Stockholm Sangeet Festival, Scandinavia's most prestigious event for Indian Classical Music and dance, which has run continuously for over a decade. The interest in Indian Music began when his father moved to Kerala in 1996. Already an accomplished guitar player and recording artist, he tried his hand at the Saraswati Veena, before making up his mind that the sitar was the instrument for him. Then in 2004 he started to learn the basics of sitar technique, raag and taal, first from Stian Grimstad, then also from Anil Singh of Dharmashala, before he was accepted as a student of Goswamiji in 2006. He has since then returned to the Goswami House in Varanasi every year for learning more ragas and to deepen his understanding of the art. In 2013 he also gave up all other musical commitments to focus completely on the Sitar. In 2017 the album Sonashish was released on the Kolkata label Bihaan Music. Mir Naqibul Islam-An avid student of Tabla, Mir has trained in the traditional guru shisya style of Indian Classical music from Pt. Ashoke Paul, the disciple of the great tabla guru Pt. Jnan Prakash Ghosh. Now living and working in New York City, he performs regularly with musicians from a wide variety of other genres, bringing tabla to Jazz, Middle-Eastern music and other contexts. By listening, learning and playing with musicians from around the globe, Mir is developing a unique musical aesthetic bringing together the musical influences of traditional Farukhabad style tabla and 21st century New York. Mir has studied with Pt. Gopal Mishra and Pt. Suresh Talwalkar in past and continuing his talim with the great Farukhabad Mastero Pt Anindo Chatterjee. **Special announcement for Musicians!** BRM cordially invites you to join us in the ongoing effort to cultivate a home for intercultural musical dialogue. We are happy to offer FREE ENTRY TO MUSICIANS AFTER 10 PM WHO COME WITH THEIR INSTRUMENTS AND ARE READY TO PLAY! Please come out and engage with one of NYC's most vibrant and diverse communities of improvising musicians hailing from all over the music world!