BRM Weekly: Orakel presents Power in Limits- Subdominant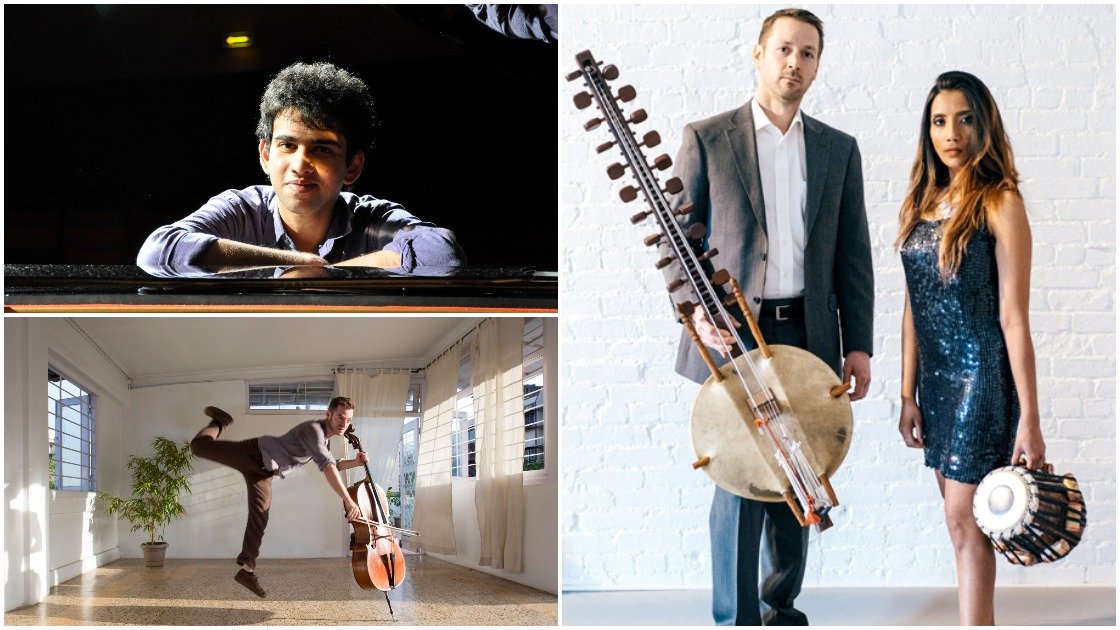 Thu, 21 Feb 2019 EST

08:00PM - 11:55PM (EST)

Event past $10 Advance | $15 Door | 8pm Doors Open | 8:30pm Music | BRM Weekly Raga Jam- 10pm Roshni Samlal, in her duo project Orakel with Kane Mathis, brings together multiple, tangential musical circles, in an expansive project incorporating traditional and experimental works. The set will include both original and emblematic song forms of the West African jeli repertoire, classical Turkish oud (Kane Mathis), recontextualized tabla solos, in conversation with Hindustani classical rhythmic and raga forms voiced by Jake Charkey on cello and Utsav Lal, on piano. The set intends to use each instrument's natural framework as a starting point for unlikely superimposed interpretations in the overlay of each voice's native tendency. Roshni Samlal: Tabla Kane Mathis: Kora, Oud, Electronics Jake Charkey: Cello Utsav Lal: Piano Roshni Samlal is a New York-based tabla player originating from Trinidad, WI, where she was initiated into the tradition of Indian classical music at the age of 5, into the academic community of "Bharatiya Vidya Sansthan", taught by the Hindusthani classical theorist and composer, Professor H.S. Adesh, both in vocal performance and tabla. Roshni is an actively performing member of the innovative collective, Brooklyn Raga Massive, and teaches in the NY area. Kane Mathis (kora, oud) began making trips to The Gambia, Africa, in 1996 to live with a family with a long lineage of musicians, studying primarily with Malamini Jobarteh. Mathis studied at the ITU Turkish Music State Conservatory in Istanbul and completed a five-year apprenticeship with oud virtuoso Münir Beken. He is a 2010 Earshot Jazz album of the year winner and a recipient of the 2012 Chamber Music America grant. Jake Charkey is an acclaimed cellist with a strong background in both Western classical music and Hindustani music. He is a sought-after studio recording artist in the film, television and music industry in both India and the USA. Jake Charkey is a disciple of the renowned violinist Padmabhushan Dr. N. Rajam in the rare Gayaki Ang style and is one of the few cellists in the world performing Indian music on the cello. Utsav Lal, often known as the 'Raga Pianist', has set a precedent with his innovative handling of Indian Classical music. Choosing to perform on an instrument traditionally considered unsuitable for Hindustani Classical Music, the 26-year-old classical & jazz pianist blends his diverse influences in the rendition of ragas and has performed at top global venues & festivals. Lal's music is acclaimed for its sincerity, simplicity, and depth. **Special announcement for Musicians!** BRM invites you to join us in the ongoing effort to cultivate a home for intercultural musical dialogue. We are happy to offer FREE ENTRY TO MUSICIANS AFTER 10 PM WHO COME WITH THEIR INSTRUMENTS READY TO PLAY! Please come and engage with one of NYC's most vibrant and diverse communities of improvising musicians hailing from all over the world!