BRM Weekly: Pravesha 2019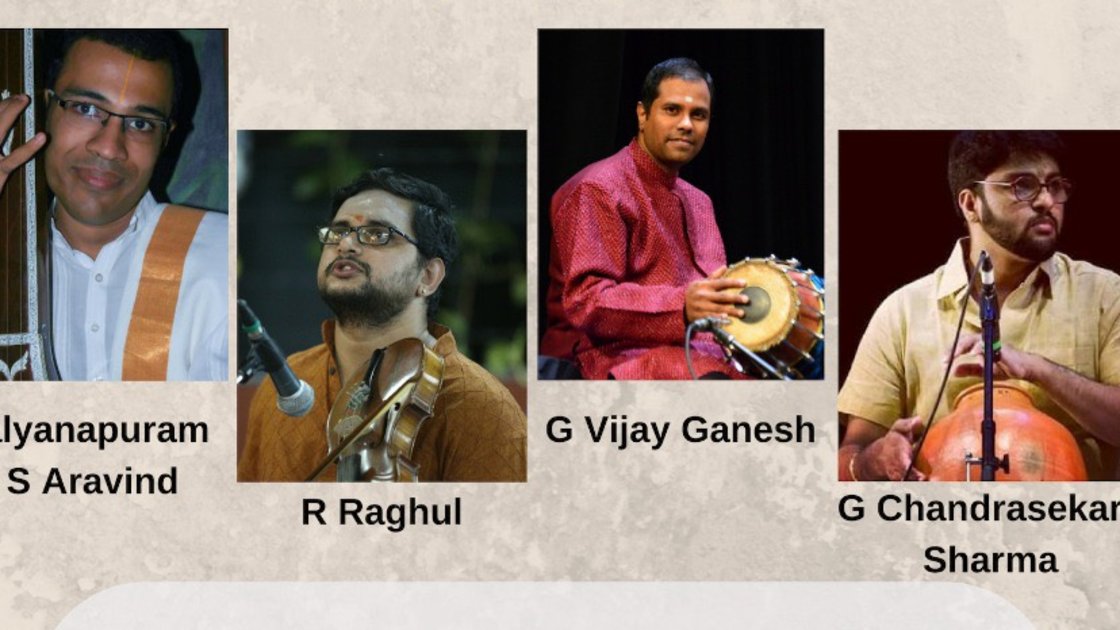 This is an in-person event

Thu, 26 September 2019

08:00PM - 11:55PM (EDT)

Event past $10 Advance | $15 Door | 8pm Doors Open | 8:30pm Music | 10pm BRM Weekly Raga Jam Join us for our weekly show! This week features a classical Carnatic concert. Aravind- Vocals Raghul- Violin Vijay Ganesh- Mridangam Chandrasekara Sharma- Ghatam Vijay Ganesh has studied mridangam since the age of 6. He had his tutelage under the great and illustrious master: Sri. Kumbakonam Rajappa Iyer. He has accompanied many leading artists in USA, Canada, and India including Dr.Omana Kutty, Jayanthi Kumaresh, Mala Chandrasekhar, Sri Malladi Suri Babu, Gayatri Venkatraghavan, Smt Vijayalakshmi Subramanian, Sri TK Govinda Rao, and Sri Maharajapuram Ramachandran. Born into a lineage of accomplished musicians, Chandra Sekara Sharma did not lack any motivation to take a liking to music. His father, himself a noted Violinist, inculcated the superiority of Carnatic music as early as when he was 5 years old and gave him beginner's lessons for playing the Ghatam. While he was practicing under his father's guidance, his capacity to understand the higher learnings of the instrument was discovered by Shri T.H. Subash Chandran, his paternal uncle, who is a well-established Guru both in India and abroad. With the blessings of his parents, his guru and his uncle Shri T.H. Vinayakram, he has taken to playing the Ghatam on a professional level. His debut concert was for Smt. Sulochana Pattabhiram in the year 2000. Since then, he has had many opportunities to play for stalwarts such as T.N. Krishnan, Suguna Purushothaman, Sudha Raghunathan, Neyveli Santhanagopalan, T.M. Krishna, Mandolin U. Shrinivas, Malladi Brothers, Bombay Sisters, Viji Krishnan, Gayathri Venkataraghavan, and more. One of the favorite disciples of violinist M. Chandrasekaran is R. Raghul who has had eighteen long years of training, first under Vasantha Kannan of Kolkata, then P. Govindarajan (a senior disciple of Chandrasekaran) and finally under the maestro himself for the last ten years. Now twenty-four years old and with seven years of solid concert experience, he is one of the busiest young violin accompanists. Kalyanapuram S Aravind is the disciple of the legendary musician Padmabhushan Sangeetha Kalanidhi Madurai Sri TN Seshagopalan. He was awarded "Yuva Kala Bharathi" by Bharat Kalachar in 2016 and "Best Concert" by Music Academy, Madras in 2015 & 2016. **Special announcement for Musicians!** BRM cordially invites you to join us in the ongoing effort to cultivate a home for intercultural musical dialogue. We are happy to offer FREE ENTRY TO MUSICIANS AFTER 10 PM WHO COME WITH THEIR INSTRUMENTS AND ARE READY TO PLAY! Please come out and engage with one of NYC's most vibrant and diverse communities of improvising musicians hailing from all over the music world!