BRM Weekly: Roopa Mahadevan, Utsav Lal & Jake Charkey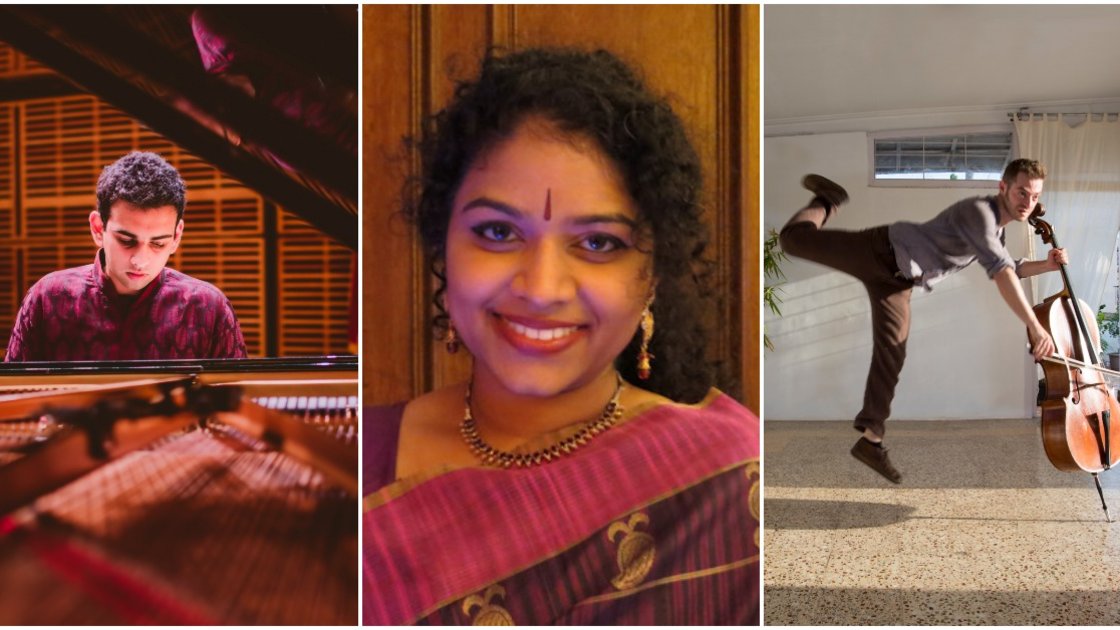 This is an in-person event

Thu, 18 April 2019

08:00PM - 11:55PM (EDT)

Event past $10 Advance | $15 Door | 8pm Doors Open | 8:30pm Music | 10pm BRM Weekly Raga Jam Bearing strong roots in Indian classical grammar and aesthetics Utsav Lal (piano), Roopa Mahadevan (vocal), and Jake Charkey (cello) explore soundscapes in classical, jazz, soul, and experimental music. Simultaneously grounded and wild, they seek to reinvent themselves and their sense of musical home, eager to fulfill, heal, and uplift their audiences along the way. Young Steinway Artist, Utsav Lal is an Indian pianist, improviser, educator and composer. At 26 years of age, Utsav Lal is recognized as a musician extraordinaire who has set a precedent in the world of music with his rendition of Ragas on the Piano. Choosing to perform on an instrument that has traditionally been considered unsuitable for Hindustani Classical Music, Utsav has used his rigorous training in diverse genres of music -Western Classical, Indian Classical, Jazz, Scottish, Irish and Contemporary Improvisation to challenge commonly understood ways of improvisation and develop his own unique voice for the piano. Roopa Mahadevan is known for her powerful and emotive voice. At home in many eras and styles, Roopa Mahadevan is versatile among Carnatic (South Indian classical) performers, bringing the art form and her explorations in genre, text, and theater to audiences in the U.S. India, and South Asian diaspora. Based in New York City, Roopa frequently collaborates with artists in jazz, creative/improvised music, and R&B/soul genres and has her own crossover ensemble Roopa In Flux. Roopa also directs the innovative Carnatic choir Navatman Music Collective and is an active member of Brooklyn Raga Massive. Jake Charkey started playing violin at the age of 6. After a year of suffering the scratchy cacaphony of beginning violin, his father mercifully gave him a cello to try, and he took it up like an old friend. After completing his conservatory training at the Shepherd School of Music in Houston, TX and seeking to broaden his musical skills and vocabulary, he took an interest in Hindustani music. His studies began in Toronto with the sarangi player, Aruna Narayan, who urged him to adapt Hindustani music to cello rather than learn an Indian instrument. He continued in Los Angeles where he took up intensive training with Jagan Ramamoorthy, a senior disciple of the violin virtuoso Padmabushan Dr. N. Rajam. He completed his M.F.A. at CalArts in Hindustani music under the guidance of Aashish Khan and Swapan Chaudury. **Special announcement for Musicians!** BRM cordially invites you to join us in the ongoing effort to cultivate a home for intercultural musical dialogue. We are happy to offer FREE ENTRY TO MUSICIANS AFTER 10 PM WHO COME WITH THEIR INSTRUMENTS AND ARE READY TO PLAY! Please come out and engage with one of NYC's most vibrant and diverse communities of improvising musicians hailing from all over the music world!