BRM Weekly: Saxophone Brothers & Dan Weiss + Film Screening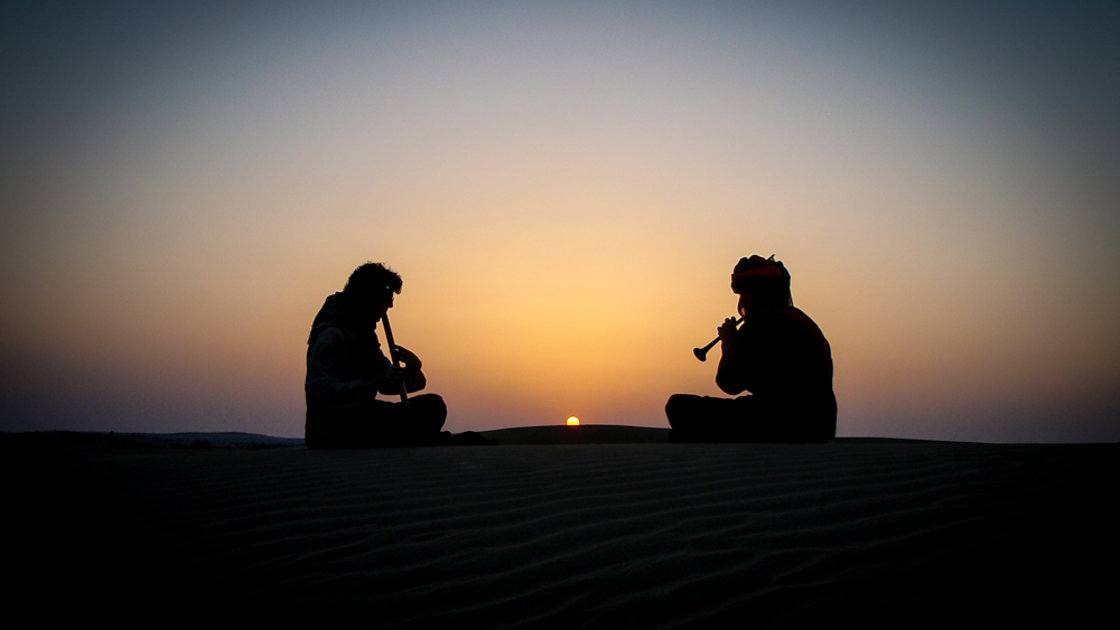 This is an in-person event

Thu, 09 August 2018

07:00PM - 11:55PM (EDT)

Event past $15 | Film Screening- 7pm | Music- 8:30pm | BRM Weekly Raga Jam- 10pm At 7pm, there will be a screening of A Home Away From Home, a documentary outlining the fusion and improvisation of music between two musicians from the New York alternative jazz scene and two maestros of Northern Indian classical music. The film alternates with discussions about mutual influencing, shared understanding and misunderstanding, the need for traditions to evolve, and thinking beyond musical genres. There will be a Q+A session following the screening, with the concert to follow. Saxophone Brothers Inspired by the spiritual revelations crying from John Coltrane's saxophone in the late 60's, the Saxophone Brothers, Jonathan and Andrew Kay have continued Coltrane's search for a "multicultural theory of musical transcendence" in Kolkata, India, where for the past 6 years they have been living with their Guru, Pandit Shantanu Bhattacharyya learning the art of North Indian Raga music and developing its expression on the Soprano, Alto, and Tenor saxophones. Being praised by many of India's Maestros for their devotion and dedication to the tradition of Raga music, the Saxophone Brothers are emerging as the first to express the subtle and delicate nuances of the Ragas on the saxophone. They are already important contributors to the evolution of Raga music performance by rendering the entire Raga on Saxophone, in both the vocal and instrumental styles, innovating certain techniques hitherto not attempted. This includes the research and development of the first non-tempered saxophone, The Shruti-phone, designed to more perfectly express the subtle shrutis (micro-tones) of the Ragas. Dan Weiss Shifting Foundation grantee Dan Weiss has been hailed as one of the top five jazz drummers in The New York Times, and his large ensemble recording "Fourteen" made the top ten list of their best recordings of 2014. Weiss's innovative drumming and forward thinking compositions have been pushing musical limits for years. With his piano trio, he's released two recordings entitled, "Now Yes When" (2006) and "Timshel" (2011), which have been critically acclaimed for their unique approach to song structure and endless creative improvisation. Weiss also leads his sixteen piece large ensemble that features some of NYC's most gifted musicians. **Special announcement for Musicians!** BRM cordially invites you to join us in the ongoing effort to cultivate a home for intercultural musical dialogue. We are happy to offer FREE ENTRY TO MUSICIANS AFTER 10 PM WHO COME WITH THEIR INSTRUMENTS AND ARE READY TO PLAY! Please come out and engage with one of NYC's most vibrant and diverse communities of improvising musicians hailing from all over the music world!