BRM Weekly: Shiv Subramaniam - Carnatic Vocal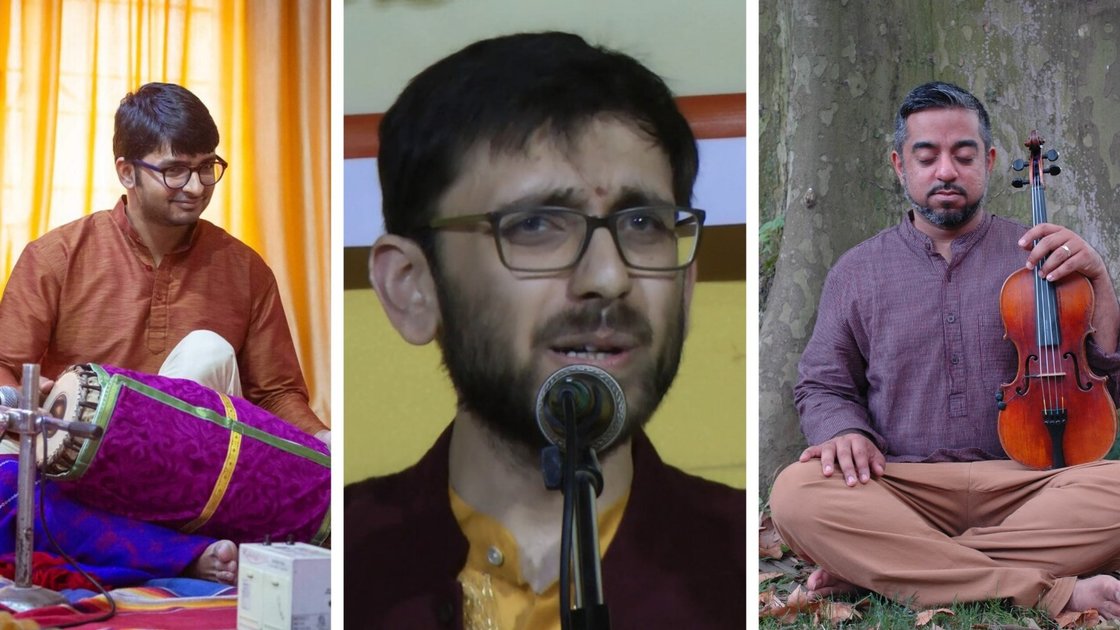 This is an in-person event

Thu, 20 February 2020

08:30PM - 11:55PM (EST)

Event past Organizer Brooklyn Raga Massive $10 Advance | $15 Door | 8:30pm Music | 10pm BRM Weekly Raga Jam Shiv Subramaniam - vocal Arun Ramamurthy - violin Sriram Raman - mridangam Shiv, Arun, and Sriram present a traditional Carnatic concert for Brooklyn Raga Massive Weekly Concert series. Shiv Subramaniam is a Carnatic vocalist based in New York City. He is a regular performer in Chennai's annual December music festival and also performs elsewhere in India and the United States. Shiv has received training from three gurus: Lakshmi Balasubramaniam (his grandmother), Vani Sateesh, and P.S. Narayanaswamy. He is a member of the Navatman Music Collective, a choir dedicated to developing a collaborative approach to Carnatic Music. Shiv is currently doing his PhD in Sanskrit literature at Columbia University. His dissertation focuses on the shifting cultural significance of Kalidasa at different periods of Indian history. ARUN RAMAMURTHY (Brooklyn, NY) is a multifaceted violinist, composer, and educator based in Brooklyn, NY, and is a disciple of the celebrated Carnatic violinist brothers, Sri Mysore Nagaraj & Dr. Mysore Manjunath and the esteemed violinist Sri Ananthakrishnan. He is a versatile artist, performing internationally in both traditional Carnatic and Hindustani settings as well as bridging genres with his own innovative projects like the acclaimed Arun Ramamurthy Trio. He has shared the stage with artists like Dr. M. Balamuralikrishna, Sudha Ragunathan, Reggie Workman, Amir ElSaffar, Adam Rudolph among others. Arun's music has brought him prestigious stages like Carnegie Hall, Lincoln Center, Kennedy Center, Celebrate Brooklyn and more. Arun is co-founder of Brooklyn Raga Massive, a popular collective of forward thinking musicians rooted-in and inspired-by the classical music of India. Through BRM, Arun has curated and performed in a multitude of concerts bringing together music from all over the world. (www.arunramamurthy.com) Sriram Raman is a mridangist and a disciple of Sri. Neyveli Narayanan. Sriram started to learn to play the mridangam at the age of 6 under the tutelage of Sri. Thiruvadaimarudur Sankaran, also a disciple of the great Sri. Tanjore Upendran. He's accompanied several well-known artists over the years such as Amritha Murali, Thigarajan Ramani, D. B. Ashvin and Ananya Ashok. In December 2018, he played at concerts in esteemed sabhas in Chennai during the December 2018 Season concerts. Independently, Sriram is a drummer for Sepoy, an NYC-based Alt-rock band. Professionally, Sriram is a software Engineer at Snap. **Special announcement for Musicians!** BRM cordially invites you to join us in the ongoing effort to cultivate a home for intercultural musical dialogue. We are happy to offer FREE ENTRY TO MUSICIANS AFTER 10 PM WHO COME WITH THEIR INSTRUMENTS AND ARE READY TO PLAY! Please come out and engage with one of NYC's most vibrant and diverse communities of improvising musicians hailing from all over the music world! Weekly Raga Concert and Jam Session Series is made possible with public funds from the Decentralization Program of the New York State Council on the Arts, administered in Kings County by Brooklyn Arts Council. This program is supported, in part, by public funds from the New York City Department of Cultural Affairs in partnership with the City Council.