Colors of Raga ft. Pt Nayan Ghosh and Ishaan Ghosh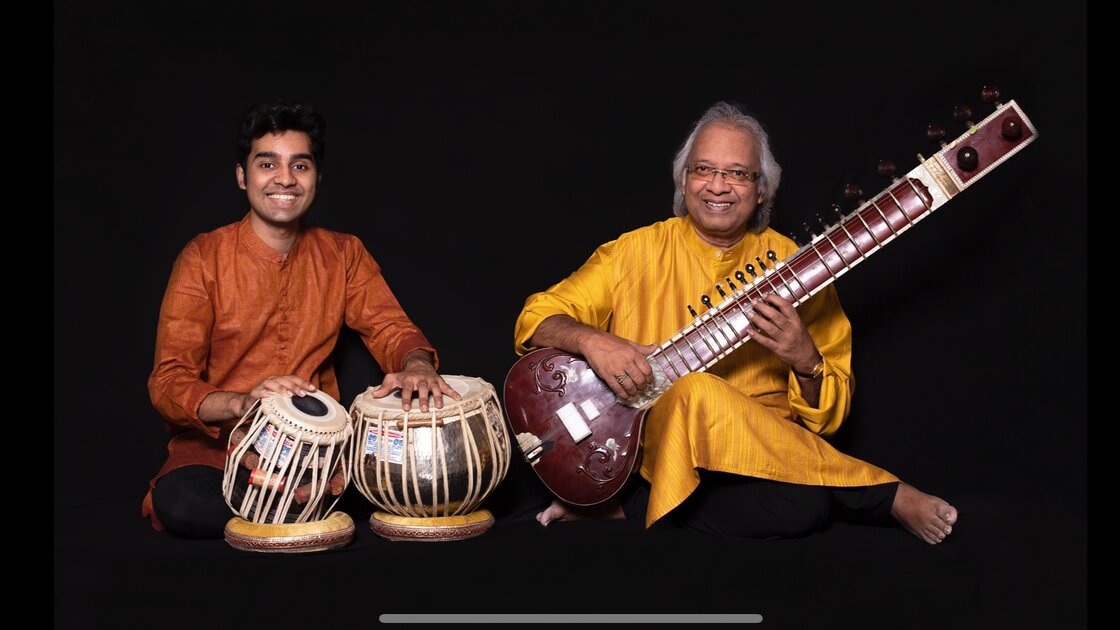 Thu, 11 May 2023 (EDT)
07:00PM - 09:30PM
Event past
The Church of St Luke in the Fields
487 Hudson St
New York, NY 10014
Open Map
Legendary sitarist Pt. Nayan Ghosh is joined by Ishaan Ghosh (tabla) for a dynamic and soulful Indian classical set.
Experience the musical energy of legendary sitar maestro Pandit Nayan Ghosh and his son, tabla prodigy Ishaan Ghosh, as they present a rich, dynamic, and soulful Indian classical music performance as part of Brooklyn Raga Massive's deep-listening Colors of Raga series.


"The father-son duo improvised upon melodies and rhythmic constructions while playing off one another with a near telepathy consistency" - The New York Times


"He is peerless in his ability to reveal the depth and soul of each Raga - he plays with such intensity and color" - Great Hall fo De Doelen, Netherlands


About the Artists


Pandit Nayan Ghosh is an icon of Indian classical music today, being the only artist to have equal mastery over two diverse instruments – the Sitar and the Tabla. He is the son and disciple of the 20th century Tabla maestro and Guru Padmabhushan Pandit Nikhil Ghosh and the nephew of Pannalal Ghosh, who is known as the "Father of Hindustani Flute."


Having performed, lectured and taught extensively in India and globally, he has been one of the ambassadors of traditional Indian Music for over 50 years now. Besides being a popular soloist, Nayan-ji has performed with legendary figures like Pandit Ravi Shankar, Ustad Vilayat Khan, Pandit Nikhil Banerjee, Ustad Amjad Ali Khan, Pandit Shiv Kumar Sharma, Pandit Jasraj, Pandit Buddhadev Dasgupta, and several others. Among innumerable accolades, he was awarded the prestigious Central Sangeet Natak Akademi Award by the Indian government as well as an Achievement Award from the Governor of California. In 2016, Nayan-ji was specially invited along with his son by President Jimmy Carter of USA for a benefit concert for the famed 'Habitat for Humanity' project.


Ishaan Ghosh stands out as a front-ranking young Tabla player of India, having received intensive training from his father, the renowned Tabla and sitar maestro, Pandit Nayan Ghosh. As a child prodigy,, he has carved a niche for himself as a full-fledged soloist as well as a collaborator, having performed with stalwarts like Pt. Jasraj, Ustad Amjad Ali Khan, Dr. N. Rajam, Pt. Nayan Ghosh, Pt. Ajoy Chakraborty, Kaushiki Chakraborty, Taufiq Qureshi, Pt. Ronu Majumdar, Niladri Kumar, Rakesh Chaurasia, Rahul Deshpande, Purbayan Chatterjee, as well as several other Indian and international musicians. Ishaan has regularly presented his music to audiences in India and the world over at prestigious venues and music festivals which have won him critical acclaim and rave reviews. He was awarded with the 'Baba Allauddin Khan Yuva Puraskar' by the Government of Madhya Pradesh in 2012, the 'Achievement Award' by President Jimmy Carter in 2016, the 'Rising Star Award' in 2019 and the 'Kalashree Samman' from the Government of Maharashtra in 2020.