Don Rauf Presents: GLASS BIKINI / CHRIS RAEL & THE JACKSON PINKS 5pm to 9:30pm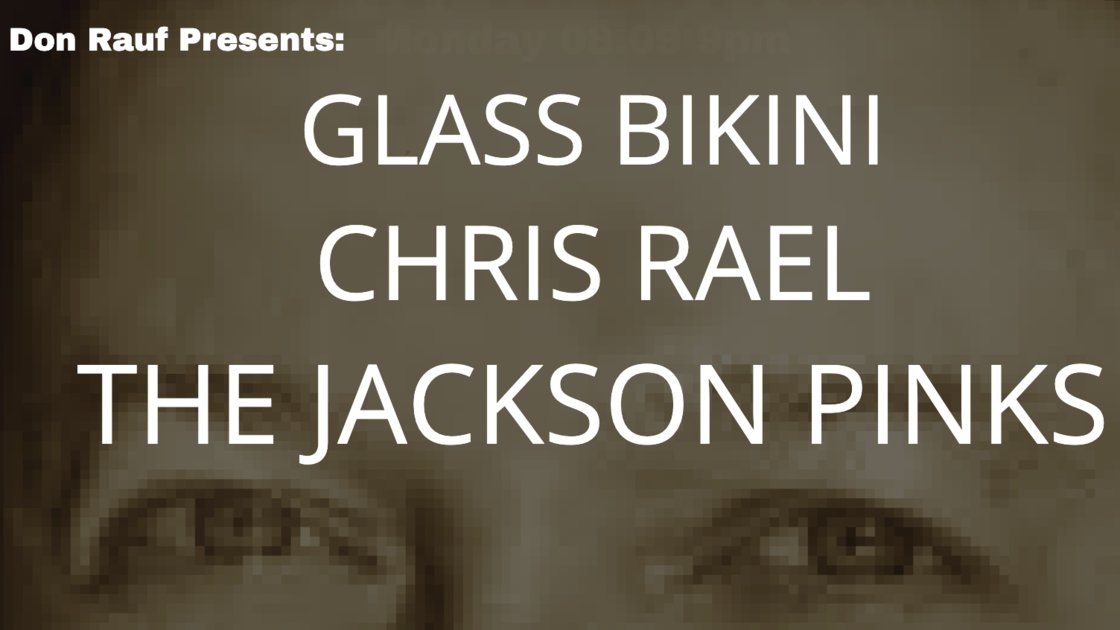 Tickets unavailable at this time
This is an in-person event that is also streaming online
Sat, 06 November 2021
05:00PM - 09:30PM (EDT)
Event past
Barbès
376 9th st
Brooklyn, NY 11215
Open Map
5pm
REMBERT & THE BASIC GOODNESS
Brooklyn-based original cabaret pop. Rembert Block writes catchy, spellbinding, poetic songs combining rambunctious childlike delight with sophisticated explorations of the psyche. Featuring Block's accordion and commanding lead vocals, the band includes Russell Alderson, suave on bass guitar and backing vocals, and the virtuosic Jeff Hudgins (also of Bombay Rickey) on saxophone.
6pm
GLASS BIKINI
Featuring Risa Mickenberg and "member(s)" of Jesus H Christ and the Four Horsemen of the Apocalypse, waxing lyrical and oozing charm from every orifice.
7pm
CHRIS RAEL
Chris Rael debuts his brand new song cycle Eleven Kinds of Loneliness, based on the short stories of Richard Yates. He will perform the songs solo. Church of Betty will develop the show over the course of a year; for those interested this will be a 1st taste.


8pm
THE JACKSON PINKS
The Jackson Pinks are a super group
If you need more information, they feature members of Church of Betty, Life in a Blender, Lusterlit, the Highland Shatners, and more. They cover songs in surprising and upsetting ways that quite often turn audiences into howling gyrating beasts, tongues extended. Imagine if BTS were nothing like BTS, but rather a melody-spewing jalopy letting off an irresistible steam that unleashes the Id and delivers human portals to destinations of maximum unclenching.

6pm to 9:30pm
$20 suggested
Donate in advance now or pay in person during the performance.