East Forest Livestream with Ram Dass/Love Serve Remember 4/19 3:30pm PST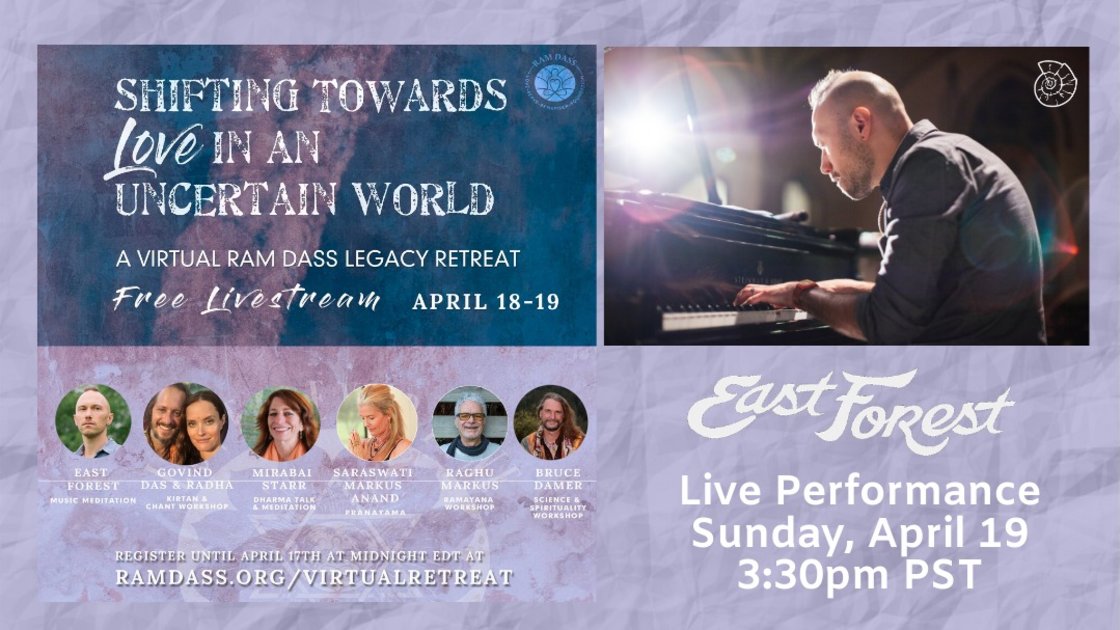 Sun, 19 April 2020

04:30PM - 06:00PM (MDT)

Event past Organizer East Forest East Forest livestream performance as part of weekend online retreat with Love Serve Remember. East Forest performs at 3:30pm PST on April 19th. For all other performances and aspects of the virtual retreat weekend please register below: Sign up for the full weekend for free: https://www.ramdass.org/virtualretreat Each year for the past decade, LSRF has hosted in-person retreats on Maui and in Ojai, CA. These retreats offer an opportunity to build a foundation for expansion, self-reflection and conscious practice within a supportive community of world-renowned wisdom leaders. Because of the current health crisis, we are unable to host our in-person spring retreat in Ojai, however, LSRF will host a free weekend immersion for our online community, taking place April 18-19th! The immersion will feature archival Ram Dass teachings and practical guidance along with ancient mystical traditions, poetry, music, chant and meditation practice to help us transform the chaos of uncertainty into an opportunity to love and serve more fearlessly in this turbulent moment. As we gather in virtual community during this time of global crisis, we draw from the wellspring of perennial wisdom to restore sanity and balance in our own souls and strengthen ourselves to be a source of goodness in the world. Ram Dass had this extraordinary ability to uncover and translate universal truths from multiple spiritual traditions in such a way that they became the perfect antidote for challenging conditions and the precise bell to wake us up from our personal dream of separateness. In the final years of his life in a body, Ram Dass called upon all of us, his beloved Satsang around the world, to fully step into the life of the heart and be a source of living love in this world. Below you'll find a schedule of teaching sessions, your teacher lineup and a signup form to register for this digital weekend immersion.