Faux Paws / Golden Shoals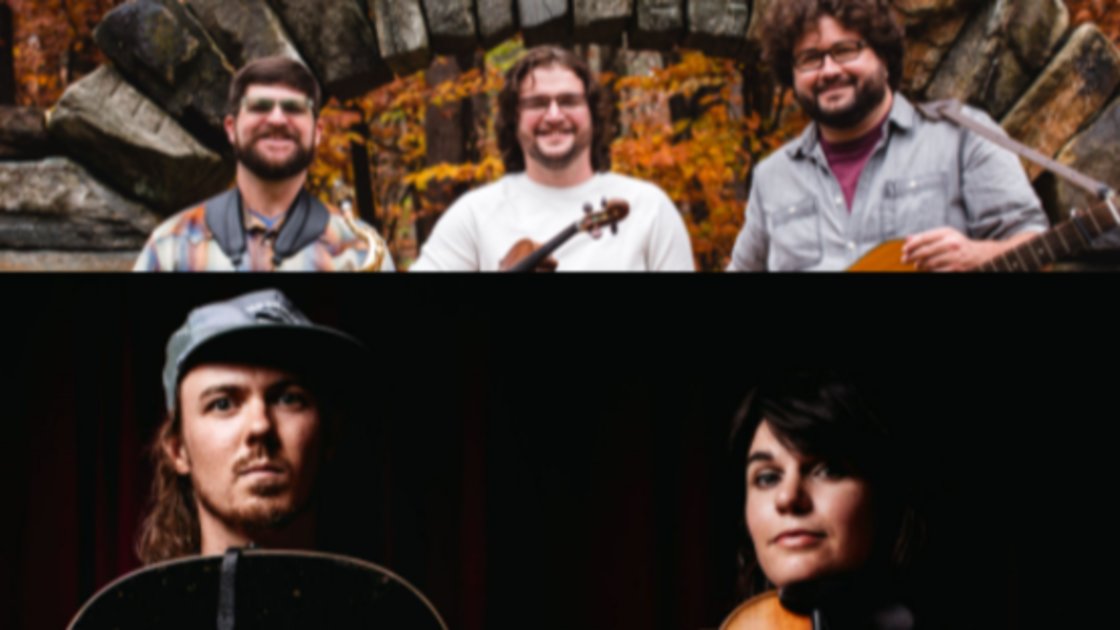 This is an in-person event
Tue, 31 August 2021
08:00PM - 10:00PM (EDT)
Event past
Jalopy Theatre
315 Columbia St
Brooklyn, NY 11231
Open Map
Organizer
Jalopy Theatre
FAUX PAWS:

From raging fiddle tunes, to saxophone solos and unrequited love songs, the music of The Faux Paws would be hard to pin down with standard genre descriptions. The trio's contagious groove, and feel-good melting pot folk music has been honed over ten years of playing together, and is the sound of three close friends (two of which happen to be brothers), who feel a musical kinship that transcends any stylistic limitations. Now, after nearly a decade of music making, the bi-coastal trio are releasing their self-titled debut album "The Faux Paws"
Brothers Andrew and Noah VanNorstrand grew up playing contra dance music with their musician mother in the band Great Bear. Chris Miller grew up in Florida, and he was enamoured with bluegrass, and studied jazz before going on to play with GRAMMY nominated Cajun-country band The Revelers. Since meeting in 2012, the trio have toured across North America several times, sometimes under the name The Faux Paws, sometimes as part of other larger ensembles. But due to their commitments to other bands and musical projects, the timing was never right to focus on making The Faux Paws a priority. Instead, they took their time learning about different styles of music from one another, and finding where their interests and skills could create unexpected and exciting new sounds.
"I love super glossy pop music, and Chris is always pushing more of a jazz influence" says Noah.. "But we all have a strong background in dance music, so almost everything we do has rhythm and groove, and is based around hook and feel".
http://thefauxpawsmusic.com

GOLDEN SHOALS:

What started as casual jam sessions at their house in Boston, Massachusetts would become Golden Shoals (formerly "Hoot and Holler"). Initially brought together by a mutual love of American folk music, it was hard to know that in seven years that love would bring them to Canada, Australia, the United Kingdom, and Germany, not to mention 33 of the 50 states. Amy Alvey (fiddle, guitar) and Mark Kilianski (guitar, banjo) graduated from Berklee College of Music, where both were first exposed to playing traditional old time and bluegrass music. Boston, with its burgeoning roots music scene, was a perfect place for the duo to find their sound, but rising rent costs proved difficult to sustain. In 2016 they broke their leases and began touring nationally while living in their camper van "Irene". The idea was to see the country in the only way they knew how: entertain and connect with audiences with their music, while finding the next city to lay roots. They now call Asheville, North Carolina their home, but more often than not they are still on the road. Ever inspired by the enduring spirit of traditional Appalachian mountain music, their songwriting comes across as simple, honest, and fresh to the ears. The listener can expect the polished technique of conservatory training, in tandem with the grit, drive, and soul of musicians like Roscoe Holcomb or Ola Belle Reed.

Golden Shoals has shared a bill with the notable acts: Ricky Skaggs, Michael Daves, Red Tail Ring, The Revelers, The Brother Brothers, The Steel Wheels, Charlie Parr, The Price Sisters, Tatiana Hargreaves, The Tillers, Twisted Pine, and Lula Wiles.

https://goldenshoals.com/home

Jalopy will be following all state and city distancing and capacity guidelines, along with providing UV powered air filtration and adequate ventilation. We will also be requiring all who attend to show us proof of the following...
Being fully vaccinated and it has been 14 days or longer since your final shot.
Attendees must follow all mask, distancing and hand washing guidelines when in attendance. If you are vaccinated in New York, we encourage you to use Excelsior Pass to prove your vaccination. Excelsior pass is an app for your phone that can hold your vaccination and testing data. Download Excelsior Pass in the apple store or on google play.
NOTE: We will also accept other forms of proof of vaccination from other states including CDC Vaccination cards (with photo id), etc.
This ticket is a revocable license and may be taken up and admission refused upon refunding the purchase price appearing hereon and is grounds for seizure and cancellation without compensation. Holder of this ticket ("Holder") voluntarily assumes all risks and danger incidental to the event for which this ticket is issued whether occurring prior to, during, or after same, including, but not limited to, contracting, and/or spreading the COVID-19 virus, and agrees that the organization, venue, presenter, agents, participants, or players are not responsible or liable for any injuries, sickness, or death resulting from such causes. Holder acknowledges that the COVID-19 pandemic remains a threat to individual and public health, COVID-19 is a highly contagious disease transmitted through human contact and respiratory droplets (including through the air and via common surfaces) and it is possible that Holder may contract COVID-19 while at the event for which this ticket is issued. Holder agrees by use of this ticket not to transmit or aid in transmitting any description, account, picture, or reproduction of the event to which this ticket is issued. Breach of the foregoing will automatically terminate this license. Holder agrees that the license comprised by this ticket may be removed and Holder may be ejected from the event for which this ticket is issued in the event that Holder violates any law, ordinance, or venue regulation. Holder grants permission to the organization sponsoring the event for which this ticket is issued to utilize Holder's image or likeness in connection with any video or other transmission or reproduction of the event to which this ticket relates.