HORORTERIA w Xentrifuge / DJs Tommy Grenas & Scott Harris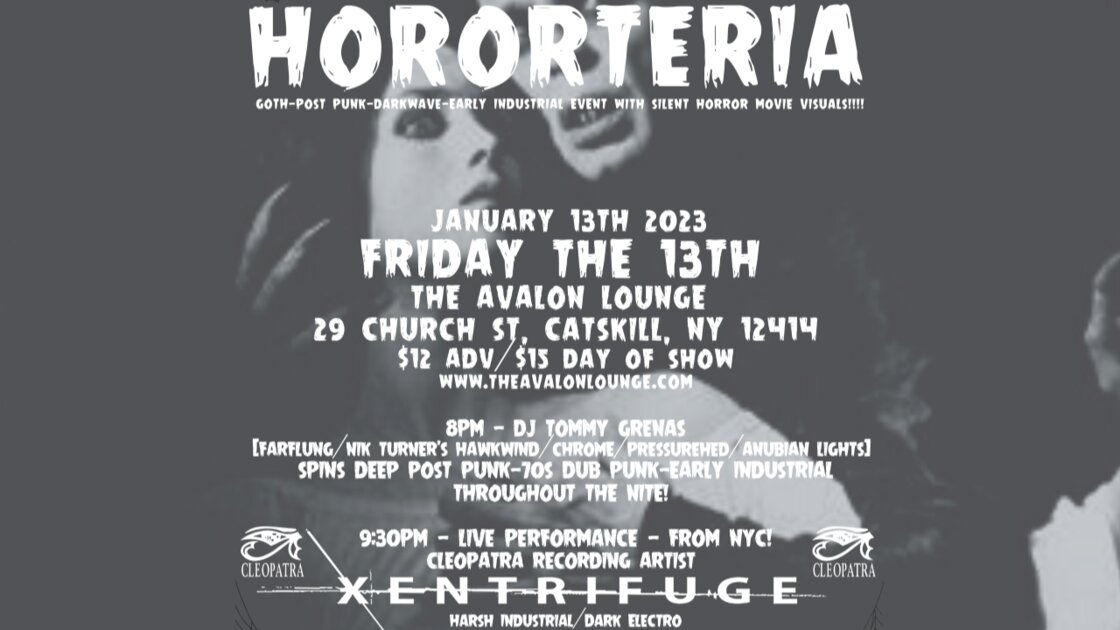 13 Jan, 2023, 8:00PM to
14 Jan, 2023, 1:00AM (EST)
Event past
The Avalon Lounge
29 Church St
Catskill, NY 12414
Open Map
HORORTERIA is a goth/post punk/darkwave/early industrial event with silent horror visuals. Live performance by New York City Cleopatra Recording Artist Xentrifuge and DJ sets by Tommy Grenas and Scott Harris from hororhaus.


Xentrifuge
New York City Cleopatra Recording Artist Xentrifuge is a brutal assault of Harsh Industrial/Dark Electro constructed by the innovative minds of Chris X and Lisa Hellen. Xentrifuge brings a groundbreaking blend of industrial-based sound fused with noise and a bit of heavy guitar work. With 4 full length albums, countless remixes & collaborations, Xentrifuge is getting ready for the next level with a 2023 tour planned and more music to come.


DJ Tommy Grenas
Singer, songwriter, synthist and electronic musician, who began his career in 1982 with the Belfast garage band The Swamp Rats. Continued in 1987 with Los Angeles based Pressurehed. Founding member of Farflung in 1992 along with Michael Esther and Brandon La Belle. Co-founder of Anubian Lights in 1995 with Len Del Rio. Guitarist in Nik Turner's Space Ritual and Hawkwind. Performed with recording Helios Creed and Chrome starting in 1997 as Tommy L. Cyborg. Has played and collaborated with The Brain, Lydia Lunch, Cluster, Abby Travis, et al.


DJ Scott Harris
Creator and conceptualist of darkwave-occult-horror music act hororhaus. Scott has a weekly radio show on WaxRadioIndy.com called HORORTERIA which is a dark music focus encompassing multi-genres. Scott is from the NYC area and moved to The Catskill region in 2009. Throughout the mid and late 90s, Scott was a DJ in NYC spinning electronica and 80s new wave as a resident DJ at Bowlmor Lanes on University Place in NYC. He guest DJs on various TWITCH channels including Empire Of Beat and Dead Souls Gothic Lounge. Scott is a multi-instrumentalist and as a drummer, played drums for such bands as The Vibes, goth-metal Vasaria (who was signed on Century Media Records), angel13, Xraygun and currently plays drums in various local projects.


Lon Clark is the owner of EVER RECORDS – an independent record shop in Woodstock NY located at 68 Tinker Street specializing in used, rare and collectables with a underlying post punk vibe. Lon currently promotes monthly events involving Silent Horror movies set to live music and other psychedelic events at Tinker Street Cinema.