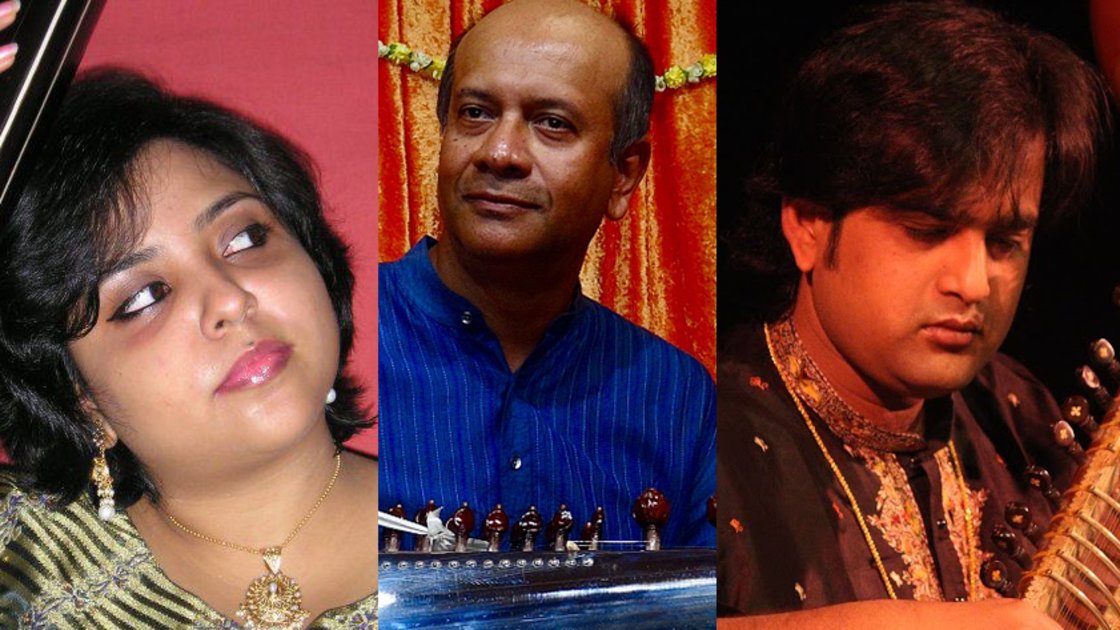 Day and Time
Fri, 02 August 2019
07:30PM - 11:00PM (EDT)
Description
An intimate concert featuring three master musicians from Kolkata India - Soumya Chakraverty, Kasturi Bandopadhay and Supratik Sengupta.
Upon your arrival, you will be greeting with refreshments and light snacks. You will be introduced to your hosts, the artists, and the other guests. The first half of the performance will feature young master Kasturi Bandopadhay. The second half will feature sitar virtuoso Supratik Sengupta and Soumya Chakraverty – Sarod.
About the artists
Soumya Chakraverty – Sarod
Based in Washington DC, Soumya is an established Sarod player belonging to the Senia-Shahjahanpur Gharana. He started his training on the Sarod from an early age under the guidance of Pandit Samarendra Nath Sikdar, a disciple of the legendary Sarod maestro, Pt. Radhika Mohan Moitra. In his later years, Soumya also received guidance from Pandit Buddhadev Dasgupta, as well as his younger son, Shri Anirban Dasgupta.
Kasturi Banopadhay
Kasturi born in a highly enriched family is the Daughter Of Internationally Renowned Tabla Maestro Pt.Ananda Gopal Bandopadhyay of Benaras Gharana.She was initiated into music by her mother Smt.Rekha Bandopadhyay at the age of four.After that she started taking talim from Vidushi.Smt Subhra Guha.She was also fortunate enough to receive talim for a couple of years under Legendary Guru Pt.K.G.Ginde.Since her childhood she is under the guidance Of Pt.Arun Bhaduri in Khayal and she was also receiving talim in Semi-Classical from Late Vidushi Smt.Purnima Choudhury.And during her scholarship in ITC Sangeet Research Academy from the year 2009 she has also learned Semi-Classical from Late Padmavibhushan Vidushi Smt.Girija Devi too..
Supratik Sen Gupta
Supratik Sen Gupta born in the year 1981 in a family of musicians in Kolkata. He got his early training from his father Sri Kuber Sen Gupta. He began his formal training under Sri Biswanath Das and Pt. Debaprasad Chakraborty. After that he was under the guidance of Sangeetacharya Late Ajoy Sinha Roy and Dr. Pradeep Chakraborty for a long time. Supratik joined ITC Sangeet Research Academy in the year 2001 as scholar under the tutelage of Padmabhushan Pandit Buddhadeb Das Gupta and Partha Pratim Chatterjee, the Guru of the instrumental division of the Academy. After leaving ITC SRA as a musician scholar he is now taking lessons from Padmabhushan Pandit Buddhadeb Das Gupta..he is taking lessons of tal-laya from sri Surojit sengupta(a senior disciple of padmabibhushan pandit Kishen Maharaj)
Day and Time
Fri, 02 August 2019
07:30PM - 11:00PM (EDT)
Organizer
Ehren Hanson