Jalopy Jr. In Person Summer Camp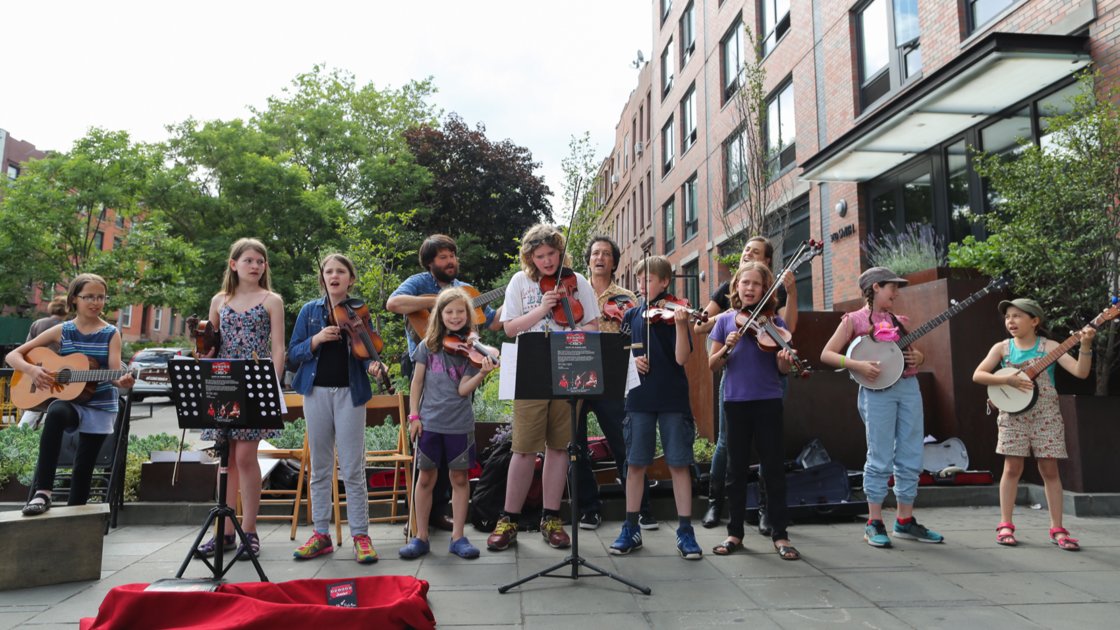 This is an in-person event
26 Jul, 2021, 9:00AM to
30 Jul, 2021, 3:00PM (EDT)
Event past
Jalopy Theatre
315 Columbia St
Brooklyn, NY 11231
Open Map
Organizer
Jalopy Theatre
Jalopy Jr. returns to in-person programming with two week-long Summer day camps for children ages 7-14
Week one: July 19-23
Week two: July 26-30
At the Jalopy Jr. Summer Camp, every day will be packed with singing, crafts, small group lessons, ensemble playing, and concerts by amazing guest performers. Our goal is to make music education approachable, fun, and accessible to any student regardless of their previous experience or financial situation. With our light-hearted, song-based teaching style, students will begin playing songs immediately and will perform them at week's end. This program is an excellent choice for any child, aged 7-14, who enjoys music and learning.
Week one (July 19-23) will be for younger kids, ages 7-11 and will accommodate students with no musical experience. Week two (July 26-30) will be the place for kids aged 10-14 who have some experience with an instrument (guitar, banjo, fiddle or ukulele). However, these guidelines are flexible and we can find a place for any student. If you have questions about which session is right for your child just contact us at
info@jalopytheatre.org
. We can help you figure out which is best for them. Rental instruments are available as well as generous financial aid through the new Don Friedman Scholarship fund. Contact
Lynette@jalopytheatre.org
for more information.
Both sessions will include instrument lessons with small groups as well as singing and playing together with the whole class. Students will build a simple musical instrument and see numerous live performances by a variety of guest musicians. On the last day of each session, there will be a short recital demonstrating what we've learned for parents and friends.
We believe that music education is equally about development of personal skills and cooperative interaction with others. So our staff of experienced musicians and educators are dedicated to providing an environment that responds to your child's individual needs while maintaining a supportive social setting for everyone. Join us for a week of music, creativity and fun!
*A note about Covid-19 safety policies. All of our staff members are fully vaccinated and Jalopy will be following all relevant guidelines regarding masks, distancing and capacity. We will also be using UV powered air filtration and adequate ventilation in all spaces. Contact
info@jalopytheatre.org
with any questions or concerns.

Typical Daily Schedule:
9:00-9:30 : Morning announcements and listening
We will start with an explanation and discussion about plans for the day's activities. This will include listening to and learning about the songs we will be singing and playing that day.
9:30-10:00 : Singalong
Group singalong of songs from our songbook. This will include warmups and exercises to build confidence in and enjoyment of singing.
10:00 - 11:00 : Instrument lessons
Students will divide into smaller groups according to their instrument. Separate instructors for guitar, banjo and fiddle will teach a lesson that will include technique and skill building as well as learning their parts for the songs by the full ensemble.
11:00 - 11:15 : Snack
A short break with snacks provided by Jalopy.
11:15 - 12:15 : Arts and Crafts
We will work on a variety of creative, hands-on projects that will include simple musical instruments and traditional crafts. Materials, tools and instruction will be provided so that every student can build their own instrument to take home.
12:30 - 1:15 : Lunch / recess
Students will bring their own lunch. Weather permitting we will eat outdoors in the Pirates Cove Community Garden next door to Jalopy.
1:15 - 2:15 : Ensemble
All students and instructors will play and sing together, songs from the our songbook
2:15 - 3:00 : Performances
Each day will conclude with a short concert. A variety of guest musicians representing different traditional styles of music will visit us to perform a few songs and answer questions. Students will be encouraged to give respectful, critical feedback. On the last day of camp, the performance will be a recital by the student ensemble for their parents and friends.