Legends in Making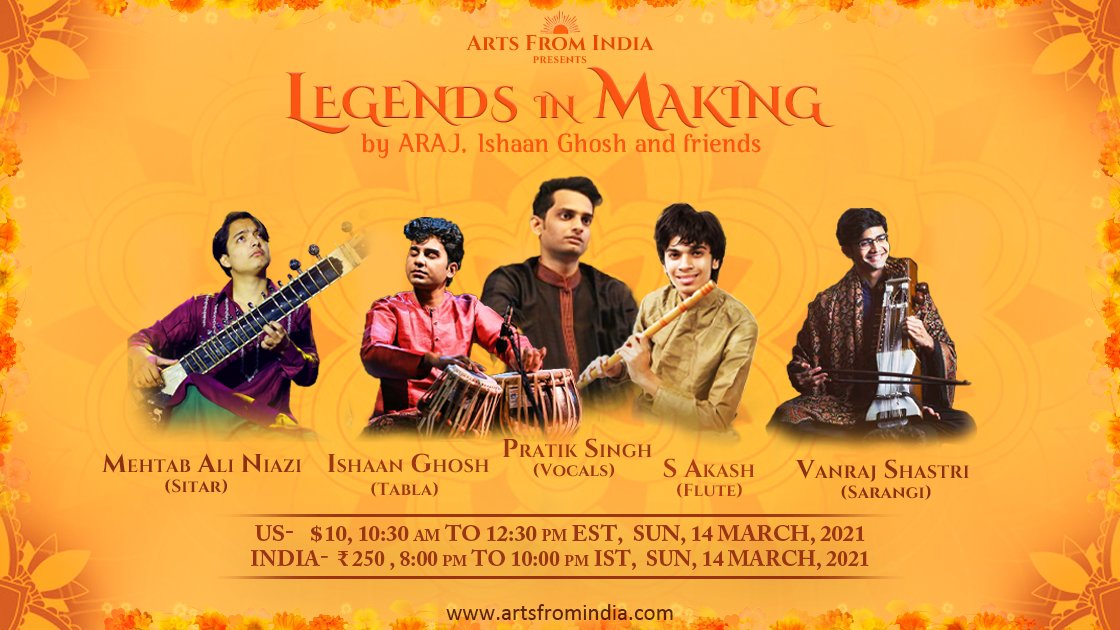 Sun, 14 Mar 2021 (EDT)
10:30AM - 12:30PM
Event past
Organizer
Arts From India
We invite you to be a part of this incredible concert.


Legends in Making
Witness the young maestros create magic on the stage as we reach the grand finale of our series of concerts.


In our final virtual concert "Legends in Making", presented to you by the amazing setup of artists, ARAJ. This 2 hours long concert will feature various extraordinary renditions by this ensemble, featuring Ishaan Ghosh on tabla, Pratik Singh on vocals Akash Satish on flute, Vanraj Shastri on sarangi, and Mehtab Ali Niazi on sitar.


Explore the richness of traditional Indian music, from instrumental to classical, semi-classical, Ghazals and folk music.


Watch their masterful performances on
Saturday, March 14th from 10:30 pm- 12:30 pm EST (for USA audience) and
Sunday, March 14th from 8:00 pm- 10:00 pm IST (for Indian audience).