Lydia Lunch: RETROVIRUS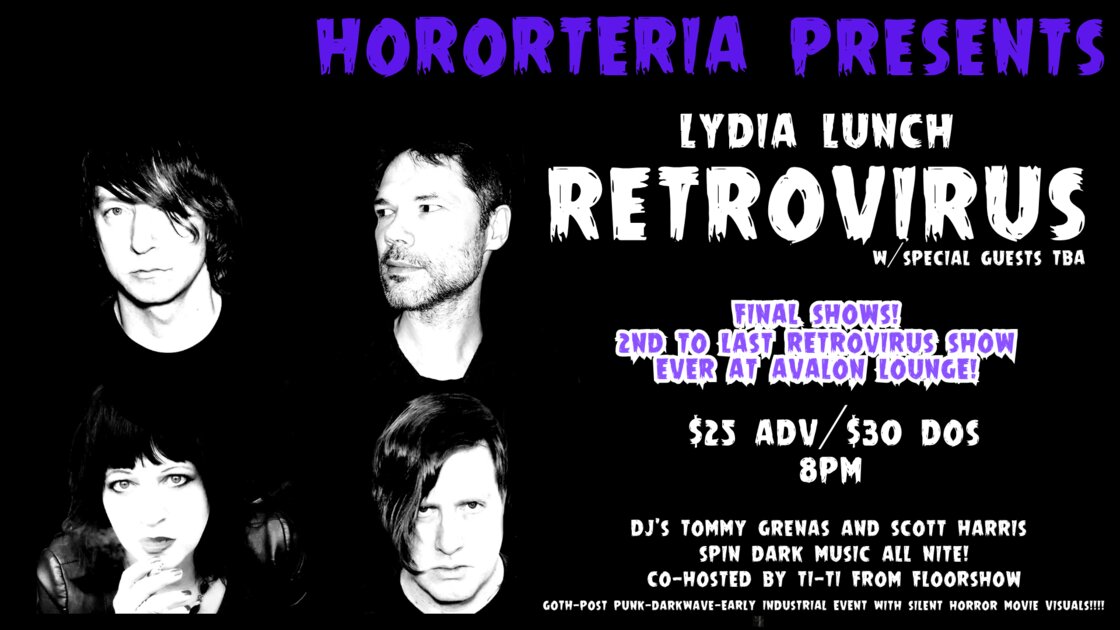 17 Nov, 2023, 8:00PM to
18 Nov, 2023, 12:00AM (EST)
Event past
The Avalon Lounge
29 Church St
Catskill, NY 12414
Open Map
Presented by HORORTERIA – DJs Scott Harris and Tommy Grenas
LYDIA LUNCH RETROVIRUS: AN ALL-STAR CAST OF SONIC BRUTARIANS IN A NO-HOLDS-BARRED SURVEY OF HER MUSICAL OUTPUT FROM 1977 TO THE PRESENT.


Including music from 8 Eyed Spy, Queen of Siam, 1313, Big Sexy Noise and Shotgun Wedding.
LYDIA LUNCH has spent decades trolling through the sub/terranean sick-home black & blues creating a schizophrenic musical legacy which loops from shrill No Wave to bludgeoning Hard Rock, from smoky Jazz Noir and illustrated word to macabre Psychedelia.
WEASEL WALTER is best known as the founder of the cult punk jazz/no wave/brutal prog band, The Flying Luttenbachers. Mr. Walter has also worked with other experimental rock groups like XBXRX, Behold The Arctopus, Burmese and Lake Of Dracula. As an improviser, Mr. Walter has performed with Evan Parker, Marshall Allen, Elliott Sharp, Peter Evans, Henry Kaiser, Mary Halvorson, Nels Cline, Jim O'Rourke and Vinny Golia.
TIM DAHL is a composer and professional electric and double bass player, vocalist, keyboardist and composer living in New York City. He is best known as the front man and bass player of the noise-rock band Child Abuse and the defunct avant-jazz group The Hub.He also writes and performs for the jazz ensemble Pulverize The Sound. Dahl has toured extensively throughout North America, Europe and Japan, and performed with many notable musicians, composers and performers including Yusef Lateef, Archie Shepp, Eugene Chadbourne,John Zorn, Marc Ribot, Elliot Sharpe, Tatsuya Yoshida and Stanley Jordan.


Drummer KEVIN SHEA started his training in elementary school and continued steadily through his college years at Berklee College of Music and subsequent graduation from New School. The global community first took notice of Shea back in the mid '90's with cult avant trio Storm & Stress on Touch and Go Records. Since then he has maintained a relentlessly prolific presence internationally with countless projects in the Rock, Avant-Garde and Jazz genres — including work with God Is My Co-Pilot, Mostly Other People Do The Killing, Great Lakes, Rhys Chatham, Talibam!, David Taylor, People (with Mary Halvorson) and ALPHAWHORE (featuring Chris Cochrane and Gordon Beeferman). Village Voice named him 2012's Best Drummer in NYC. In 2021, Shea moved to Germany after receiving Moers Festival's 14th annual Improvisor In Residence scholarship. He now resides in Brooklyn.
DJ Tommy Grenas
Singer, songwriter, synthist and electronic musician, who began his career in 1982 with the Belfast garage band The Swamp Rats. Continued in 1987 with Los Angeles based Pressurehed. Founding member of Farflung in 1992 along with Michael Esther and Brandon La Belle. Co-founder of Anubian Lights in 1995 with Len Del Rio. Guitarist in Nik Turner's Space Ritual and Hawkwind. Performed with recording Helios Creed and Chrome starting in 1997 as Tommy L. Cyborg. Has played and collaborated with The Brain, Lydia Lunch, Cluster, Abby Travis, et al.
DJ Scott Harris
Creator and conceptualist of darkwave-occult-horror music act hororhaus. Scott has a weekly radio show on WaxRadioIndy.com called HORORTERIA which is a dark music focus encompassing multi-genres. Scott is from the NYC area and moved to The Catskill region in 2009. Throughout the mid and late 90s, Scott was a DJ in NYC spinning electronica and 80s new wave as a resident DJ at Bowlmor Lanes on University Place in NYC. He guest DJs on various TWITCH channels including Empire Of Beat and Dead Souls Gothic Lounge. Scott is a multi-instrumentalist and as a drummer, played drums for such bands as The Vibes, goth-metal Vasaria (who was signed on Century Media Records), angel13, Xraygun and currently plays drums in various local projects.