MOSE :: Cacao Dance - Live in Appalachia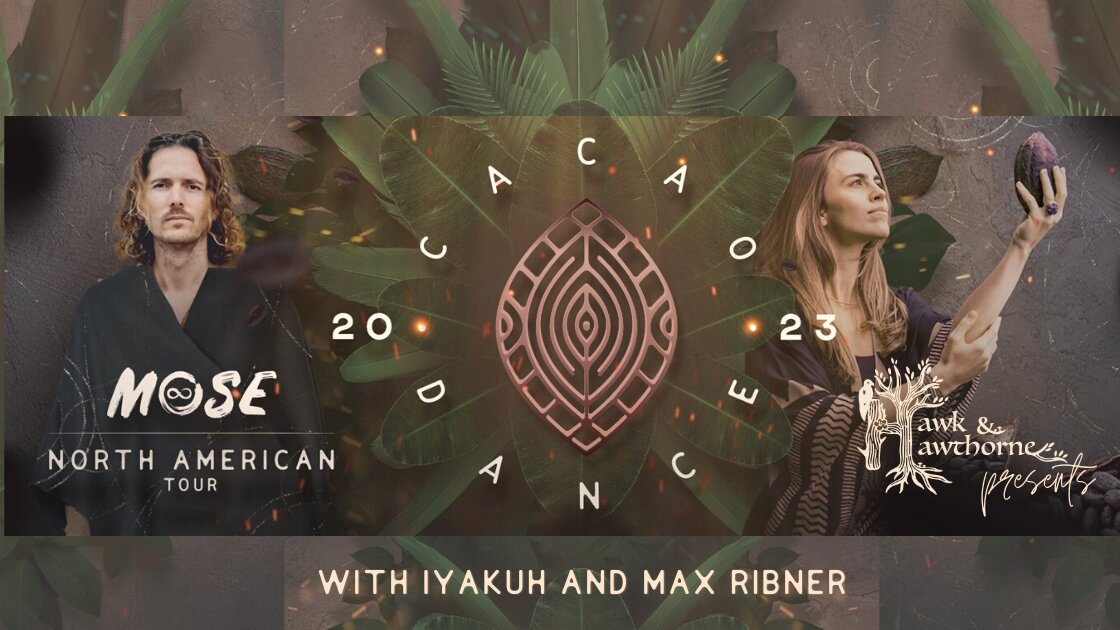 In-person tickets are SOLD OUT
Wed, 17 May 2023 (EDT)
06:00PM - 11:00PM
Event past
Hawk & Hawthorne
133 N FORK RD
BARNARDSVILLE, NC 28709
Open Map
Organizer
Hawk & Hawthorne
Update: This show is SOLD OUT -- we do have a few people looking to sell tickets & are considering releasing a few extra tickets for purchase at the door. If you are interested, please fill out
this short form
& we will be in touch if any tickets become available.
This ecstatic dance-inspired event activates the body-mind-spirit connection through immersion into movement & stillness ... guided by organic electronic music produced & mixed by renowned sound alchemist Mose.
We will open the space with a simple cacao ceremony, facilitated by Bruna Bortolato, to open the heart & sensitize the body for this journey into sound.

If you've never experienced the Hawk & Hawthorne before, it's a uniquely beautiful 50 acre community-powered venue full of springs and forest trails. Check out the short video below for a glimpse into the magick.

To get the most of all the Hawk has to offer, a limited number of camping passes are available so you can stay the night of the show. Please plan to bring your own camping gear. If you're interested in camping, please make sure to select that option on the ticket page. You can email us at hawkandhawthorne@gmail.com if you have any questions.

If you are unable to attend due to lack of funds, please email us at the address above. We offer some discounted tickets for BIPOC & economically disadvantaged groups.
== Schedule ==


6PM :: Doors open


7PM :: Iyakuh


8PM :: Cacao with Bruna Bortolato


8:30 - 10:30 / 11 PM :: Mose


11:00PM :: Fireside Experience Facilitated by Max Ribner


1AM :: Venue Closes - Anyone not camping is requested to depart


== ARTIST BIOS ==


MOSE is well known for his original productions and remixes, always bringing a unique sensitivity to the music of impactful artists like Danit, Mirabai Ceiba, Ayla Schafer, and many others. His music creates a sonic landscape that evokes the sound of nature and fantasy, generating a beautiful vibration of community movement and healing.


Besides his music, he is well known for the Cacao Dance -- a gathering that he began to share in Guatemala at the famous Eagle's Nest. The event gathers hundreds of people together for this musical ceremony and celebration of movement and togetherness.


BRUNA BORTOLATO is a Spiritual Life Coach, certified Women's Empowerment Mentor & movement teacher born and raised in Brazil. Bruna's desire to deepen her spiritual path led her to leave Brazil at the age of 23, traveling around the world studying yoga and meditation. She explores different cultures and immerses herself in nature where she spends time in reflection listening to higher guidance. Bruna is based in Guatemala on the beautiful lake of Atitlán, a place where she fell in love and saw an opportunity to go deeper into her journey. Bruna has studied holistic coaching for over four years and has attended and hosted many workshops and retreats. She teaches embodiment through sacred movement, a practice of being in your body—that ignites creativity, connection, and community.

IYAKUH
⦿ Ancestral Sound Gardens ⦿
Music production from the Heart for Dance, Journeying, & Film.

MAX RIBNER
What are the common threads that bridge jazz, soul, and classical music with spiritual connection and community service? This is the question that drives international touring artist Max Ribner. The sound that answers is rich, reverent, and intimate, connecting us through the lineage of music, to the stories of our ancestors. In the past, Max's unique and fusion-inspired approach to Flugelhorn and trumpet has led him to perform with artists such as Esperanza Spalding, Nahko And Medicine For The People, Trevor Hall, The Polish Ambassador, Liv Warfield and many more. The result of years of collaboration with such a broad musical community is powerfully illustrated on Max's debut solo album, 1st Language. The 11-song debut album brings 50+ artists together in a cross-continental collaboration for the ages. Featured artists include: Bobby Sparks II (Roy Hargrove, Snarky Puppy,) Mark Lettieri (Snarky Puppy,) Saeeda Wright (Prince,) Sharay Reed (Chaka Kahn,) to name a few. In addition, the album was mixed by Grammy award winning mix engineer, Ben Kane (D'Angelo PJ Morton and Emily King) Completed in late 2020, 1st Language is a sonic calling together of our collective humanity.
== ABOUT HAWK & HAWTHORNE ==


The Hawk & Hawthorne is a practicing permaculture community & venue nestled just north of Asheville, NC.


Set in a freshly renovated heritage tobacco barn amidst an expansive valley full of fruit trees, homestead gardens, spring fed ponds & majestic views. The Hawk has been an organic gathering point for the Asheville & Barnardsville community for over 30 years, hosting hundreds of weddings, workshops & intimate live performances.


The community here is emerging in response to the challenges of our times -- drawing strength from folk traditions and each other to create containers for the emergent human renaissance to celebrate & grow. Through cooperation, music, crafting & regenerative agriculture practices, we are rediscovering our sense of belonging; to the land & each other.


--> We are a non-alcoholic venue. Buchi Kombucha, Kefir Soda & Homemade Elixirs from our garden will be available at the bar. (Cash preferred; venmo/cards OK.)


--> Parking & Driving directions sent with ticket confirmation.


--> Please leave dogs at home.


=== CAMPING AT THE HAWK ===

Camping at the Hawk included access to a drinking spring, forest trails as well as bathrooms, power, a hot shower, wifi and a sweet covered living room space in the barn to hang out. We also have two bell tents with included air mattresses. Please email us at hawkandhawthorne@gmail.com if you are interested in booking these.

Arrival Instructions and Venue Policies will be sent in the email with your ticket confirmation. Please read them carefully.