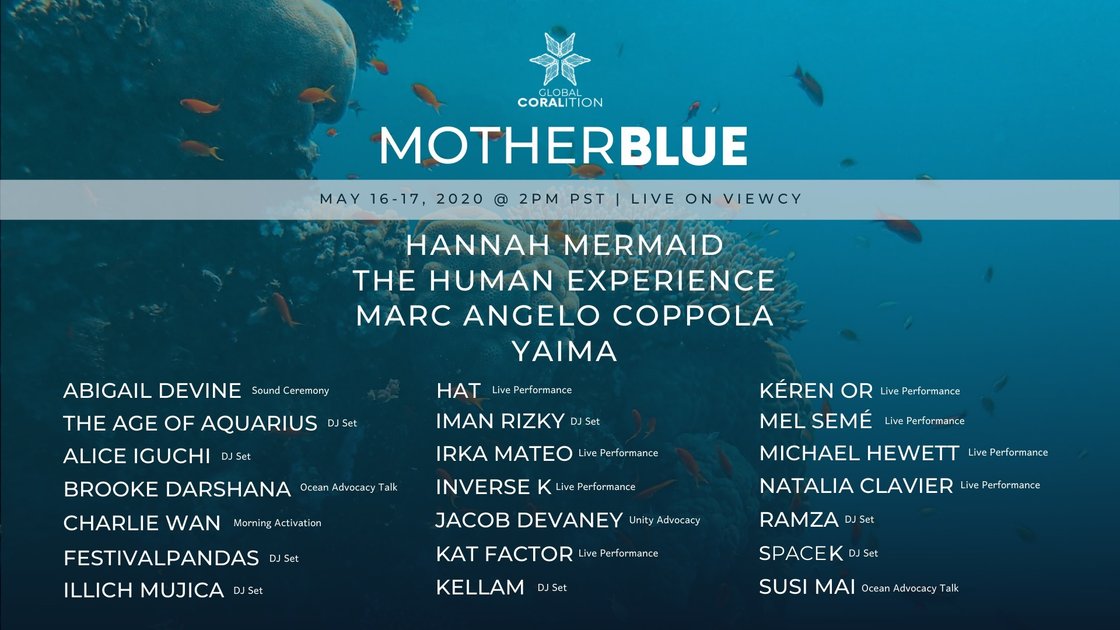 Day and Time
16 May, 2020, 2:00PM to
17 May, 2020, 2:00PM (PDT)
Description
Globally on Viewcy • A 24 Hour Virtual Benefit for Global Coralition ======================================================================= Live Performances • Speakers • Ceremonies • Music With most of the world in quarantine, we are witnessing the effect our choices and actions have on the natural world. Each of us is a powerful agent of change. Now is the time to come together for climate change action -for all life on earth. Join us for an inspiring 24 hour virtual experience benefiting our planet's coral reefs! Entry is free, and you will have the opportunity to tune in globally and submit online donations to support bringing this project to fruition. --- Special performances and talks by YAIMA HANNAH MERMAID THE HUMAN EXPERIENCE MARC ANGELO COPPOLA (Superhero Academy) SUSI MAI ABIGAIL DEVINE SOUND MEDITATION FULL LINEUP . . . Live Music . . . Natalia Clavier (Thievery Corporation) Running Lights Michael Hewett Mel Semé HAT (Remix ⟷ Culture) Kat Factor Kéren Or Inverse K . . . DJ Sets . . . Alice Iguchi ebb+flow Illich Mujica Iman Rizky Kellam FestivalPandas Ramza SpaceK The Age of Aquarius . . . Ceremonies and Meditations . . . Shamanic songs with Irka Mateo Meditation with Michael Hewett Sound Ceremony with Abigail Divine Dawn of the Burning Sun . . . Talks . . . Adam Taylor (MIGO Water Solutions) Brooke Darshana (Regenerative Resource Management) Hannah Mermaid (Ocean Advocate and Model) Jacob Devaney (Unify.org) Marc Angelo Coppola (Superhero Academy) Susi Mai (Mai Tai Global) and more TBA! -- What is the Global Coralition? We are a 501(c)(3) organization dedicated to scaling coral reef restoration through a collaborative model of art, science and community. We create restoration hubs consisting of large-scale sculptural reefs and land-based coral farms, while activating local and global communities for lasting regenerative growth. Our Mission Our mission is to help restore our precious ocean ecosystems by using art as a vehicle to empower communities with science to facilitate lasting sustainable change. We engage local communities in at-risk regions, igniting grassroots movements, and collaborate with local restoration groups, ecologists, farmers and fishing communities, hotel developers, and regenerative solutions partners for unified restoration efforts. The Global Coralition is currently in the Dominican Republic building an underwater sculpture garden inspired by local Taino wisdom, designed to become a new coral reef restoration site. The next phase of our project in the Dominican Republic takes place at a fishing village in Sosua, where we are working with local communities and ecologists to transform the area into a functioning coral farm for endangered marine species. By collaborating with fishermen, ecologists, schools, and the local community, Global Coralition aims to target the main causes of reef degradation while empowering community with the tools to restore their local ecology. Website: https://www.globalcoralition.org/
Day and Time
16 May, 2020, 2:00PM to
17 May, 2020, 2:00PM (PDT)
Sponsors


HOO KOO E KOO is a global brand and product studio. We work to build a better future for humanity and the planet.
HOO KOO E KOO is adding $5 to everyone's donation.


Encompassing all aspects of water treatment technology, remediation, management and planning, the company utilizes advanced patented and proprietary treatment methods and technologies to bring clients the most efficient and cost-effective wastewater treatment and remediation systems in the world today.
MigosH20 is proud to sponsor this event. We are adding $5 to every donation made.
Collaborator
Viewcy Studio
Sponsor

MIGO H2O
HOO KOO E KOO