Music-Meditation : Asana-Upasana
by
Chhandayan Programming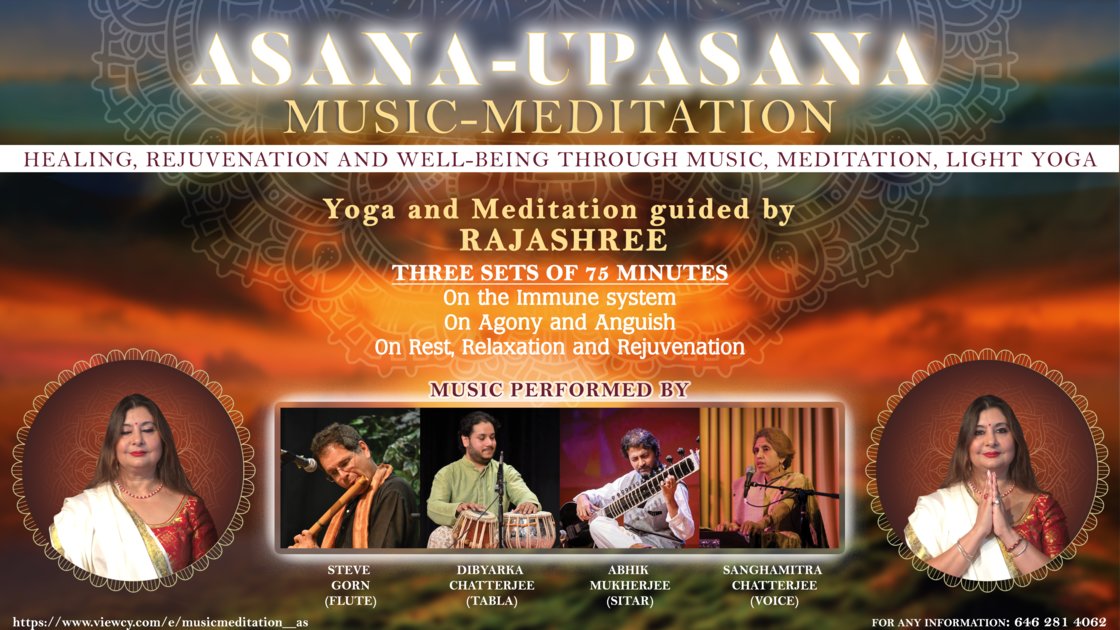 This is an in-person event
Sat, 11 September 2021
11:00AM - 05:00PM (EDT)
Event past
Chhandayan Center for Indian Music
4 W 43rd St
New York, New York 10036
Open Map
Organizer
Chhandayan Programming
MUSIC-MEDITATION : ASANA-UPASANA

Healing, rejuvenation and well-being through Music, Meditation, light Yoga
accompanied by authentic, nutritious Indian food and beverages.

On the Significant day of September 11, 2021 (Saturday) from 11 am to 5 pm

At Chhandayan Center for Indian Music, Social Hall, 4 West 43rd Street, New York, NY 10036

Three session of 75 minutes each, with 15 minutes break in between.
The 1st session will concentrate on the Immune System,
the 2nd session will focus on Agony and Anguish, and
the 3rd session will be on Rest, Relaxation and Rejuvenation.
Yoga and Meditation guided by RAJASHREE
Music performed by Steve Gorn (flute), Sanghamitra Chatterjee (voice), Abhik Mukherjee (sitar) and Dibyarka Chatterjee (tabla).
Food and beverages provided by Chhandayan catering services.

All attendees are required to email vaccination documents to info@tabla.org at the time o registration and prior to the event. Please come prepared to wear masks and follow other protocols as part of COVID safety measures.


Please inform us of any special conditions you may have,
Please wear white, decent and comfortable,
Please bring your own yoga mat, cushion (if needed),
Beverage will be served during the breaks, and Indian vegetarian dinner at the end,
Registration: $150, including dinner. First 100 registrations only. Early bird discount until August 10th. 10% discount on group purchases of 10 and more.