Pandit Jasraj Tribute Concert Series - Shakir Khan (sitar) and Tejas Upadhye (violin) - Oct 18
Event Past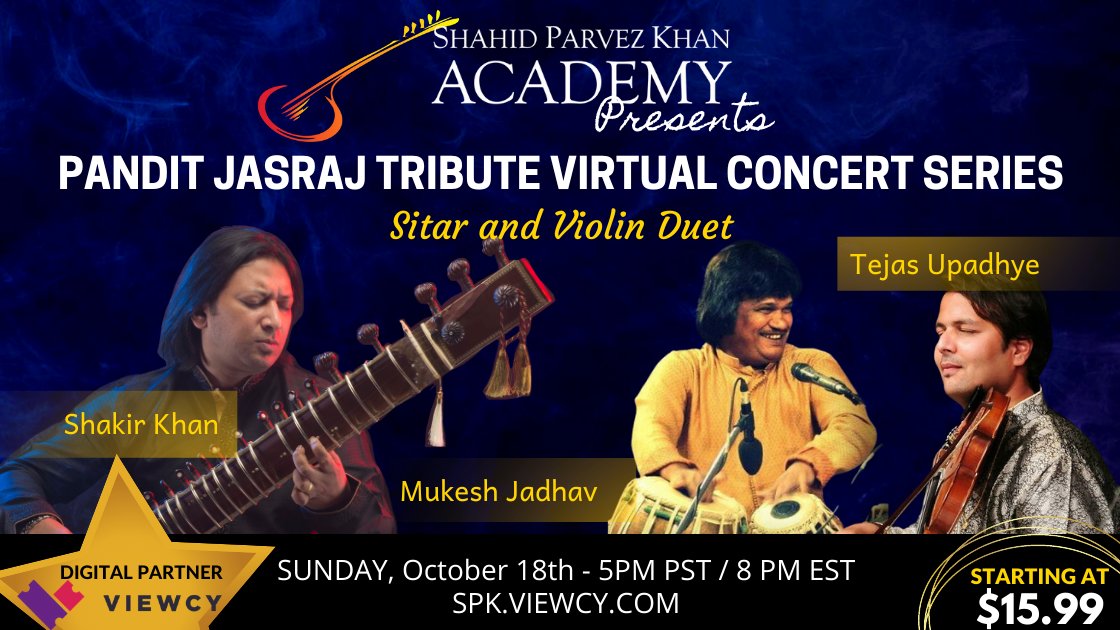 Day and Time
Sun, 18 October 2020
05:00PM - 09:00PM (PDT)
Description
The SPK Academy of Music proudly presents a series of 3 concerts in tribute to the legend Pandit Jasraj. The first concert features an exciting sitar and violin duet with Shakir Khan and Tejas Upadhye Date/Time: Sunday October 18th at 5 pm PT/8 pm ET Tickets: Single Event Pass $15.99, Concert series pass for all 3 events $25.99 Shakir Khan is one of the most promising young exponents of the legendary Etawah Gharana, following in the musical footsteps of his father and guru, the sitar maestro Ustad Shahid Parvez Khan. He represents the eighth generational in an unbroken chain of musical talent and tradition specializing exclusively into the sitar and surbahar. Since his first public performance at the age of eleven, he has performed at the top music conferences in India, including the Dover Lane Music Conference (Kolkata), Sawai Gandharva music festival (Pune), Tansen Music Festival (Gwalior), the Shankarlal Music Festival (Delhi). Shakir also has performed in North America and Europe and has a growing following across the world. Tejas Upadhye, a leading young violinist, belongs to the revered Pandit Bhaskarbuwa Bakhale Gharana and has been trained by his father and guru, the eminent violinst Pandit Atulkumar Upadhye. He follows a unique style of violin playing which blends Gayaki Aang and Tantkari techniques, and represents a unique blend of Indian as well as Western technique. Teajs has to his credit many awards and accolades including the prestigious Lions Club and Ganvardhan's 'Young Talent in Violin' Awards, and has performed widely across the globe.
Day and Time
Sun, 18 October 2020
05:00PM - 09:00PM (PDT)
Sponsors


Scott Cook Homes is a proud sponsor of this event. Scott is one of the top 40 Realtors Under 40 in the state of Arizona for 9 straight years; an accomplishment stemming from from his knowledge, experience, and work ethic. Visit www.scottcookhomes.com
Scott Cook Homes is matching 100% of donations up to $510 for this series.


VIewcy is a ticketing platform and a virtual stage helping artists and organizations build community and share their art. We are proud sponsors of this event.
Musician's Mall - One of the only places in the world to find esteemed Indian Instrument Makers like Paul & Co, Hiren Roy, Rikhi Ram, Haridas Vhatkar, Hemen, Naskar, Paloma, Bina, and many other brands under one roof. To ensure your satisfaction our experienced staff does setup and tune the instruments for you, including harmonium tuning, sitar tuning, tabla strap pulling and other tuning, etc. We have many informative pages and videos on our website for quick fix and tuning the instruments.
Advisor

LearnQuest Academy of Music
Organizer

The SPK Academy of Music