ARPAN
by
Chhandayan Programming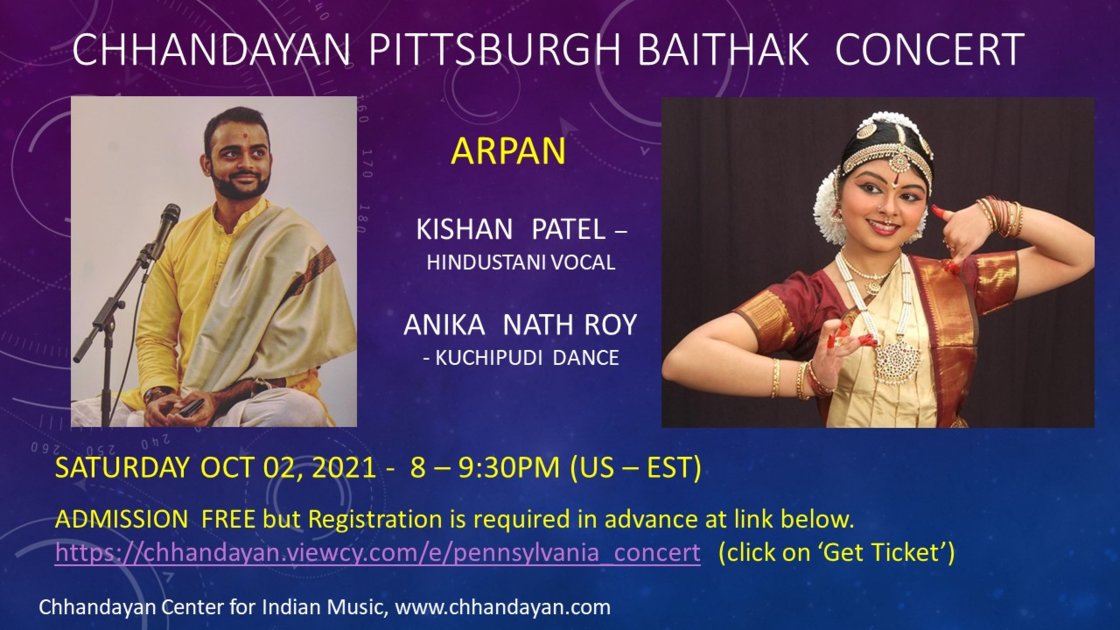 Tickets unavailable at this time
This event is streaming online
Sat, 02 October 2021
08:00PM - 09:30PM (EDT)
Event past
Organizer
Chhandayan Programming
This concert is a presentation of the Pennsylvania chapter of Chhandayan, featuring Kishan Patel on classical vocal and Anika Debnath on classical dance.

Kishan Patel was born and raised in Portland, OR, Kishan has been learning music since he was 6 years old. He received his initial training under Portland's Dr. Nisha Joshi, who trained him in not just Hindustani Vocal and Bhajans, but also taught him to play Tabla, Harmonium, and Sitar as well. After studying with Dr. Nisha Joshi for about 12 years, he began studying under the tutelage of his current guru, Shri Arijit Mahalanabis.

After his first year of college, Kishan took a break to pursue his passion further. He moved in with his guru, and
began training in the Gurukul system. During this time, Kishan has been training to learn the intricacies of
Hindustani music through the intensive training of various genres of Hindustani music – Dhrupad/Dhamar, Khayal, Thumri, and Tappa.

Under Arijitji's guidance, Kishan has also been groomed as an accomplished accompanist on Tabla and
Harmonium, and has also taken up a guided study of the Santiniketan Esraj. He has had the fortune of accompanying some of India's finest musicians including Smt. Aditi Kaikini Upadhya, Sandipan Samajpati, Mitali Banerjee Bhaumik, Samir Chatterjee, Satish Vyas, Arnab Chakrabarty, Ruchira Panda, Ranjani Ramachandran, and many others. Kishan has also had the fortune of training under Gurus Smt. Aditi Kaikini Upadhya, Shri Sachin Pimple, Vidwan Poovalur Srinivasan, and Dr. Lewis Norfleet.

Anika Nath Roy has been learning Bharatanatyam for several years. She started her first dance training at the tender age of 3 and a half under Smt. Nandini Mandal. Anika has been learning Bharatanatyam under the tutelage of Smt. Jaya Mani and completed her Arangetram in June 2013. She has also been learning Kuchipudi under the guidance of Dr. Kamala Reddy since the age of 5 and a half. Anika has performed in several Kuchipudi dance ballets around the nation, such as Rukmini Kalyanam, Ashta Lakshmi, Sri Padmavathi Srinivasa Kataaksham, Chandralika, and others. She has participated in various summer dance workshops for both
Bharatanatyam and Kuchipudi styles. She has also participated in the North American Bengali Conference (NABC) as well as other local festivals. Anika has performed in various cultural events for Bengali Association of Pittsburgh (BAP) for many years. Along with dance, she has learned Tagore songs for more than 10 years under the tutelage of renowned singer Smt. Banani Ghosh.

Born and brought up in Pittsburgh, Anika has continued her passion for dance throughout college. She was a dancer and choreographer on Pitt Nrityamala, University of Pittsburgh's Indian Classical Dance Team. The team performed at various competitions throughout the country. As the lead role in the team's piece, Anika and the team won 1 st place at Tu Bhi Nachle and Viewers' Choice Award at Laasya. Additionally, Anika has been an active board member of Dhirana, University of Pittsburgh's Premiere Indian Classical Dance Competition, which aims to help the Birmingham Free Clinic of Pittsburgh. At the University of Pittsburgh, Anika is currently pursuing her Doctorate of Pharmacy Degree.