Raaga And Rhythm 2020 - GLOBAL Concert
by
Dhwani Academy of Percussion Music - USA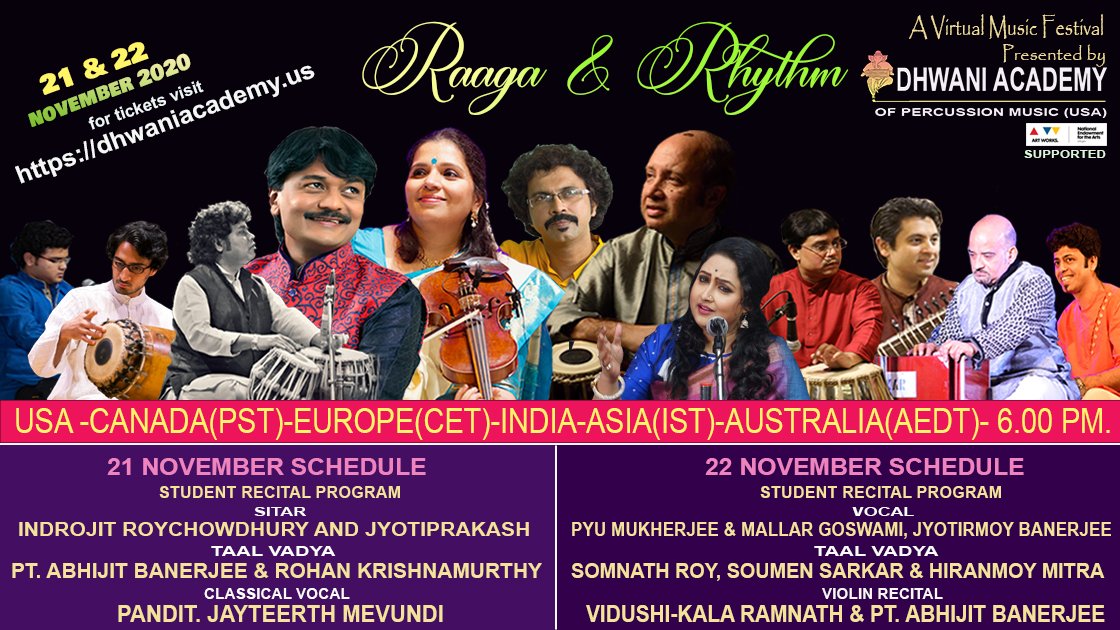 This is an in-person event
21 Nov, 2020, 6:00PM to
23 Nov, 2020, 6:00PM (AEDT)
Event past
Organizer
Dhwani Academy
Dhwani Academy
Dhwani Academy Of Percussion Music - USA presents Global Indian Classical Music Festival - Raaga and Rhythm A NOT TO MISS presentation featuring world class artists of Indian Classical music along with promising new comers from India and USA. It is Dhwani's continuous endeavor to promote Indian classical music across the Globe. For last 15 years Dhwani Academy with its partners globally has been successfully promoting and teaching Indian Classical music and art forms. Dhwani wishes all the audience a very happy and healthy festive season. Stay safe.

DATE - 21 and 22 November 2020 in 4 time zones.


6 pm US/Pacific Time
6 pm CET (Central European Time)
6 pm IST (Indian Standard Time)
6pm AEDT (Australia/Melbourne - Eastern Daylight Time)

Ticket Price
Two Day Concert - General Donation - $25.00 - ( Concert Day Viewing )
Two Day Concert - Gold Donation - $40.00 - ( 7 Days Viewing )
Two Day Concert - Platinum Donation - To Support Dhwani Academy - $100.00 ( Downloadable concert )
Concert Schedule

21st November


Tabla Duet. : A cameo recital by Bay Area students Ibhanan and Trinav
Sitar Recital : Indrojit RoyChowdhury with Jyoti Prakash on Tabla
Mridangam and Tabla Jugalbandi : Rohan Krishnamurthy And Pandit Abhijit Banerjee
Vocal Recital : Pandit Jayteerth Mevundi

22nd November


Tabla Duet : A cameo recital by Southern California students Harsh and Hridhay
Light Classical Vocal : Piu Mukherjee with Jyotirmoy Banerjee on harmonium and Mallar Goswami on Tabla and Ghatam
Tabla Duet : Somnath Roy (Ghatam) Soumen Sarkar on Tabla and Hiranmay Mitra on Harmonium
Violin Recital : Vidushi Kala Ramnath With Pandit Abhijit Banerjee

The concert is Supported by National Endowment for Arts.