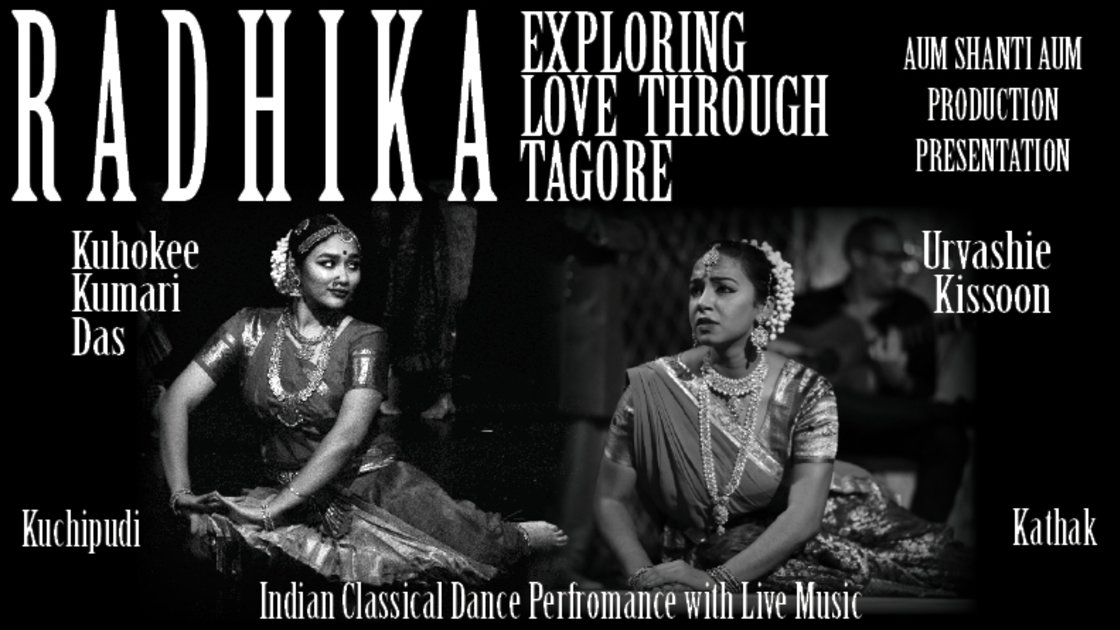 Day and Time
Thu, 12 September 2019
07:00PM - 08:30PM (EDT)
Description
Kuhokee Kumari Das and Urvashie Kissoon
Proudly present
RADHIKA: Love through Tagore
Thursday, September 12, 2019 at 7pm
Victor Borge Hall, Scandanavia House
58 Park Ave, New York, NY 10018
Produced by Aum Shanti Aum Productions (ASAP)
NEW YORK-- Kuhokee Kumari Das, disciple of Smt. Gargi Chattopadhyay, and Urvashie Kissoon, disciple of Pt. Satya Narayana Charka, present a multi-layered presentation of the divine love of Radha for her Lord, Krishna. Set to the beautiful Padabali Kirtans, written and composed by the legendary poet, Rabindranath Tagore (under the pen name, Bhanu Singha), Kuhokee and Urvashie will display the many facets of love and devotion through their respective styles of Kuchipudi and Kathak. In a series of duets and solo performances, the dancers hope to take the audience on an introspective journey of deep love, or bhakti.
Kuhokee Kumari Das, disciple of Smt. Guru Gargi Chattopadhyay, has trained in Bharatanatyam and Kuchipudi since the age of six. After completing her Bharatanatyam Arrangetram and Kuchipudi Rangapravesham in 2011, Kuhokee has collaborated with and performed for many talented across the globe, such as Kalyan Sen Barat and Padma Bhushan Manna Dey. She has performed in prestigious platforms such as the United Nations General Assembly, Lincoln Center, and Ellis Island, amongst other renowned venues. Kuhokee continues her Bharatanatyam and Kuchipudi training under various talented gurus.
Urvashie Kissoon started her training in the Lucknow Gharana of Kathak at the East-West School of Dance from renowned dancer Guru Pandit Satya Narayana Charka at a tender age. At the same time, she began learning Bharatanatyam from the Padmalaya Dance Academy under the guidance of Srimati Guru Raja Rajeshwari, furthering her Bharatanatyam and Kuchipudi education under Smt. Gargi Chattopadhyay. Urvashie has performed at notable venues such as the City Hall of New York, Metropolitan Museum of Art, South Street Seaport Deepavali Festival, Ellis Island, Indian Arrival Day in Guyana, Trinidad Consulate, Flushing Town Hall, to name a few, and has also performed globally in Kolkata, India and Seville, Spain. She has performed for various renowned artists such as the late Padma Bhushan Manna Dey, Pandit Anindo Chatterjee, Fred Ho, Hidayat Khan and more. Urvashie has attended many workshops lead by reputed artists such as the legendary Padma Vibhushan Pandit Birju Maharaj. Urvashie completed her Bharatanatyam and Kuchipudi Rangapravesham and her Kathak Rangmanch Pravesh, better known as a dance debut, with the grace of all her Gurus.
Kuhokee Das and Urvashie Kissoon will dance to live music, performed by various talented artists.
The original artwork of artist and fashion designer, Alisha Desai will be on display in the lobby. Guests will have the opportunity to shop for artwork, clothing, and accessories from her fashion line Desai Designs ( www.desai.design)
The event is produced by Aum Shanti Aum Productions (ASAP) in support of the Indian Development Foundation's Malvani Slums Children Education Fund. Part of the proceeds will be donated to this fund.
Tickets $20 General/ $15 Students and Seniors
Day and Time
Thu, 12 September 2019
07:00PM - 08:30PM (EDT)