Roopa Mahadevan and George Ziadeh: Intersections of Raga and Maqam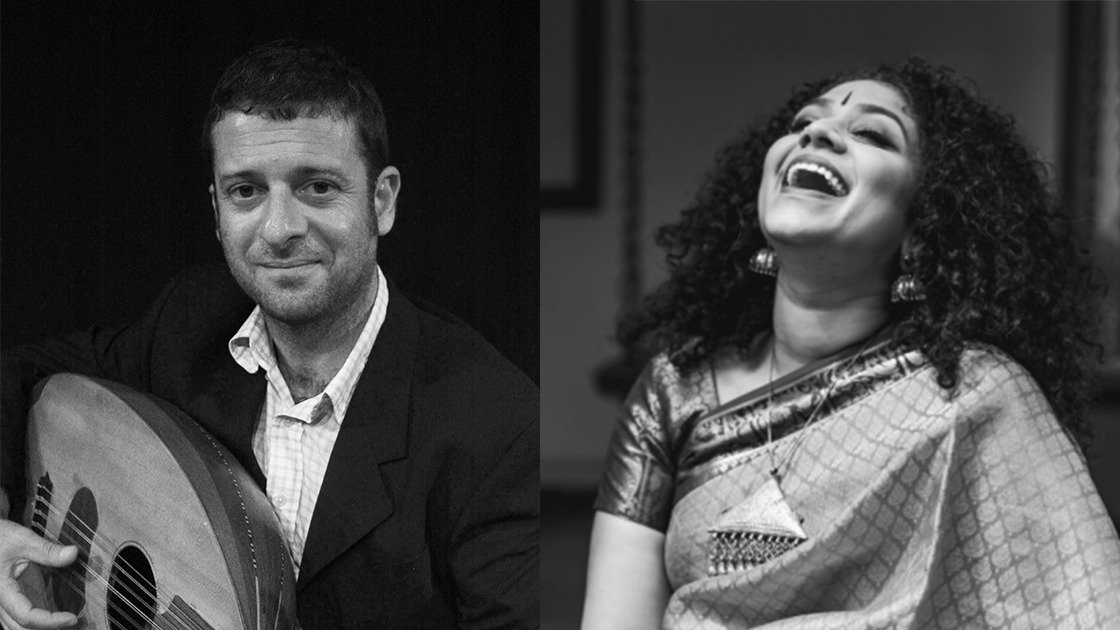 This is an in-person event

Tue, 30 June 2020

08:00PM - 09:00PM (EDT)

Event past Collaborator The India Center Foundation Organizer Brooklyn Raga Massive For centuries, Maqam has been the tonal language of Arab, Turkish, and Persian traditional music, while Raga is practiced throughout the Indian subcontinent. The two modal systems have developed independently of one another according to specific rules and structure. In this special workshop, musicians George Ziadeh and Roopa Mahadevan explore and uncover intersections between these ancient, profound musical languages. This program is part of the larger Raga Maqam project, produced by The India Center Foundation and Brooklyn Raga Massive which will culminate in a new work for a 14 piece ensemble led by composer Amir ElSaffar. Raga Maqam is produced by The India Center Foundation and Brooklyn Raga Massive with commissioning support from the David Rubenstein Atrium at Lincoln Center for the Performing Arts. Additional support is provided by New York City's Department of Cultural Affairs and The New York State Council for the Arts. George Ziadeh was born and raised in Birzeit, Palestine, and pursued music from a young age. In 1986 he moved to the United States, where he studied 'oud with Simon Shaheen and classical singing and voice with Youssef Kassab, with whom he has toured extensively across the country. George has performed and lectured with such ensembles and institutions as the University of Chicago's Middle East Music Ensemble with Issa Boulos, the University of Colorado (Boulder), Alwan for the Arts, the United Nations (invited by Kofi Annan), and annually at the Columbia University Department of Ethnomusicology. In 2008, George was a featured solo and ensemble performer in the "Brooklyn Maqam" Festival of Arab Music. From 1995 to 1997 George taught at the Edward Said National Conservatory of Music in Ramallah and at Birzeit University. George is considered an authority in maqam and Arab classical repertoire. A leading Indian classical and crossover vocalist, Roopa Mahadevan is known for her powerful, emotive voice and creative ambassadorship. Roopa creates unique works with musicians and dancers from jazz, world music, and R&B/soul genres. Her "hurricane wail and command of infinite minutiae" has charmed diverse audiences from Chennai's Music Academy, to New York City's MET Museum and Lincoln Center, to the cultural centers of American suburbia. A trailblazer in the South Asian diaspora, Roopa also brings a critical commentary, humor, and authenticity to her work, often invoking her talents in dance and theater. Based in New York City, Roopa is the bandleader of the crossover ensemble Roopa in Flux and director of the innovative choir Navatman Music Collective. She is also a sought-after vocalist for leading Bharathanatyam and modern dance/choreographers around the world. Following numerous years of Carnatic training in the Bay Area, California under Asha Ramesh, Roopa was granted the Fulbright scholarship for further study in Chennai, India under Suguna Varadachari. She has performed in all major venues in Chennai during the iconic December festival, including the Music Academy, and has received the award Kala Ratna from the well-established Cleveland Thyagaraja Aradhana. Roopa is a featured voice with projects like Brooklyn Raga Massive and IndianRaga, and is a soloist on several albums, including Christopher Tin's Grammy Award-winning Calling All Dawns and the Facebook Sound Collection. Roopa has also been selected to participate in premiere residencies at Hedgebrook and the Banff Center for Arts and Creativity. She is a 2020 member of Joe's Pub Working Group. This past fall, Roopa released her debut album, Roopa in Six Yards, recognized for being "as spontaneous and joyful as the singer herself." In a previous avatar, Roopa worked in public health policy, following degrees from Stanford University. Raga Maqam is made possible by the New York State Council on the Arts with the support of Governor Andrew M. Cuomo and the New York State Legislature. This program is supported, in part, by public funds from the New York City Department of Cultural Affairs, in partnership with the City Council. This project is supported in part by an award from the National Endowment for the Arts. To find out more about how National Endowment for the Arts grants impact individuals and communities, visit www.arts.gov. About Brooklyn Raga Massive Praised by the Wall Street Journal for "expanding the notion of what raga—the immersive, epic form of Indian music—can mean" and dubbed the "leaders of the raga renaissance" by the New Yorker, the fun-loving members of the Brooklyn Raga Massive collective have made huge waves for "preserving the past while blurring genres in an inventive spirit" (New York Times). Brooklyn Raga Massive is dedicated to education, engaging in workshops, in-school programs, private teaching, and various community activities to share their love for music. About The India Center Foundation The India Center is a national, 501(c)(3) nonprofit organization in the United States dedicated to the study of the Indian subcontinent, the promotion of its cultural life, and the unique relationship between India and the United States. Based in New York City, The India Center hosts dialogues and exhibitions, mounts programs, educates audiences, and fosters debate focused on India's future as well as its rich and varied past.