Session 1 - 2022 Online Annual Music Festival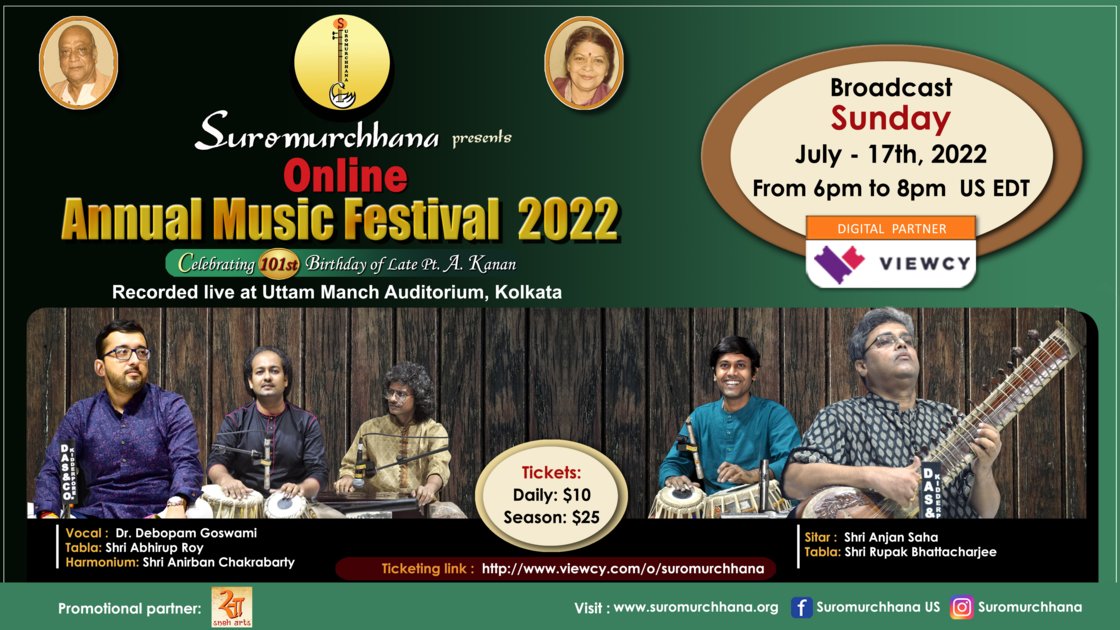 This event is streaming online
Streaming tickets unavailable at this time
Sun, 17 Jul 2022 (EDT)
06:00PM - 08:00PM
Event past
Suromurchhana US presents: 2022 Online Annual Music Festival
Session 1 - July 17th
6:00 PM to 8:00 PM US EDT time zone

Suromurchhana's 2022 Online Annual Music Festival honors our Gurus Late Pt. A Kanan and Late Vidushi Malabika Kanan. It is also 101st birthday celebration of Late Pt. A Kanan.

2022 Online Festival was taped before live audience in Kolkata on the eve of Pt. A. Kanan's birthday.

Part I - Indian classical vocal
Dr. Debopam Goswami with Shri Abhirup Roy on tabla and Shri Anirban Chakrabarty on harmonium.

Part II - Sitar
Shri Anjan Saha with Shri. Rupak Bhattacharjee on tabla.


ABOUT THE ARTISTS:
Dr. Debopam Goswami, a cardiologist as a profession, he is also a dedicated and passionate Hindustani classical vocalist. His journey started under the initial guidance of his mother, Mrs. Srilekha Goswami. He received the tutelage of Mr. Pranab Choudhury of the Kotali Gharana and later became a disciple of Pt Arun Bhaduri of Kirana Gharana. he is at present under the guidance of Pt Amiya Ranjan Bandopadhyay of Bishnupur Gharana. He is continuing his post-doctoral research in cardiology and aims to cure patients from alignment with music and medical practices.
Only at the age of two and half years, Shri Abhirup Roy was introduced to tabla for his deep curiosity in rhythms by his first guru, his father- Shri Swarup Roy. Later he was taken to Pt. Kumar Bose for advanced Taalim. He was fortunate enough to receive Taalim from the Sarod Wizard Pt. Debojyoti Bose for various aspects of Sangat. Abhirup is one of the promising torch bearers of the county. He has participated in several prestigious competitions and has also performed in esteemed concerts both as a Solo and an accompanying artist. Now he has been considered as a music director, scoring music for various short films, television projects and albums.
Shri. Anirban Chakrabarty was initiated to Hindustani Classical Music by his father Amal Chakrabarty, a dedicated vocalist. His keen interest in playing Harmonium has brought him under the tutelage of Pt. Manas Chakraborty, the doyen of Kotali Gharana, in the gayaki style. Anirban has accompanied musicians of repute like Pt. Manas Chakraborty, Pt. Dinanath Mishra, Pt. Arun Bhaduri and many more. He is also adept in playing tabla, keyboard, guitar and also worked as an arranger for several light music albums.
Shri Anjan Saha is an empaneled artist of Indian Council for Cultural Relations. Anjan matured under the strict, yet caring apprenticeship of his Guru Pandit Debiprosad Chatterjee of Maihar Senia gharana. Anjan received the National Scholarship from the Ministry of Culture, Govt. of India in 1992 and 1998. He is a graded artist of Prasar Bharati, India's national radio and television. Anjan has been performing extensively in India and Abroad and conducting workshops at schools in Germany. Besides performance at various music festivals, Anjan mesmerizes the audiences with his unique music compositions. Presently, Anjan is the teacher in Rabindra Bharati University.
Shri Rupak Bhattacharjee was introduced to the world of music through tabla, at a very young age by his first guru, his father Sri Arun Bhattacharjee. He then took his further training from Sri Mrinal Kanti Bakshi in Farukabad Style. Later, he got the blessed opportunity to hone his talent under able guidance of the living legend of tabla, Pt Anindo Chatterjee. Rupak in this short period of his career, has established himself not only as a distinguished solo performer but also as an accomplished accompanist. Rupak, an "A" grade artiste of All India Radio and DoorDarshan has already become a regular performer.