Session 1 - Annual Music Festival 2021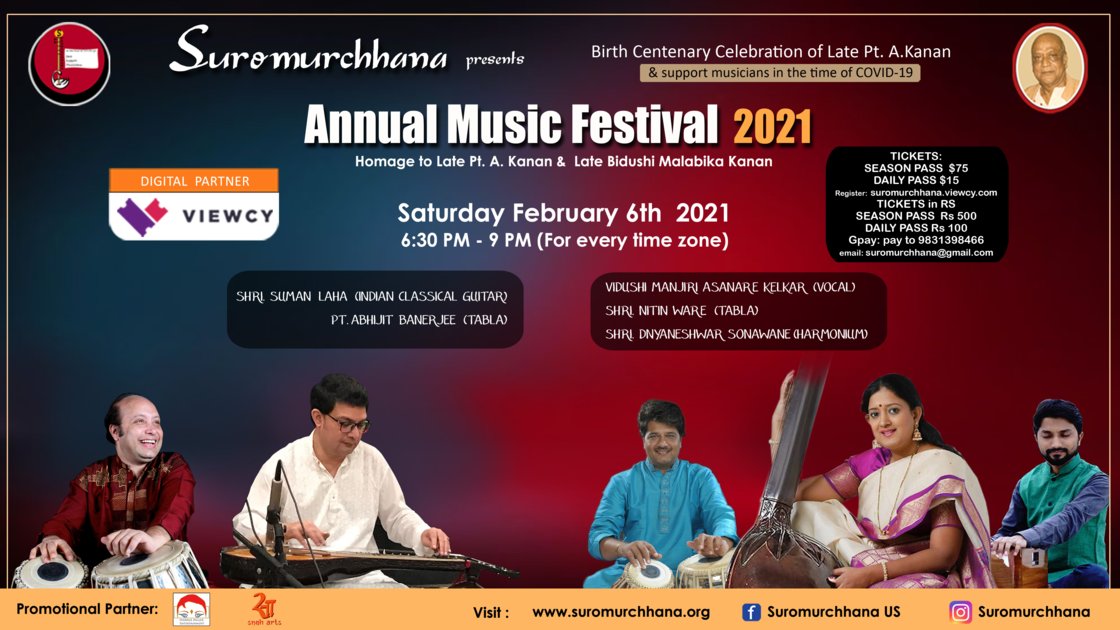 06 Feb, 2021, 6:30PM to
07 Feb, 2021, 11:30AM (IST)
Event past
Artistic Director
Sanjoy Banerjee
Organizer
Suromurchhana
Suromurchhana US presents: Annual Music Festival 2021
Session 1 – February 6th
6:30 PM to 9:30 PM IST
6:30 PM to 9:30 PM CET
6:30 PM to 9:30 PM EST
6:30 PM to 9:30 PM PST time zones

Suromurchhana's Annual Music Festival 2021 honors our Gurus Late Pt. A Kanan and Late Vidushi Malabika Kanan. It is also a culmination of the birth centenary celebration of Late Pt. A Kanan.
Part I - Indian classical guitar
Shri. Suman Laha was groomed in the purest Senia tradition by eminent master Pt. Shyamal Chattopadhyay. Suman is one of the foremost exponents of Indian Classical music in the stringed section. His forte is the Indian Classical Guitar designed by him keeping in mind the ancient Vichitra Veena. He follows the traditional Dhrupad style maintaining its strict grammar and rules. Suman has performed in prestigious musical conferences and concerts in India, USA and extensively toured Europe. He is at present the music director of Cerritos Music Circle, in California giving Indian Classical Music lessons in the tradition of 'Guru Shishya Parampara'.
Pt. Abhijit Banerjee
started learning tabla at a very young age from Sri Tushar Kanti Bose, later from Sri Manik Pal and finally came under the tutelage of Pt. Gyan Prakash Ghosh. Additionally, he is trained in vocal music and violin.
Abhijit ji is a regular performer at major music conferences all over India and overseas, both as an accompanist to several eminent artists and as a soloist. He has toured extensively and has performed with Jazz musicians. He is the founder of Dhwani Academy. In India his academy gives free training to visually challenged students.
https://youtu.be/5pjfPjt0tkI
interview with Shri Suman Laha and Pt. Abhijit Banerjee
Part II - Vocal
Vidushi Manjiri Asanare-Kelkar hails from a traditional music family. Her father, Shri. Anand Asanare, a well-known tabla artist, was the guiding spirit behind her early music training. Manjiri-ji owes her gratitude to Pt. C. T. Mhaiskar of Sangli under whom she received her early lessons. She inherited the rich tradition of Jaipur-Atrauli gharana from Pt. Kanetkar, doyen of the gharana. She blends in herself the qualities of not only a vocalist but also of a kathak dancer. She has received wide acclaim for her performances at numerous prestigious venues in India and abroad and is the recipient of the prestigious Soorashri Kesarbai Kerkar scholarship, and the Hirabai Badodekar Smruti "Gan-Hira" prize, to name a few.
Shri. Nitin Ware inherited the art from his father and first Guru, Pt. Kamlakarji Ware, an accomplished well-known tabla player of Nasik. Nitin also underwent intensive training in tabla with Late Pt Bhanudasji Pawar and had the opportunity to train in 'Gurukul' system under Pt Shashikant (Nana) Muley. Presently he is training under Pt Bapusaheb Patwardhan, a highly regarded disciple of Ustad Ahmedjan Thirakwa. He founded 'Aadi-Taal' Tabla Academy and is a Director of Pawar Tabla Academy, Nashik.
Shri. Dnyaneshwar Sonawane
was deeply drawn towards Indian music from an early age. He started training in Harmonium from the renowned Harmonium player Bapu Kulkarni of Nashik. Later he came under the tutelage of internationally acclaimed Harmonium player, Sudhir Nayak of Mumbai where he is developing the art of playing Harmonium as an accompanying instrument as well as solo Harmonium presentations. He has won accolades and awards at various competitions, and has travelled and performed, accompanying renowned musicians through varied genres of music.
https://youtu.be/V7Sb3hqXQKo
interview with Vidushi Manjiri Asanare-Kelkar