Session 3 - Annual Music Festival 2021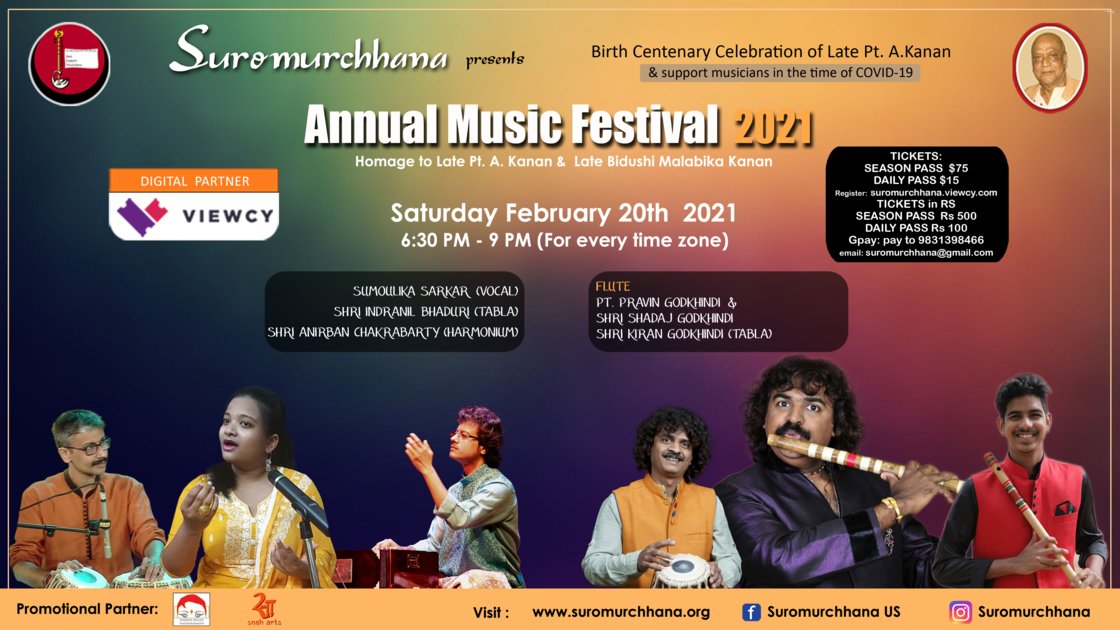 20 Feb, 2021, 6:30PM to
21 Feb, 2021, 11:30AM (IST)
Event past
Artistic Director
Sanjoy Banerjee
Organizer
Suromurchhana
Suromurchhana US presents: Annual Music Festival 2021
Session 3 - February 20th
6:30 PM to 9:30 PM IST
6:30 PM to 9:30 PM CET
6:30 PM to 9:30 PM EST
6:30 PM to 9:30 PM PST time zones

Suromurchhana's upcoming Annual Music Festival 2021 honors our Gurus Late Pt. A Kanan and Late Vidushi Malabika Kanan. It is also a culmination of the birth centenary celebration of Late Pt. A Kanan.
Part I - Vocal
Sumoulika Sarkar, a high school student, started learning music at an early age and is currently taking her taalim under the guidance of Pt. Sanjoy Banerjee. She is a recipient of prestigious CCRT scholarship. She has been performing from a very young age, and has already earned appreciation for her Hindustani Khayal singing from music connoisseurs.

Shri. Indranil Bhaduri began learning tabla from an early age and started his training under Guru Late Satya Narayan Saha of Benaras gharana, following which from Pt. Sanjay Mukherjee, maestro of Farukhabad gharana. He is an All India Radio artist and has accompanied both vocalists and instrumentalist including Pt. Ajoy Chakraborty. He is currently a member of faculty at SRA.

Shri. Anirban Chakrabarty was initiated to Hindustani Classical Music by his father Amal Chakrabarty, a dedicated vocalist. His keen interest in playing Harmonium has brought him under the tutelage of Pt. Manas Chakraborty, the doyen of Kotali Gharana, in the gayaki style. Anirban has accompanied musicians of repute like Pt. Manas Chakraborty, Pt. Dinanath Mishra, Pt. Arun Bhaduri and many more. He is also adept in playing tabla, keyboard, guitar and also worked as an arranger for several light music albums.

Part II- Bansuri
Pt. Pravin Godkhindi, born in a family of musicians, hails from Dharwad. His father Pt. Venkatesh Godkhindi, an eminent vocalist and bansuri artist was his first and only guru for flute. Pravin-ji gave his first public concert at an early age and held the audience spellbound. His quest for deeper knowledge about Layakaari brought him to Vidwan Anoor Ananth Krishna Sharma a reputed Mridangam artiste who is providing able guidance. Pravin-ji is adept in the Kirana Gharana Gayaki style and Gatkaari or Tantrakaari style. He has been ably balancing both traditional and creative music through his fusion band called Krishna, which has all the three forms of Music viz. the Hindustani, the Carnatic, and the Western Music.
Shri. Kiran Godkhindi started his initial training in tabla under his father Pt. Venkatesh Godkhindi at an early age. Later on, he was trained by various Gurus like Pt. Prabhakar Chari of Goa, Pt. Nanda Kumar who is the disciple of the legendary tabla player Ustad Sheikh Dawood of Hyderabad, Pt. Lalgiri ji Goswami, Ustad Abdullah of Delhi and Pt. Raghunath Nakod of Dharwad. He has been performing for the past 30 years with his father Pt. Venkatesh Godkhindi and his younger brother Surmani Pt. Pravin Godkhindi. In addition, he accompanied various artists in many prestigious concerts around the country. He is a regular member of "KRISHNA" and is also part of the "LAYA LAHARI" and "LAYA LAVANYA" percussion ensemble.

Shri. Shadaj Godkhindi is a young and talented third generation flautist. He started his training with his grandfather Pt. Venkatesh Godkhindi in flute when he was 2 years old and gave his first public concert at the age of 3. From then on, he has been regularly performing with his father Pt. Praveen Godkhindi, and grandfather. Of late, Shadaj has been practicing the western drums and has accompanied his father on flute as well as drums.
The noteworthy feature of the Godkhindi family is that the three generations of grandfather, father and grandsons performed together on the stage and are continuing the Jugalbandi tradition.
https://youtu.be/ugoDThzpn2c
BTM series 05: an interview with flutist Pt. Pravin Godkhindi and Shri. Shadaj Godkhindi.