Session 5 - Annual Music Festival 2021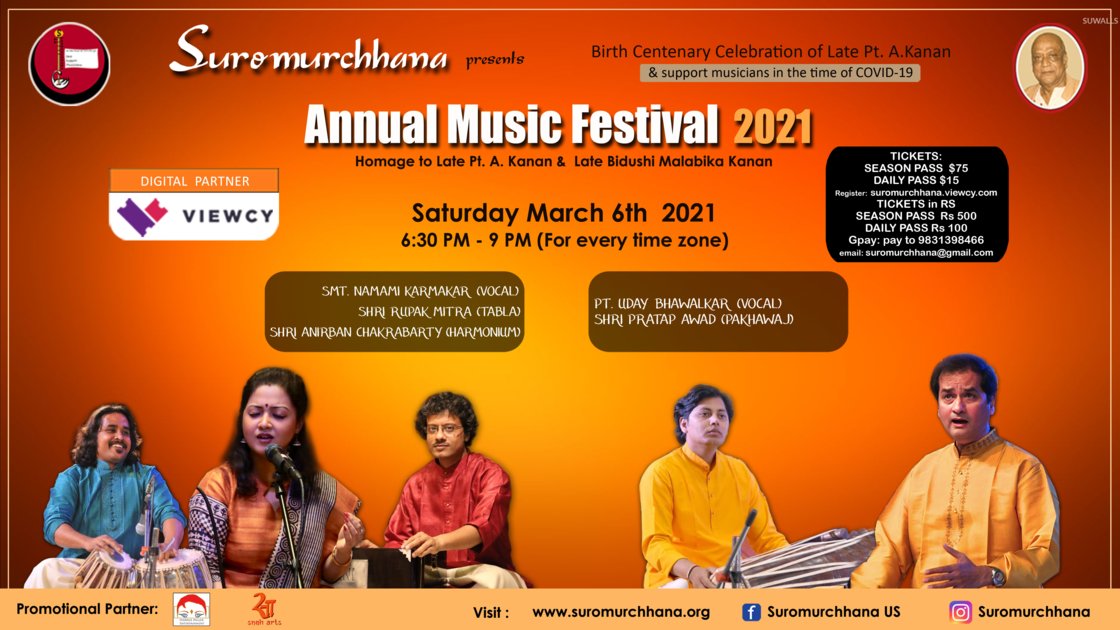 06 Mar, 2021, 6:30PM to
07 Mar, 2021, 11:30AM (IST)
Event past
Artistic Director
Sanjoy Banerjee
Organizer
Suromurchhana
Suromurchhana US presents: Annual Music Festival 2021
Session 5 - March 6th
6:30 PM to 9:30 PM IST
6:30 PM to 9:30 PM CET
6:30 PM to 9:30 PM EST
6:30 PM to 9:30 PM PST time zones

Suromurchhana's upcoming Annual Music Festival 2021 honors our Gurus Late Pt. A Kanan and Late Vidushi Malabika Kanan. It is also a culmination of the birth centenary celebration of Late Pt. A Kanan.

Part I - Vocal
Smt. Namami Karmakar is regarded as one of the finest vocalists among the younger generation of the Kirana Gharana. She had her initial training under Smt. Malini Mukherjee Bhowmick. Thereafter she began learning under Late Pt. A. Kanan and currently she is under the able guidance of their disciple, Pt. Sanjoy Banerjee. She has also performed at major conferences to great acclaim. She is also a faculty member at Chhandayan Center of Indian Music in New York and Suromurchhana in Kolkata & USA.
Shri. Rupak Mitra started learning table under the tutelage of his father Mr. Rash Behari Mitra. Since then, he came under the loving mentorship of his first Guru, Sri Sajal Karmakar of Farukhabad Gharana for the last 13 years. In 2003, Rupak became a disciple of the legend Pt. Samar Saha of Benaras gharana and is still feeling blessed to be under his guidance. Rupak has accompanied several music stalwarts like Pt. Arun Bhaduri, Padmabhushan Smt. Girija Devi to name a few.
Shri. Anirban Chakrabarty was initiated to Hindustani Classical Music by his father Amal Chakrabarty, a dedicated vocalist. His keen interest in playing Harmonium has brought him under the tutelage of Pt. Manas Chakraborty, the doyen of Kotali Gharana, in the gayaki style. Anirban has accompanied musicians of repute like Pt. Manas Chakraborty, Pt. Dinanath Mishra, Pt. Arun Bhaduri and many more. He is also adept in playing tabla, keyboard, guitar and also worked as an arranger for several light music albums.

Part II - Vocal
Pt. Uday Bhawalkar is among the foremost Dhrupad vocalists and has been a strong force in its growing recognition, popularity and resurgence, worldwide. Uday-ji spent over 12 years studying and living in the traditional guru-shishya parampara with Ustad Zia Fariduddin Dagar (Vocal) and Ustad Zia Mohiuddin Dagar (Rudra-Veena), the towering pillars of the Dhrupad tradition. He has performed in a number of prestigious festivals and events in India and abroad. Besides being a performing artist par excellence, Uday-ji is a very sensitive teacher and has a devoted following of students committed to pursuing the path of Dhrupad.
Shri. Pratap Awad
began learning of Pakhawaj under Pt. Subhash Maharaj Deshmukh at early age. After that he received advance training from Pt. Uddhavji Aapegaonkar and Late Pt. Vasantrao Ghopadkar. Presently, he is undergoing training from Pt. Arvind Kumar Azad. He has accompanied Pt. Uday Bhawalkar and Ustad Baha'ud-din Dagar amongst other artists at various prestigious events throughout India and abroad. He has also played Pakhawaj Jugalbandi and solo performances. His awards include Talmani Puraskar and Sur Singar Samsad.
https://youtu.be/4Hhs5QIbFMY
interview with Pt. Uday Bhawalkar.