Session 6 - Annual Music Festival 2021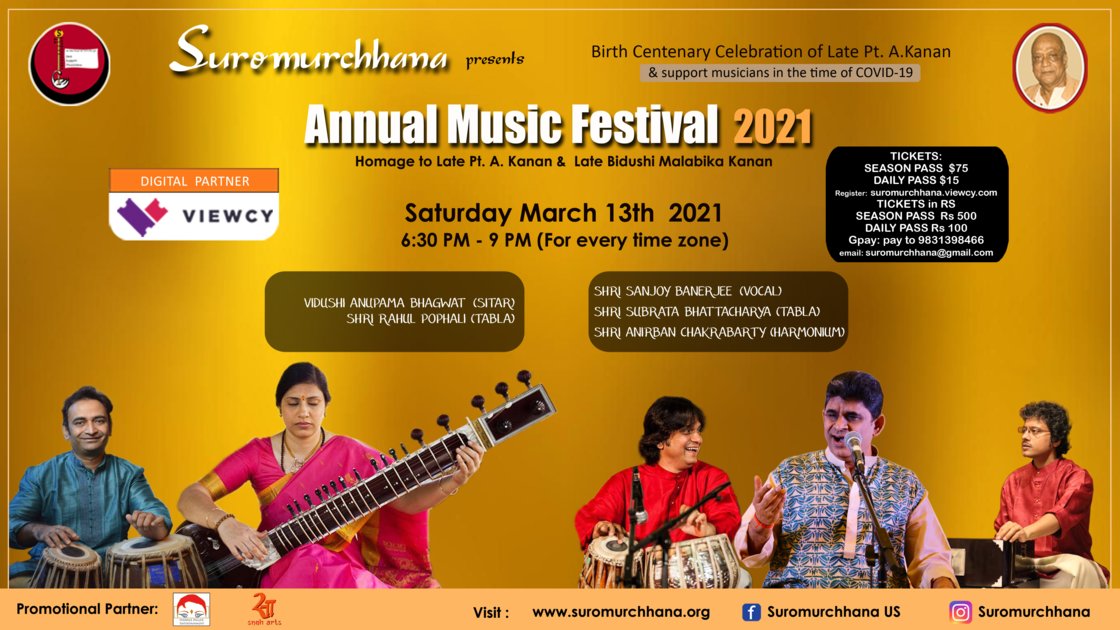 13 Mar, 2021, 6:30PM to
14 Mar, 2021, 11:30AM (IST)
Event past
Artistic Director
Sanjoy Banerjee
Organizer
Suromurchhana
Suromurchhana US presents: Annual Music Festival 2021
Session 6 - March 13th
6:30 PM to 9:30 PM IST
6:30 PM to 9:30 PM CET
6:30 PM to 9:30 PM EST
6:30 PM to 9:30 PM PST time zones


Suromurchhana's upcoming Annual Music Festival 2021 honors our Gurus Late Pt. A Kanan and Late Vidushi Malabika Kanan. It is also a culmination of the birth centenary celebration of Late Pt. A Kanan.

Part I - Sitar
Vidushi Anupama Bhagwat has carved a niche in Indian Classical Music with a versatile & eclectic style. Acclaimed world-wide with a repertoire of global performances, her sensitivity and erudition has taken her to the highest echelons of the modern genre. One of the leading disciples of Pt. Shri Bimalendu Mukherjee, doyen of the Imdadkhani Gharana, Anupama-ji's style is characterized by scintillating fast taans, mastery of the meditative alaap, and brilliant fluency of melody (raaga-bhava), while remaining true to tradition. She has been conferred the title Surmani, by Sur Sringar Samsad. She has collaborated on World-Music performances in addition to jugalbandis with renowned Indian musicians of other genres.
Shri. Rahul Pophali
started his musical journey at the age of seven under the tutelage of Pt. Raghunath Agashe. Very soon he grasped the intricacies of the Delhi, Farukhabad and Lucknow gharanas and progressed to advanced training in the Punjab gharana style under Pt. Nishikant Barodekar (senior disciple of Ustad Alla Rakha and Ustad Zakir Hussain). Since an early age, Rahul has accompanied many musicians of various styles. He has toured extensively in several countries and performed with several reputed Jazz, Rock, Flamenco, and World Music exponents across the globe.
https://youtu.be/HwkiVBWG9qI
interview with Vidushi Anupama Bhagwat.
Part II - Vocal
Shri. Sanjoy Banerjee is one of the finest vocalists and a distinguished exponent of the Kirana Gharana. He was a scholar at the prestigious ITC Sangeet Research Academy under the able guidance of Late Pt. A.T. Kanan and Sangeet Vidushi Late Malabika Kanan, who considered him as their successor to their musical heritage. With his sonorous and unwavering voice, he has enthralled audiences at home in India and abroad. He has received many awards and honors including Surmani Award. In addition, Sanjoy-ji is a successful Guru teaching at his own institution - Suromurchhana in India and USA, and at Chhandayan Center of Indian Music, New York, producing students who have already earned appreciation. Sanjoy-ji is the artistic director of the 2021 Annual Music festival and we are thankful for vision and guidance.

Shri. Subrata Bhattacharya received his taalim under Shri Tamal Krishna Chatterjee, Shri Nripen Karmakar and Shri Tapan Kr. Banerjee before he was accepted as a pupil of tabla maestro Pt. Shankar Ghosh. He has since proved himself a worthy exponent of the Farukhabad Gharana. As an accompanist of choice of some of the most renowned classical exponents, he exhibits his command over the tabla and his comprehension of the intricacies of the notes and sounds of classical music. He has to his credit numerous performances at some of the most prestigious venues in India and abroad.
Shri. Anirban Chakrabarty was initiated to Hindustani Classical Music by his father Amal Chakrabarty, a dedicated vocalist. His keen interest in playing Harmonium has brought him under the tutelage of Pt. Manas Chakraborty, the doyen of Kotali Gharana, in the gayaki style. Anirban has accompanied musicians of repute like Pt. Manas Chakraborty, Pt. Dinanath Mishra, Pt. Arun Bhaduri and many more. He is also adept in playing tabla, keyboard, guitar and also worked as an arranger for several light music albums.