SHANTI - EP 3 : Vidushi Kaushiki Chakraborty (Vocal) II Shri Kalyanjit Das (Sitar) II USA-CANADA
Event Past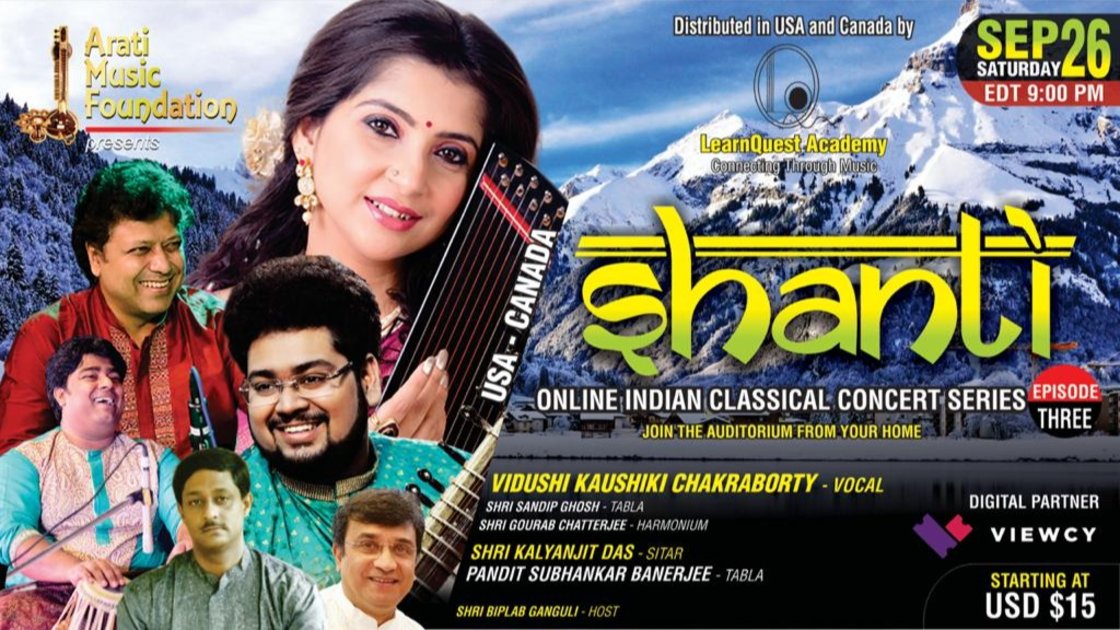 Day and Time
Sat, 26 September 2020
09:00PM - 11:00PM (EDT)
Description
SHANTI is an Online Indian Classical Concert Series, where you will witness the best of the younger generation and the legendary maestros LIVE from the comfort of your home. In EP-3, there will be a Sitar recital by Shri Kalyanjit Das, who will be accompanied by Pandit Subhankar Banerjee on the tabla. This will be followed by a Vocal recital by the iconic diva VIDUSHI KAUSHIKI CHAKRABORTY. She will be accompanied on the tabla by Shri Sandip Ghosh and on the harmonium by Shri Gourab Chatterjee. Host : Mr Biplab Ganguli
Day and Time
Sat, 26 September 2020
09:00PM - 11:00PM (EDT)
Sponsors


LearnQuest Academy of Music is a non-profit educational institution that has been serving the greater Boston community since 1994. Visit www.LearnQuest.org for more info.


The Indian Classical Music Circle of Austin (ICMCA) is Austin's premier organization for the promotion of Indian classical arts in the Central Texas area. Founded in 1991, ICMCA has, in its 25-year history, conducted 200+ concerts in Austin, with cumulative attendance at events exceeding 50,000 to date.


The Sneh Arts platform presents South Asian culture including music, dance, film and theater on a global stage. Our live performances span from the classical and traditional to the contemporary and modern.


Raag-Mala Music Society of Toronto is a volunteer-run organization formed in 1981 with a mandate to: promote and preserve shastria sangeet (Indian classical music) in the Greater Toronto Area, provide a forum for talented and developing artists, and spread the appreciation of shastria sangeet within the diverse Canadian communities.


IMSOM, the premier Indian arts and cultural organization in the Twin Cities of Minneapolis and Saint Paul, MN.
Collaborator

Shreedeep Bhachech
Organizer

Arati Music Foundation (International)
Promoter

Sneh Arts